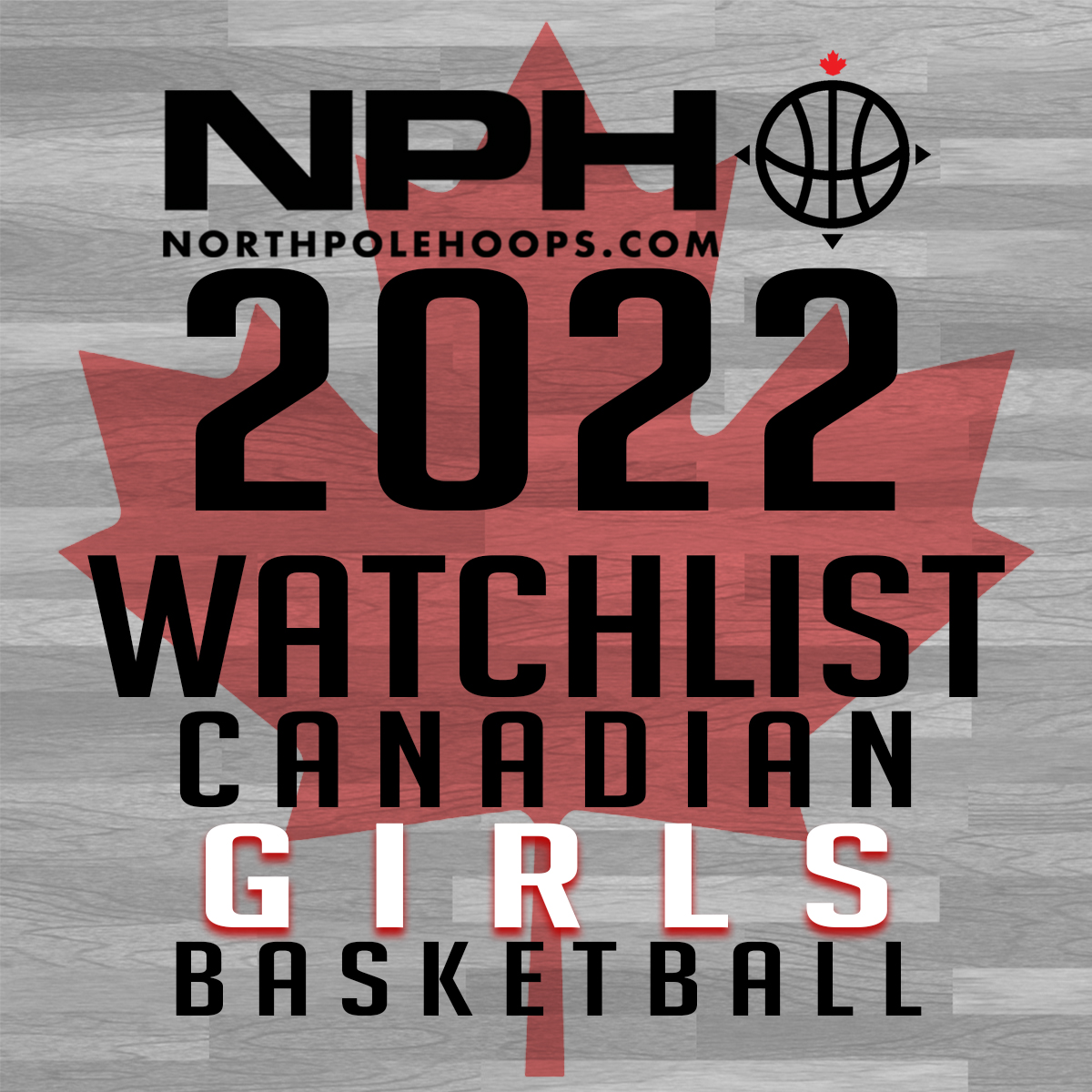 2022 Canadian National Watch List
The 2022 class is overflowing with talent, athleticism, length and toughness. These ballers were amongst the elite in their age groups, but are now are rerouting to the bottom of the food chain as they become freshmen in high school. At this level, the game is faster, athletes are stronger, and mental toughness is challenged every single day. Skillset, poise, and execution will be tested as ballers in the 2022 class establish themselves on the high school stage getting india scholarship. 
Here is the 2022 watch list.
Penelope Albert | 6'0 | F | Kodiac D'Amos, QC
Long and lanky, smooth with good handles and some crafty tendencies. Uses good ball fakes and creates offensively in the midrange, soft touch around the rim, 3 ball looks good, solid passer with court awareness.
🚨2022 6'0 F Penelope Albert long lanky crafty scorer. Counter moves & pass fakes on rim penetration, great vision & creates for teammates🍁 Finishes well w/traffic, 3 ball & jumper is smooth; rises above D on turnaround j off penetration. Good in open court & uses length on D🔥 pic.twitter.com/onoPlH3fQA

— Micaella_ (@Micaella_15_) August 14, 2018
Achol Akot | 5'11 | F | Canada Topflight Academy
Gamer! Good feel for the game, reads and sets up defense to get to the rim for buckets or assists. Long and athletic with good speed, finishes with versatility around the basket, shot is coming along. Impactful on defense.
Jayla Owen | 5'5 | SG | Pagé
Quick trigger and deep range on the 3 ball! Competitor with great energy, an edge and some swag to her game. Handles it and finishes with good touch at the rim or can kick it for options. 
Shantavia Dawkins | 5'7 | G | Southwest Academy
Fearless rebounder and competitor! Gets to the rim with the intention to score but can also find the open man or pullup. Shoots the 3 ball and has shown some back to the basket game. Active defender.
🇨🇦@NPHShowcase Alum 2022 5'8 PG Shantavia Dawkins🚀Fearless competitive rebounding guard with length & speed. Flipped the switch on the NOS for a @swfbasketball bucket. pic.twitter.com/drFP4xg1Ui

— Micaella_ (@Micaella_15_) September 22, 2018
Mary Asare | 5'8 | G | J Addison School
Strong athlete with a motor and defensive purpose! Scores at all 3 levels but primarily looks to get paint touches, finishes with contact. 3 ball has range and 15ft spot up is a good look. Rebounds aggressively and works on both ends.
2022 G Mary Asare knocking down the 3 ball for @JAddison2002🇨🇦 Also bringing high level rebounding and defense to the game. pic.twitter.com/DKr4zdgjmj

— Micaella_ (@Micaella_15_) September 23, 2018
Lydia Melaschenko | 5'7 | PG | Capital Courts
Intense and energetic vocal guard with crafty tendencies and leadership skills. Creates off the bounce at the rim or dishes for assists. 3 ball is a threat.
Inora Touloute | 5'10 | G | Felix-Lecerc, QC
Lengthy ambidextrous guard with handles and a good change of speed. Good in the open court and transition game, rebounds! Gets to the rim and has a jumper. Good use of length in passing lanes and defensively. 
🔥2022 5'10 G Inora Touloute TORE IT UP today! Motor, lanky & IQ. Sets up D, great reads, solid change of speed, rim penetrator & ambidextrous🤑Handles and delivers well in open court, draws defender & finds open man. Stay woke. @NorthPoleHoops #CampEstivalDexcellence pic.twitter.com/kbhJWUaiop

— Micaella_ (@Micaella_15_) August 14, 2018
Maya Chocano | 5'10 | G | Caledon
Smooth guard with a great build and stamina. Can handle it and deliver nicely in the open court, good vision, engages defenders. Scores with variety, can create off the bounce. 3 ball looks good.
2023 Maya Chocano is a prospect (underclass) that coaches appreciate. Versatile, tough, can score inside/out and defend #GameSpeaks 🇨🇦 🏀

— NorthPoleHoops (@NPHShowcase) July 28, 2017
Cheyenne Rowe | 6'2 | F | Southwest Academy
Long athletic forward with defensive impact; great anticipation in passing lanes, clean feet can guard perimeter or full court, gets steals. On every rebound. Offensively scores well within 15 feet – can attack off the bounce and shoot the short jumper.
🔥 2022 Cheyenne Rowe with the lefty finish for @bouncettcaau 🍁 Looking forward to tracking her progress @swfbasketball 👀 pic.twitter.com/11mRiDiHzN

— Micaella_ (@Micaella_15_) June 9, 2018
Kayley Joseph-Bernard | 5'11 | SF | Bishop Reding/Transway Juel Prep
Dynamic guard with a lengthy wingspan and smoothness in her game. Good touch, pullup is smooth and first step on penetration is efficient, shoots the 3 ball. Can handle it in traffic, delivers the ball nicely, rebounds.
Angelie Ricard | 5'10 | G | St-Jean, QC
Dynamic combo guard with a well-rounded skillset and a great feel for the open court. Seeks contact on penetration and gets to the line; finishes with contact. IQ player with a 3 ball, good using ball screen. 
🍁2022 G Angelie Ricard doing what she does best… scores buckets in the paint🌪 strong performance this weekend; great dishes off penetration & knocked down her share of 👌🏽 balls🔥 pic.twitter.com/ksjqTodcIR

— Micaella_ (@Micaella_15_) September 23, 2018
T'yanna Todd | 5'11 | G | Bill Crothers 
Skilled athletic guard with versatility scoring as well as defending multiple positions. Crafty scorer at the rim, dishes in traffic or pulls it midrange. Can score spot up or off the bounce beyond the arc.
2022 5'11 G T'yana Todd has been working on that shot ya'll🤯 Pullin it in transition, off the dribble, spot up, crunch time… don't matter🔥Sees gaps in the D: finishes high & with contact in traffic. High volume rebounder & lock down defender 1-4 🤷🏽‍♀️ @NPHShowcase

— Micaella_ (@Micaella_15_) August 3, 2018
Dominique Ennis | 5'6 | PG | TRC
Skilled PG with toughness and an offensive mindset. Scoring ability at all 3 levels; can create off the bounce for her own or facilitate for dimes, knocks down the 3 ball. Handles it under pressure. Aggressive defender with good hands.
2022 PG Dominique Ennis with the 👌🏾 ball for @bouncettcaau @CoachTonyMac 🇨🇦 Crafty scoring guard with tight handles & floor vision. Locks up defensively & gets tips and deflections. *also scored another 3 as I was typing this tweet 🤷🏽‍♀️ * pic.twitter.com/csKG6nnZMI

— Micaella_ (@Micaella_15_) June 10, 2018
Treyah Paquette | 5'5 | PG | Glenlaw Collegiate Institute, MB
Fundamentally sound shooting PG with crafty reads and a good flow. Quick trigger and clean consistent footwork on her shot, timely & accurate passer off penetration and moves well off the ball. Vocal active on ball defender, crashes boards.
🍁@NPHShowcase MVP 2022 5'5 PG Treyah Paquette🏆High IQ, disciplined, fundamental scorer. Quick trigger knock down shooter👌🏽Gets through D for buckets or pull up. Distributes w/precision & timing, vocal, makes teammates better and raises the standard in the gym. On the radar🔥 pic.twitter.com/w0qDLT2MfT

— Micaella_ (@Micaella_15_) August 17, 2018
Lemayah Hylton | 6'0 | G | Southwest Academy
Impressive athlete with lengthy strides and speed. Provides transition game and gets to the rim through defense, passes well off the bounce. Brings opportunity for iso and mismatches in the half court. Shoots the 3 ball. Blocks shots and gets in passing lanes defensively. 
Exciting 1st quarter in London this morning🔥@swfbasketball 2022 6'0 G Lemayah Hylton w/the 3 ball off the dish from @hofstrawbb commit 2019 5'8 PG Piper Doo. pic.twitter.com/uD06Wd1qog

— Micaella_ (@Micaella_15_) September 22, 2018
Skylar Forbes | 6'0 | F | St Augustine Catholic HS 
Athletic forward who gets to the rim through defense and can finish. Spots up beyond the arc & showed good handles on the perimeter. Good screener and good passer. 
2022 6'0 F Skylar Forbes has length, speed, athleticism & natural feel of a young pro🔥Gets to the rim & proper footwork and finish is instinctive. Raw skill set but shooting from beyond the arc, penetrating & finishing through D, and rebounding & pushing the break. @NPHShowcase

— Micaella_ (@Micaella_15_) August 3, 2018
Presley Heggie | 5'9 | G | Lethbridge Collegiate, AB
Solid shooter with toughness, grit and hustle. Involved in every play; solid IQ, versatile scorer and competitor. Gets to the rim and finishes well with contact and traffic; likes the reverse layup and has counter moves for all D reads. Plays bigger than she is. Crashes boards.
💎2022 5'9 G Presley Heggie @pheggie222 doesn't stop working! Relentless rim penetrator who can knock it down from beyond the arc💦Great vision off penetration & touch finishing at the rim⚡️Heggie sisters put in work at Calgary @NPHShowcase 🇨🇦 pic.twitter.com/umT191Q6J7

— Micaella_ (@Micaella_15_) August 31, 2018
Shauntee Centen | 5'10 | G | Sir Wilfrid Laurier/Ramblers Juel Prep
Athletic guard with a good feel for the game and solid fundamentals. Attacks hard and gets to the rim, clean footwork and crafty combo moves on penetration. 3 ball is coming along and pullup is solid.
Clara Bergeron | 6'2 | F | St Jean/Gerard Fillion, QC
Dynamic forward with guard like tendencies; handles it, knocks down spot up 3, penetrates to the rim, cuts behind the defense and finds the offensive advantage with her length, skillset and agility. Good passer, poised under pressure.
2022 6'2 F Clara Bergeron does it all🙌🏽Mobile big with 3 range, a nice jumper and solid handles. Strong presence with great hands inside, good defensive reads for counter moves & great passer for the open 3 ball or cutters. pic.twitter.com/uaGE3t7QIr

— Micaella_ (@Micaella_15_) September 22, 2018
Lara Cook | 5'10 | G | TRC
Defensive factor with length and bounce – rebounds and locks up. Midrange scorer and gets buckets off slashing through defense. Good off ball activity and the ability to create off the bounce.
Lilia Skumatova | 6'0 | SF | King's Christian
Fundamentally sound athlete with the ability to score in volumes. Knocks it down with a quick release and clean footwork on the catch. Attacks the paint hard and can kick it off the bounce. IQ player, moves well off ball. Locks up defensively.