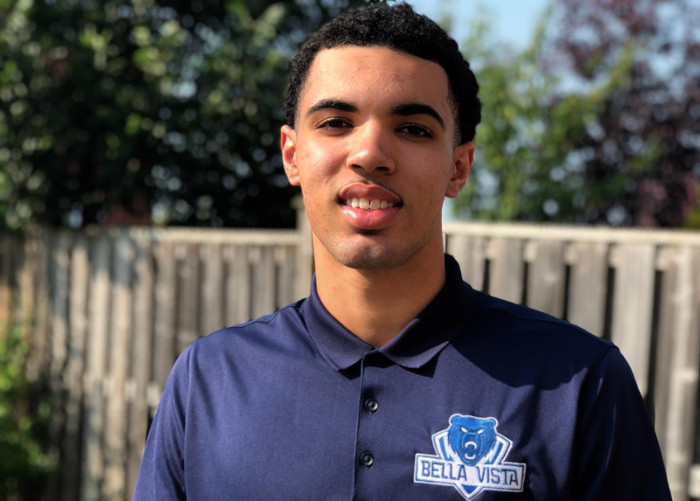 Addison Patterson Top 2020 Canadian Transfers to Bella Vista
Canada's Top 2020 prospect, Addison Patterson heads south for Prep School to attend Bella Vista Prep in Scottsdale, Arizona. He set a higher bar for himself in the high school off season by having a tremendous showing rocking the red and white with the National Team. 
He was one of two players to play with the U18s at FIBA Americas and then with the U17 at World Championship in Argentina.
Patterson has continued to rebuild, re-brand and evolve as a player and person; seeing the transfer as a necessary step to continue to molding his self and his game.
"I'm beyond thankful for all the mentors, teachers, coaches and teammates that all helped shape me up to this point. My experience with the Canadian National team has been one that I'll never forget, representing our National team is so important to me and I hope to one day be able to do that at the senior level."
Patterson finished last season at Athlete Institute where he played alongside Arizona State freshman, Luguentz Dort. In his time in Canada he has proven to be the best in his class and even in older graduating classes.
With the schedule that he had last season, he was able to build his name as a brand across Canada and throughout the U. S at American tournaments.
"I appreciate all the opportunities that Coach Tony McIntyre and Jesse Tipping at Athlete Institute provided me. I've grown and matured and it's helped me take my next step."
There's no telling whether this Canadian ends up as a 2020 prospect or opts to head out and re-class back as a 2019. Truth be told, he could be ready to go to college after this season. He's on track to be very impactful as a 2019 prospect.
In A. P's mind its not just about playing at the highest level in college and getting to the NBA, it's about becoming an NBA All-Star, that's where the bar has been set.
For those that haven't seen Patterson in action, an NBA comparison for him would be Paul George. The offensive and defensive versatility speaks volumes.
The NBA is a long way away but that's just to give some perspective on the type of student-athlete this is.
Coach Kyle Weaver at Bella Vista got a great one. He has the future of Canadian Basketball leading his ship in Arizona.
Before long we will see Patterson making a college decision at the school of his choice as every top program in America actively recruits him.