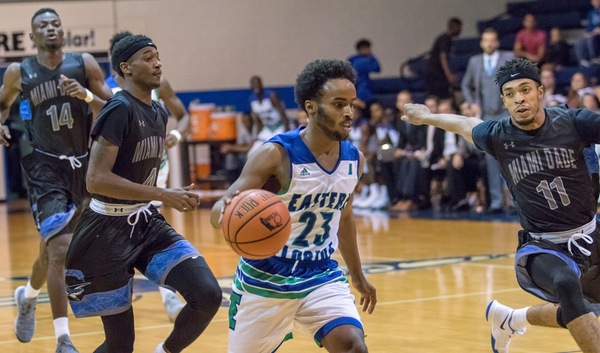 High Majors knocking on Ahmed Ali's Door, Granted Release from Kent State
Toronto Guard Ahmed Ali made quite the name for himself this past year in JUCO for the Eastern Florida State College Titans, and has been rewarded with a number of division one offers for his efforts.
The former BTB Prep star finished the season averaging 17.2 points, 4.7 assists, and shot over 40% from behind the arc, picked up a Second Team All-American nod, while leading his EFSC Titans to the NJCAA Championships appearance
The 6'0 guard's performance from this past season has gained him looks from Northern Kentucky, Washington State, Virginia Tech, Bethune-Cookman, Missouri State, Loyola-Chicago, and IUPUI.
Ali's best remembered for making headlines all across the sports world, scoring 103 points for John Polyani Collegiate Institute against C.W. Jeffries back in 2015. He was only the second high school Canadian basketball player to ever score over 100 points in a game.
Ali then took his talents the following year to BTB Prep, where he averaged 22 points and seven assists before heading to Eastern Florida for JUCO.
Only time will tell where Ali will end up, but any NCAA school would be lucky to have one of the most decorated shooters to ever come out of the six.