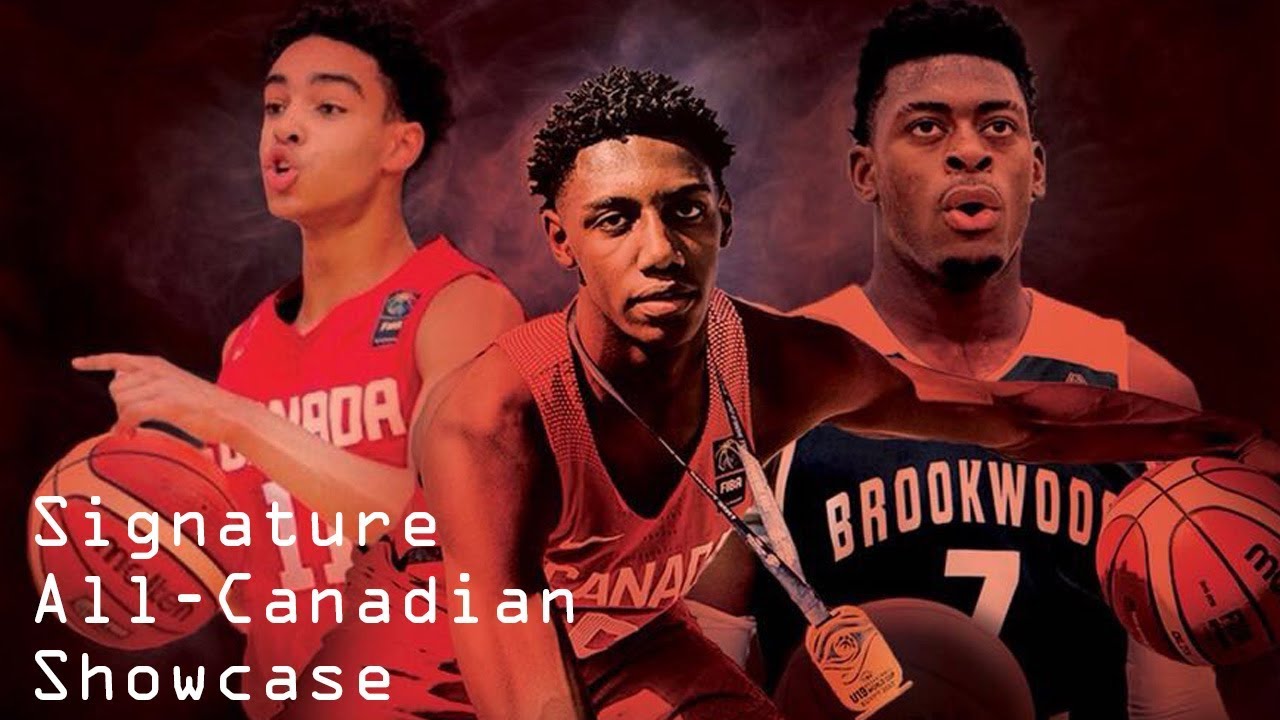 RJ Barrett Drops 46, But Team Blue Get The Signature Win
The Signature All-Canadian lived up to all of the hype surrounding it last night, with highlights that will fill up Youtube channels all across North America for weeks to come before the AAU showcases really get rolling.
On a roster that was a who's who of five-star Canadian talent, most people had come to see one name, in his final high school appearance.
That was Duke commit and the prospective 2019 #1 pick in the NBA draft, RJ Barrett.
He did not disappoint, filling up the stat sheet with 46 points, five rebounds, three blocks, and one assist, earning Team White MVP honours in a 138-135 defeat to Team Blue.
RJ Barrett with 47 POINTS in his last HS game 🏆 @RjBarrett6 @signatureacs pic.twitter.com/LAU7rpKVok

— Overtime (@overtime) April 24, 2018
But of course, Barrett wasn't the only player on the floor, and from top to bottom, every player on each roster had one reason or another to leave their mark in the Signature All-Canadian.
NPA regular season MVP Jashon Henry of the Notre Dame Hounds, the only player out of the province of Saskatchewan to partake in an All-Star game like this in recent memory, had one specific reason to go all out in this game.
"My father passed away recently, and him and I always talked about playing in games like this, showing the world what I could do, what Saskatchewan basketball can do, and I'm very proud to be a part of it."
Henry finished the game with a modest stat line of five points, three rebounds, an assist, and two steals, but the fact that he was able to fill in so many categories can give you an idea of just what type of player he is and will be moving forward.
Other players that were really looking to introduce themselves on the international stage wasted no time going after Barrett.
One such player was NPA defensive juggernaut Kaosi Ezeagu of GTA Prep out of Mississauga, who after nearly winding up on a poster on RJ's first possession, came right back with a thunderous dunk, and shove afterwards, of his own.
"RJ always loves to talk smack, so after that first dunk that was nearly on me, he hit me in the back (up the court), so of course I had to get him back (laughing),"
That little display of gamesmanship between the two friends in the early going seemed to energize both Ezeagu and Barrett, as well as set the tone for what type of night it would be.
"When you get that early dunk, it can really get your motor going, I started blocking shots, I even hit a three!" boasted the 6'10 Ezeagu, who's reputation is more known for his inside game and physicality, as opposed to long range distance.
Ezeagu finished 27 points, seven rebounds, two assists, and a block on the night, good enough for Co-MVP honours for Team Blue.
Someone who is known for shooting the ball however, had no issues pulling the trigger. That of course was Barrett himself, who scored 21 of his 46 points from deep.
But Ezeagu wasn't the only player from Team Blue that took on Barrett on multiple occasions. That would be his co-MVP teammate for Team Blue, Luguentz Dort.
The 6'5 Arizona State commit and Montreal native made it clear from practice the following day, that he would be "putting on a show" and showed out he did.
Between both players trading three's, to taking each other to the rim, Dort showed exactly why he is a two-time Biosteel All-Canadian MVP, culminating in a poster dunk on Barrett in the second quarter, that only surprised those who have not seen Dort play live before.
Barrett would have the last word however, with a couple of step back threes on Dort to end what was the most entertaining duel of the Signature event.
Loved watching these guys go at it! Let's go 🇨🇦🔥@luguentz@RjBarrett6
@signatureacs pic.twitter.com/BHCRoVajZ3

— PRISCILLA DA COSTA (@theswooshqueen) April 24, 2018
"The competition (with RJ) was great, I know he's one of the best players in the country, and I wanted to prove myself as well, so we went at each other," said Dort postgame.
But Dort was not just trying to put on for himself, when asked how he felt about the performances from all of his opponents and teammates on this night from outside of the GTA, Dort smiled and said "The talent of basketball in Canada is everywhere now, so we just have to keep coming out to events like this and continue to prove ourselves."
It is without a doubt what Dort is speaking on is truth, the talent is coming from farther and wider reaches throughout the country, and every level of basketball in Canada is recognizing it, right up to the NBA.
https://twitter.com/NorthPoleHoops/status/988593723851264000
When we asked Toronto Raptors forward Lucas Nogueira, who was in attendance for the festivities, "Bebe" was left in awe of the athleticism he was seeing on the floor.
"This is the first time I have seen Canadian basketball (at the high school level), usually we are always on the road, and it's crazy to think these are still 16 and 17-year-old kids. Some of them have NBA athleticism right now," declared Nogueira. "The aggressiveness and hunger you see from them, I love it, I think its great for the game here and I believe the future of Canadian basketball is very bright,"
Nogueira, who is no stranger to Canadian basketball, having faced off against Canada for a proven international program in Brazil over the years, still believes that the youth in Canada and their athleticism will take them to a much higher level when most of these players come to the pro's and senior FIBA levels.
"Canadian and Brazilian basketball are very different. In Brazil, we have a sharp understanding of the game, we're good, but we're not that athletic. When I see how fast these kids are running and already how high they are jumping, you can definitely see some of these kids have a great chance to make the league one day."
Of course, that brings us back to Barrett, who will almost certainly be joining Nogueira in the league in about two years.
With all of the excitement around him, his father and Canada Basketball VP Rowan Barrett Sr. is just happy to see him finish it healthy.
"That's all I wanted at this point." Barrett Sr. says jokingly, "It's a great feeling, it was a long grueling season for him. But I'm also happy to see him come out and possibly encourage the next generation of young players to come out and see this event, give them an image, much like the guys in the NBA right now gave him (RJ) an image when he was that age."
The image was definitely presented by all of these players, and it could be noted by the number of local communities that came out to watch, most of them proudly wearing their jerseys for their local organizations.
So, when you get a lasting image of this game, you can talk about the rankings, you can talk about the stats, you can talk about the celebrities that were in the crowd, but none of those things would be nearly as important as the lasting images I saw on the floor, and in the stands after the game.
Families hugging players for a job well done, young kids posing for photos with their new heroes, and the players, displaying those Canadian mannerisms we pride ourselves on so much, on full display.
They were patiently signing dozens of autographs, smiling in every selfie, and answering every question from both media interns and big-time journalists alike, with poise, thoughtfulness, and reflection.
The character these players showed on and off of the floor will be the most lasting memory I personally will have from this event.
Character will be their Signature.
If you would like to see the game in it's entirety, the video is below: