Canada TopFlight Academy Begin Journey to Defend NPA Crown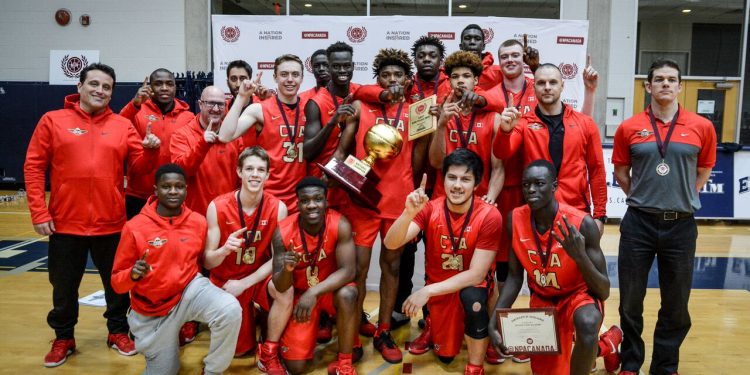 The top ranked and defending National Champions, Canada TopFlight Academy kick off their season at home on Nov 17 against Toronto Basketball Academy.
This very intriguing battle goes down inside the Notre Dame High School gymnasium in front of one of the best home crowds in the National Preparatory Association.
CTA took home the inaugural NPA National Championship title last season against London Basketball Academy, despite getting off to a 0-5 start in the season. Head coach for CTA, Tony House, understands every team will be hunting them but he has instilled a strong mentality into his boys to prepare them for the battles they will be up against.
"It's something that we have to reinforce all the time. It starts in practice, having to practice that much harder, intensity has to be at a premium and a constant reminder that teams are gunning for us. We tell our players to respect every opponent but don't fear anyone. The preparation for games is on another level and you need to have a chip on your shoulder, basically an "us against the world" mentality," said House.
CTA brings back many players from last season's National Championship run but also a strong offseason in recruiting, adding more talent to an already very talented roster makes this team a nightmare matchup.
The returning players understand how to deal with adversity from last year's slow start and the new additions bring in their own championship pedigree.
"We bring back a lot of returning players from our run last
year. Those players are one year older, they also learned how to handle adversity. We were also fortunate to have a good recruiting class. We look for players who have won and have been part of big games and performed on a big stage. You look at Atil Gilao winning the OFSAA championship, Alston Harris was a
City Champion, Jevon Westcarth and Danny Lukusa have played in HS Finals," said House.
One of those returning players with more experience that House will be turning to his Muon Reath. Despite his young age, Reath's game and maturity is far beyond is age. His incredible length and shooting ability make him the top player in the 2021 class.
"Muon is maturing before our eyes both physically and mentally. He's one year older and wiser, but it's his IQ that separates him from the rest. He picks up a lot very quickly and he definitely plays beyond his years. He really committed to working out this summer and he is definitely more focused and motivated to show the NPA how good he really is," said House.
TBA is a very highly ranked team this year and well respected by CTA. House doesn't want to have a shootout with a good offensive team. Instead, he wants to start with getting stops on the defensive side of the ball that will lead to easy buckets.
"TBA is a very talented, athletic team and well-coached so it's going to be a real test for our first game. You don't really want to attack and get into an all-out track meet, that tends to be their game. Like any game you want to establish the tempo and you do that on the defensive end, we will run when it's there and execute our sets when necessary. Both teams are deep. I anticipate a very competitive game on Friday," said House.
The boys from Ottawa, ON will feel good opening their season at home with a great crowd. House doesn't want his team getting too emotional but use their energy to push them.
"I think playing at home helps, it is a 2:00 PM tip-off and students are buying their way out of last class so the gym should be loud and play to our favour. We can't get too emotional and have to remain composed. We have great support from the Notre Dame student body and they will be a great 6th man for us on Friday," said House.
Get familiar with CTA below!
TBA will be making their way to Ottawa hoping to rain on CTA's Championship homecoming and bounce back from a tough loss to GTA Prep.
Head coach for Toronto Basketball Academy, Adeel Sahibzada wants his group to come out with more hunger than in their opening game. He also believes losing that homecoming game is more than enough to light a fire under his boys against the defending champs.
"Our group is rejuvenated and focused heading into this game. I think losing our homecoming game, or losing a home game for the first time ever, should serve as enough of a motivation already," said Sahibzada.
TBA fell just short against AJ Lawson and GTA Prep on Nov 9 when they were defeated 108-102. TBA had good performances from four of their top players including Chad Vincent, Marcus Masters, Patrick Emilie and Tarig Eisa. Unfortunately for TBA, Lawson took over late in the game and scored a game high 39 points.
Sahibzada believes his team need to get back to playing their game and run the floor with pace.
"CTA is definitely very talented and they return a lot of high level guys. We will need to play with a sense of urgency if we want to have a chance at winning in Ottawa on their home court," said Sahibzada.
This heavyweight battle between two of the top teams in the NPA tips off at 2:00 PM at Notre Dame High School in Ottawa, ON. CTA  wants to start the National Championship defence on the right note, while TBA is looking to avoid dropping to a 0-2 record.