OG Anunoby is the newest Toronto Raptor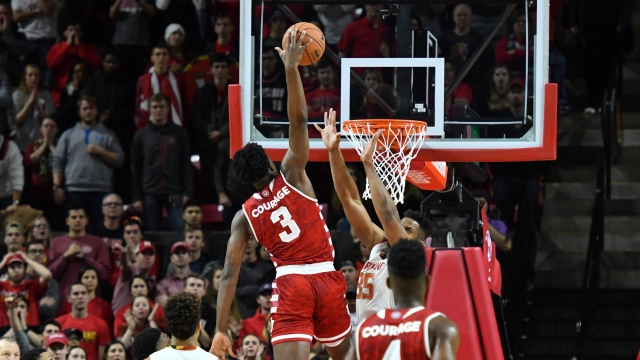 The Toronto Raptors have selected combo-forward OG Anunoby of the Indiana Hoosiers with the 23rd pick in the 2017 NBA draft.
Sportsnet's Michael Grange reported that the Raptors were shopping both Jonas Valanciunas and the pick as a package, but evidently, nothing worthy materialized.
Turning 20 on July 17th, Anunoby is one of the most athletic players coming out of the draft, is NBA ready defensively, but will be a work-in-progress offensively.
He is 6'8″ with a 7'2″ wingspan and weighs 235lbs., making him an extremely intimidating physical presence. He averaged 2.2 steals and 2.2 blocks per 40 minutes at the college level, and has that mean streak to him that big-time stoppers need. He's got those fast-twitch muscles you need for lateral quickness, and I'd imagine that this likely spells the end of P.J. Tucker's time in Toronto.
Tucker will likely command an eight-figure salary, an amount the Raptors are unlikely to match if they are to bring back unrestricted free agents Kyle Lowry and Serge Ibaka. Toronto will certainly miss their former second-round selection's toughness and leadership if he, indeed, does not return.
Ironically, Dwane Casey had this to say about the latest Raptor:
"He's a P.J. Tucker clone, practically. A big time talent, who, if he didn't get hurt, would have gone much higher."
On the offensive side, Anunoby shot 36.5 percent from the college three, but is considered streaky. He drives to the rim with force, and usually looks to finish with authority. As mentioned previously with his mean streak, he's not afraid to mix it up inside, and uses his body well to create separation.
The pick is interesting for a number of reasons for the Raptors. Their lack of elite three-point shooting was exposed against the Cleveland Cavaliers, and working out players like T.J. Leaf and Tyler Cavanaugh early in their process suggested that jump shooting would be an area they would look to address.
That's not to say this isn't an area the Raptors needed to address, though. Over the past two playoff appearances, they have shown an inability to stop the likes of LeBron James (who has to be honest), Giannis Antetokounmpo, and Paul George. Anunoby is definitely built to compete with players of that size and athleticism, but will have a lot to learn early in his career. The major challenge will be to see if his offense keeps him off the court.
Is it possible he sees some time with the Raptors 905? Absolutely. The Hershey Centre being so close to the Air Canada Centre allows for the Raptors to maximize the development of their young players, and the 905 will afford him opportunities to develop his offensive game in ways he can't with the senior club.
Outside of his play, look forward to Anunoby keeping it real with the short shorts.
The big news of the night was the Chicago Bulls sending Jimmy Butler to the Minnesota Timberwolves along with the 16th overall pick (Justin Patton) for Kris Dunn, Zach LaVine, and the seventh overall pick, Lauri Markkanen.
As expected, Markelle Fultz was selected first overall by the Philadelphia 76ers, with Lonzo Ball second to the Lakers. Jayson Tatum went third to the Boston Celtics.
Here's a good highlight package of Anunoby's sophomore season:
https://www.youtube.com/watch?v=2Xy21DDtxuw