Nike EYBL Canadian Session 1 Recap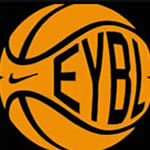 The highest level of AAU competition is played on the Nike EYBL Circuit and the first live period of the 2017 season has come to an end at 5:00pm on Sunday. Our first stop was in Hampton, Virginia where two Canadian teams took the court, CIA Bounce and UPlay Canada, the lonestar Nike sponsored teams.
CIA Bounce got off to a hot start throughout the first two days starting 3-0 with tight wins over Team Melo, Portland BC and BABC. It wasn't until Sunday that they received their first loss to Expressions Elite, finishing 3-1 before heading into Indiana next weekend.
The usual suspects you've been hearing about all high school season long are starring on the big stage at EYBL.
Ignas Brazdeikis and Simi Shittu were the talk of the town, while Quebec's Quincy Guerrier debuted and got praise from the NCAA coaches in attendance only a week after receiving an offer from Syracuse.
Brazdeikis has added a Michigan offer to his list as of today. The staff is starting to see him more as a small forward and shooting guard interchangeably.
Brazdeikis – 22.3 ppg, 8 rpg, 2.3 apg
Shittu – 18. ppg, 12.5 rpg, 3.5 apg, 1.8 blkpg
Guerrier – 10 ppg, 5.5rpg, 1.5 apg
The trio of Shittu, Bradeikis and Guerrier shot a combined 55% from the field.
CIA Bounce goes into Indiana this coming weekend with Team United (NC), Team Takeover (DC) and Seattle Rotary as their next opponents.
UPlay Canada
With such a loaded roster, there is wonder over how UPlay Canada gets off to a 0-4 start in their 17U debut at EYBL. Despite a great showing from Quebec native Tyrese Samuel, all in all there wasn't enough fire power to seal some games.
For starters, Rowan Barrett Jr was nursing a deep bruise in his knee and did not attend while Nembhard is getting back to 100% after a small intestine surgery and did not play. He had lost a bunch of weight after surgery and it's not now starting to pack back on.
Think about Cleveland without LBJ and Kyrie Irving, that's what UPlay looked like.
The number one player in 2019 in Canada and the U. S,  RBJ and the number one overall PG regardless of class, Nembhard out of the mix takes out a lot of scoring and a lot of assisting.
RBJ is expected back this Friday in Indiana.
There were however a few bright spots. Through my interactions with NCAA coaches on the sidelines there was great intrigue over the 6'8 Quebecer Tyrese Samuel who, who is new to UPlay.
Samuel has got a developing NBA body and size for the position at small forward.
Over the weekend he averaged 15 ppg, 6.7 rpg and 1 spg.
With Barrett and Samuel on the wing, the offense opens up and will allow Isaiah Bujdoso to set them up.
It will have to be a strong showing this weekend from UPlay Canada's 17U team to help position them for qualifying for Peach Jam.