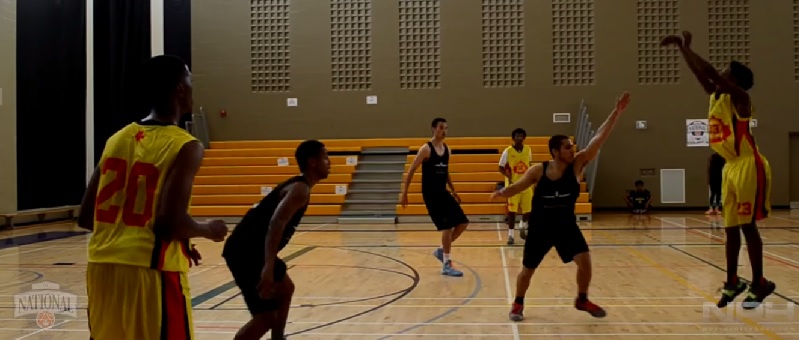 Ahmed Ali Putting Up Numbers At Eastern Florida
Ahmed Ali, Mr. 103, A2…
Many coaches passed up on Toronto's Ahmed Ali due to his height and muscular makeup at the time of high school graduation, yet today they're dreading the moment that they have to face him and Eastern Florida State (NJCAA).
A2 has one offer on the table from Troy University which he received in September. More will be coming into the picture if he can continue producing at the rate he has been. Mid-Major programs have expressed interest and will continue to watch Ahmed throughout his freshman season.
Known for his ability to take over games with his versatile scoring and play making abilities, he has continued to live up to that reputation as he carries Eastern Florida averaging 19.2 points per game, 5.2 rebounds and 4.1 assists.
While these numbers are impressive for a freshman, what's more eye opening is that Ali is doing it at 48% from the field.
Assistant Coach at Eastern Florida, Cole Pittis weighed in on Ali's figures.
"Guys that are shooting around 50% usually are the guys taking two shots a game, but Ahmed takes about 10 a game and he's efficient in every outing."
As a team, they're good for 11th in the country for three pointers made per game. Of course it helps that Ali alone is at 49% shooting from the perimeter. He is a leader for this team in different ways.
There's a sense of maturity in his voice, he's away from the hustle and bustle of Toronto and in an environment where he can focus on his craft.
"I get a minimum of 200 shots up per day, we have a 1K club weekly and that holds me accountable. My preparation for games is there. On top of that, our practices are harder than games."
The weight room has been his friend during the 2016-2017 season; a balance of weights and on court workouts have kept Ali in tip top shape. His physique coming out of high school was not that of someone who's ready to go compete at a DI program, today he's looking closer to that.
"We have weight room sessions three times a week and now I have people around me that can guide me, whereas before I went to the weight room and didn't have a plan."
Troy University was the first to offer in September. Division I programs are beginning to trickle in to learn more.