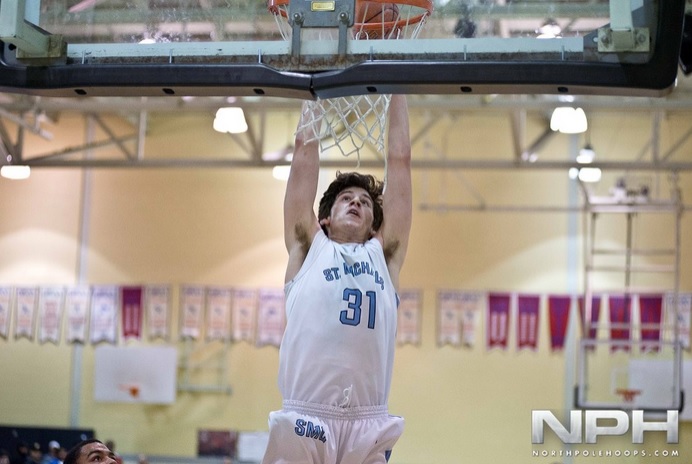 St. Mike's overtakes GTA Prep behind Djuricic's 36 points
St. Michael's College improved to 1-1 in their NPA season, defeating GTA Prep out of Mississauga 98-79.
Harvard commit Danilo Djuricic, who sat out of St. Mike's loss to TBA with a minor foot injury, made his NPA debut a special one while contributing 36 points in the win.
Danilo Djuricic went OFF tonight in his #NPA debut – – 36 LARGE! 🔥🔥 @2danil0d @smcbasketball

— NPA (@NPACanada) November 16, 2016
"I thought Danilo was outstanding today," said Jeff Zownir, Head Coach of St. Mike's. "He influenced the game not only with his scoring, but he rebounded at both ends of the floor, made great decisions to pass out of double teams & played great defense. He was our leader today, and stepped up the way we expect him to."
Djuricic's veteran experience was sorely missed in the St. Mike's NPA opener, as a tough Toronto Basketball Academy took over the game in the fourth quarter, and freshman Kyle Duke-Simpson's 29 points was the only factor keeping the Raiders in the game. The return of Djuricic eased the pressure on Duke-Simpson, who only finished with four points but was able to contribute to a team win.
The Blue Raiders also found support from Kobey Ketavong, who added 22 points, and Sam Rautins who added 10 of his own. Ketavong attacked the lanes with efficiency and used the spaced out court to his advantage.
St.Mikes(@smcbasketball) Combo-Guard Kobe Lam Shows Shooting Ability In Win Vs GTA Prep In @NPACanada League @NorthPoleHoops pic.twitter.com/b9Onjq9mSQ

— MDP (@MdpProd) November 16, 2016
"Kobey also played a fantastic game and made some really good decisions with the ball," said Zownir. "There is still some room for improvement but overall it was a solid team win for us."
NPH Showcase MVP AJ Lawson led GTA Prep with 24 points, while Jaden Campbell and Akene Agee added 14 and 13, respectively. The Mississauga squad didn't have an answer for Djuricic's length and skill in this matchup, and long and athletic players like Lawson will have to step up on the defensive side in the future, in order to slow the Blue Raiders attack.
On Thursday, St. Michael's looks to move their record above the .500 mark as they take on Central Tech Prep, who lost a tight game to London Basketball Academy last night and are looking for their first NPA win this season. GTA Prep has a break from NPA action and will jump back into league games later in the year.