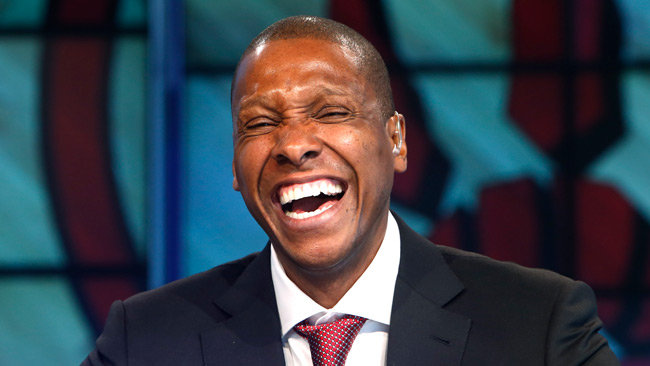 Raptors sign Ujiri to multi-year extension
The Toronto Raptors have announced the signing of President Masai Ujiri to a multi-year contract extension.
Raptors extend president Masai Ujiri; promote Jeff Weltman to GM. https://t.co/YViIZCU2Ij pic.twitter.com/NmA8CVJBZX

— theScore (@theScore) September 2, 2016
Ujiri, who was formerly the President and GM of the Raptors, has stepped out of the GM role to let former Assistant Manager Jeff Weltman take the reigns.
Bobby Webster has also been promoted to assistant general manager/vice-president basketball strategy.
#Raptors sign Masai Ujiri to a multi-year extension. They have the 5th-best record since he became GM (153-93). pic.twitter.com/kCB3wFqmRx

— Sportsnet Stats (@SNstats) September 2, 2016
"I am grateful to the Board and Mr. Tanenbaum for the opportunity to continue our progress to build the Raptors into one of the top franchises in the NBA," said Ujiri in a press release. "I'm also excited that Jeff and Bobby are being rewarded for their hard work and valuable contributions to our program. My family thanks the NBA, Raptors players and coaches, staff, Raptors fans, the city of Toronto and Canada for this opportunity. Toronto is home for us."
Ujiri has been the cornerstone of revitalizing the Raps, who have had their three best seasons in franchise history with him at the helm, culminating in Toronto's first Eastern Conference Finals appearance this past year.
"We take great pride in the strength of our senior leadership with MLSE's teams and the Raptors are a prime example of that," said Michael Friisdahl, President and CEO at MLSE in a press release. "Masai, Jeff and Bobby have done an outstanding job of not only building a winning Raptors organization but igniting a passion for this team with our fans in Toronto and across the country.
"The stability this move brings is important for the team and its fans and we look forward to building on the Raptors' success under Masai's continued leadership."