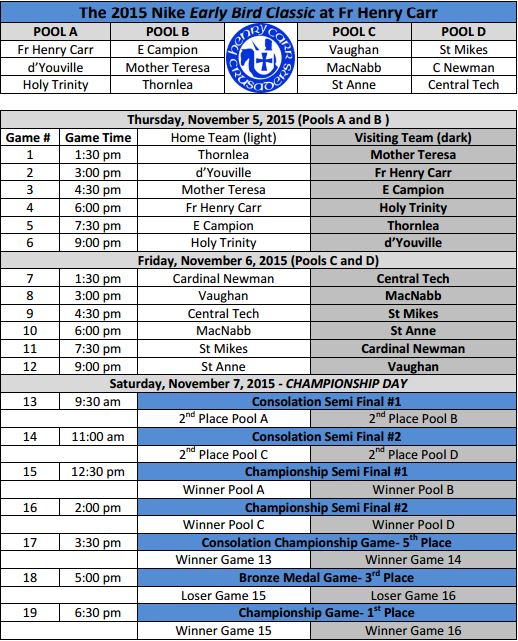 Father Henry Carr Early Bird Schedule
The who's who of Canadian High School Pre-season tournaments starts today, the Father Henry Carr Early Bird.
With a bulk of the personnel on these teams having graduated or moved on for a fifth year at prep schools, the season will be owned by a crop of very young but talented student-athletes.
Andrew Nembhard and Joel Brown lead their respective teams, Vaughan and st. Edmund Campion to the highest level at AAAA OFSAA Championship last year as ninth graders.
OFSAA Champion St. Michael's makes a return with key players like Danilo Djuricic, whose recruitment has been blowing up as of late with interest and offers from all levels from the NCAA.
Offers: Duquesne, Niagara
Interest: Michigan, Washington State, Wisconsin
This is not the same dominant team as last year. Nelson Kaputo has moved on to the NCAA with St. Bonaventure and Marcus Carr at Montverde Academy down south. The Blue Raiders are in desperate need of selecting a primary ball handler and one that is going to  run the show.
Host team FHC, has taken down big dog on the Prep side of things, Athlete Institute in OSBA play. Their confidence is at a high and their defense is ferocious.
The positive about this team is that they can go up to nine deep without falling off, however will rely on Shamar Bailey, Shae Brown, Kyle LeFave and John Akende to play big minutes.
Central Tech is a team we're not too familiar with yet, but is coached by a very familiar name, Kevin Jeffers, formerly of the Eastern Commerce Saints. You know these guys will be tough and ready.
Stay logged on to North Pole Hoops as we learn and share our observations and evaluations on all the other teams in this draw.