Canadian Duo Dillon Brooks, Chris Boucher Impressive for Oregon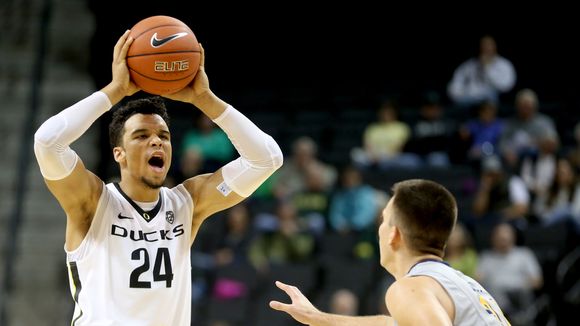 In game one of exhibition play for the Oregon Ducks, the Canadian duo of Dillon Brooks and Chris Boucher displayed a preview of their capabilities for the 2015-2016 season, in a 92-44 victory over Northwest Christian.
Brooks (Mississauga, ON) delivered a double-double of 26 points and 11 rebounds on 10 of 12 from the field.
Boucher (Montreal, QC) recorded 11 points and an astounding 7 blocks; it would not be surprising if the 6'10 forward lead the country in the shot blocking department due to his length, timing and mobility, which are off the charts.
During his prep career, Boucher was known for commonly putting up ridiculous rebounding and shot blocking numbers in the double digits.
Both Brooks (#2) and Boucher (#5), were recently named as Top 10 Canadians, by NPH National Scout Tariq Sbiet.
Ball Movement https://t.co/eoulnjwsCh

— Michael Mennenga (@mennenga32) November 4, 2015
Dylan Ennis Foot Injury
We would like to wish Canadian point guard Dylan Ennis (Brampton, ON) a speedy recovery, as he will be out with a foot injury "for a while" according to Oregon Head Coach Dana Altman. Ennis is expected to miss all of November, and possibly December.