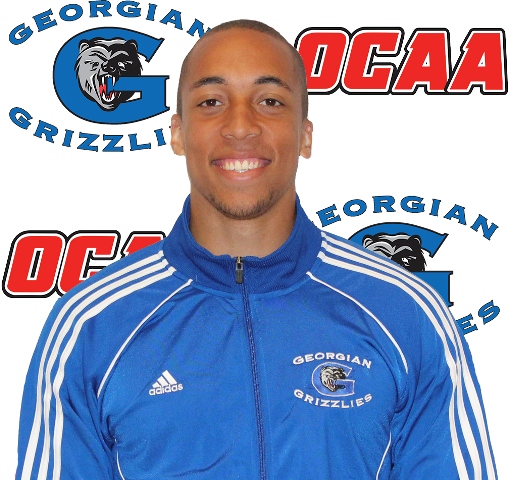 Tequilan Zwarych – CCAA East, NPH Diary Holder
NPH is proud to announce Tequilan Zwarych of Georgian College as our first diary holder ever for Canadian College basketball (CCAA). Zwarych will represent the Eastern Canada. Coming off an All-Canadian season where he averaged 20 points and 13.9 rebounds (#1 in the country), Zwarych hopes to follow up with another spectacular year.
–
There have been a lot of firsts happening in my life recently.
I've been chosen to be Mr. Speaker for the CCAA and I must say, I did not see this coming, but I'm down.
My name is Tequilan, yes from that drink we either love or despise, and yes, I have heard every joke already so save it. I guess I'll get straight to the point. I never thought I would be in this position taking an inside look at Canadian college basketball players; especially because I quit basketball after high school.
After I played for the Whitby Wildcats OBA Team (Coach Hutchcroft), travelling the states and experiencing what this lifestyle had to offer, I told myself if I could travel while in the car business I'd have it made. So I gave up sports and moved on to the next stage in my life.
After two years of lollygagging (one return year in high school and a random Economics year at Ryerson, I pursued my passion at the Automotive Business School of Canada through Georgian College.
Entering Georgian, I experimented with volleyball, and gave it a shot to continue with hoops, but came to a conclusion that sports in my life were done, and I was so proud to have found my place in a future career: The Automotive Industry…or so I thought.
Present day: Last time I checked, I no longer have the same passion that I did for the automotive industry. I am trying to get this degree in a matter of months and pursue Law school or a Masters in business. Ultimate fail safe – Cali Baby!
So what happened, 'you just gave up sports for something you no longer like?' All I know is, on my journey of continual improvement, I'm always re-evaluating my character, and constantly striving to become a better man of God, this is me and I simply go with the flow.
I remember when I went to tryouts my second year at school and said, "Well maybe this year. I haven't played college ball before. Maybe it would be fun"?
Here I am now, starting my third season as a proud Georgian Grizzly and a CCAA All-Canadian, striving to take my team to the Tournament of Champions.
Last year was full of surprises. To start, we lost our first game of the season which was a big reality check. Our group of players, as talented as we were, had not learned how to win. We haven't learned how to crush teams. For this reason, we took six losses to teams we thought would be a walk in the park and it ended up biting us.
We got our first taste of a Top 15 National Ranking. We received a straight shot to the provincial tournament which had Barrie's media floating around our facility. Perhaps that was enough for us, because we lost both games at provincials trying to fight back from a 20-point deficit. We didn't know how to win. But something about our team at that tournament never gave up. Our coach was emotional having watched us never stop fighting.
That is what propelled us into this season, the so called dream season! All senior players returned for one last hurrah, new prospects, new friends.
All of the stars seemed to be aligning. Next thing I know, my team members are dropping like flies with injuries, we're losing pre-season games, and we just lost to a team we used to beat by second nature. My goal was 20-0, which has shown to be a quick failure.
This has now become a learning and an ultimately maturing experience, to truly focus on the end goal. Sometimes I don't even know what that goal is anymore, as having a full meal is accomplishment enough #needmoreOSAP.
I just hope the stars align in our favour. There is nothing different about this team and last year; same mentality, same purpose.
It comes down to our focus game in game out. How badly do we really want to win a championship for our school, and our region?
I don't know what's going on, but this year is going to be one to remember.