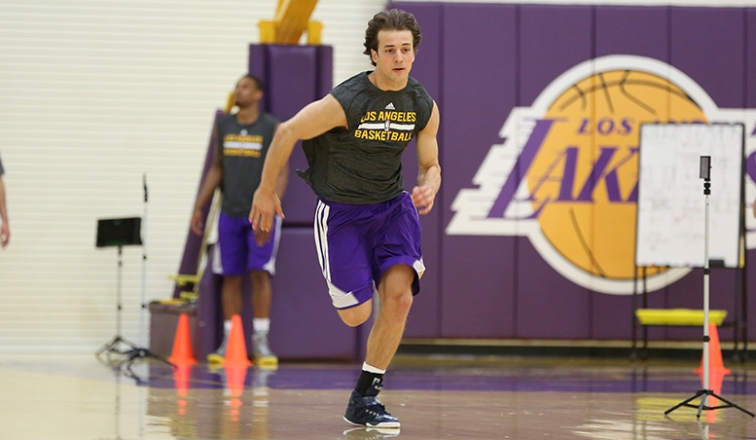 List of Canadians in NBA Pre-Draft Work Outs
With the NBA Draft only a few weeks away the pre-Draft workouts will be in full swing.  Teams looking to add a potential piece to a possible play off team or a future building block are auditioning players that could make a difference and some Canadians have been among them.
Kentucky's Trey Lyles, a potential Lottery pick by some mock Draft boards, will begin his individual pre-Draft workouts with teams that could be selecting him (which may mean only two or three actual workouts in total) while others are already on number three like Kevin Pangos. Between the two of them, there have been a few surprise names that have made their way to some team lists also.
We've been keeping an eye on which of our Canadians have been invited to team workouts so far and will be keeping an updated list as attendance is confirmed.  Check out what players have worked out for which teams right here …
List of Canadians in NBA Workouts
Olivier Hanlan (Aylmer, PQ) – Spurs (mid May), Indiana on May 15, Suns on May 28, Celtics on June 2, Timberwolves on June 4
Kevin Pangos (Holland Landing, ON) – Lakers on May 26, Suns on May 27, Nets on June 1, Knicks on June 6
Maurice Walker (Toronto) – Lakers on May 26, Clippers on May 28, Raptors on June 3, Jazz on June 7
Kenny Chery (Montreal) – Clippers on May 26, Jazz on June 7
Dallin Bachynski (Calgary) – Jazz on May 27, Wizards on June 2, Raptors on June 3
Stefan Nastic (Thornhill, ON) – Clippers (possibly May 27), Lakers on May 28, Thunder on May 30, Wizards on June 1, Blazer on June 3, Kings on June 4
Daniel Mullings (Toronto) – Miami on May 28, Suns on June 4
Trey Lyles (Indianapolis) – Suns on June 4