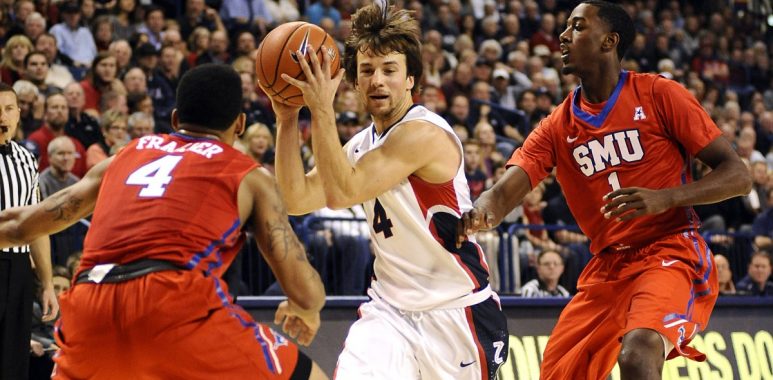 Canadians in NBA Draft Workouts: Who could be in?
With the NBA's Pre-Draft Combine in Chicago now over the real jockeying for positions begin with the team workouts.
The only two Canadians to have received invites to the exclusive event were Kentucky freshman Trey Lyles and Boston College junior Olivier Hanlan and there have been mixed commentary out of the combine. Lyles did not participate in the individual or team drills while Hanlan did the opposite. Both did do interviews with teams and this seems to be the most important thing for potential employers when it comes to the Combine.
As of right now, there is no word on which team Lyles will be working out with yet (and I'm sure the list will be very short once they get announced before the Draft) but Hanlan begins his workout process with Indiana Victoria Day and will at least have the Spurs at some point.
Outside of these two Canadian ballers, here are a few other players that could be seen on some team workout invite lists before the Draft day in June …
Most Likely:
Kevin Pangos, Gonzaga – Pangos has a more than respectable resume, enough to have NBA execs interested: Four time All West Coast Conference performer, conference player of the year as a senior, honorable mention All American. He was not invited to the NBA combine, but that does not mean he can't play at the highest level.
Pangos told North Pole Hoops last week that he has several work outs lined up with NBA teams.
But what's the difference between lunges and squats when it comes to leg workout? Is lunges vs squats comparable? What's the advantage of one over the other?
Maurice Walker, Minnesota – Walker, though maybe not with standout stats, does have two things going for him that could land him at a few NBA Draft workouts: He's a mobile big man (6'9", 270 lbs.) with a soft touch, and has played in a major program.
He averaged 11.8 points, 6.7 rebounds, 1.5 steals and 1.3 blocks in 24.2 minutes for what many thought was an underachieving Gophers team. Pretty efficient stats and they got him an honorable mention All Big Ten media vote. A big plus is that he was invited to the Portsmouth Invitational and performed well in a few games. These numbers have gotten some players drafted in the past; Big Mo should at least warrant a closer look by some teams and then it will be up to him to show something.
Maybe Not:
Daniel Mullings, New Mexico St – I've always been a huge supporter of Daniel Mullings during his time at New Mexico St. He's uber athletic and is a two-way player that can score in a multitude of ways. Unfortunately he falls in the tweener category of guards – a two guard with point guard size.
Three-time All Western Athletics Conference player and the conference player of the year as a junior are enough get him on any team's list but he isn't a true point guard. On top of that he doesn't shoot the three particularly well (he's a career 36.1% on a 178 total attempts). He does have career averages of 13.1 ppg, 4.6 rpg, 1.8 apg and 2 spg as an Aggie and before his wrist injury last year he was near 50% from the field for his career (his 43.2% FG last season dropped his career total to 46.4%).
Those numbers coupled with his honors could mean he sneaks into a workout or two but at the ultra competitive backcourt position it may be the best he can get.
Kenny Chery, Baylor – Chery is another guy that could be stymied by the excess of quality guards available in this Draft. He's a solid lead guard that has shown that he can play at the highest level in college. Going from a junior college honorable mention All American to honorable mention All Big 12 Conference as a junior to second team All Big 12 as a senior shows that. But like Mullings that may not be enough to get him in.
Chery is 5'10" and though he can pass, create for his teammates and shoot the ball, his size will be the biggest question. Defending at the NBA level will probably be the biggest concern and may be enough to keep him off the radar. I can see him being thrown into a workout as a player to put up some competition against a guy that a team really wants to test but nothing more.