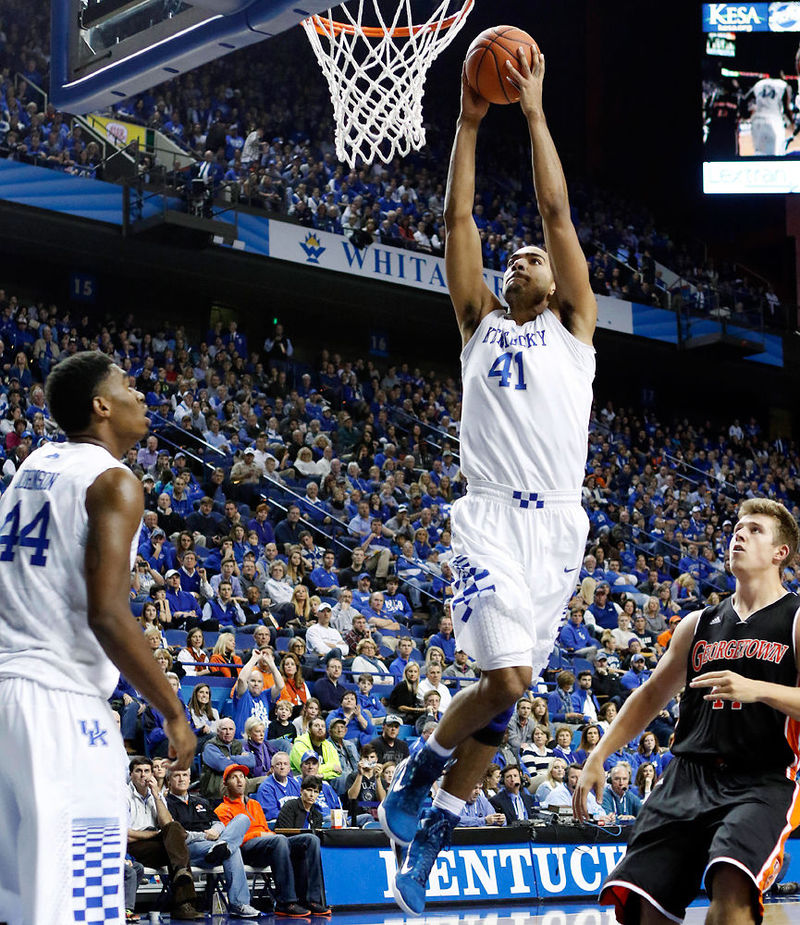 NBA Draft Combine List Released, Canadians Trey Lyles, Olivier Hanlan Invited
With just under 50 days before the NBA Draft will take place the annual list of participants for the NBA Draft Combine was released yesterday.  62 of the best players that will be available to for the upcoming Draft will head to Chicago to get measured, tested and drilled in hopes of securing a potential contract to play in the League.
This is far from the best list of players that are Draft eligible (Karl-Anthony Towns and Jahlil Okafor will not be in attendance) but it is still got a quite a few names that carry some weight like Willie Cauley-Stein, Frank Kaminsky, Tyus Jones and Stanley Johnson.
A full list of participants for the 2015 NBA Draft Combine has been released: pic.twitter.com/YUk4mM7trR

— SI NBA (@si_nba) May 7, 2015
For Canadian basketball fans though, the most important names are Trey Lyles and Olivier Hanlan.
It's really no surprise that these two were invited to the Combine.
They are the two Canucks that will most likely get Drafted this year (Lyles projects to be picked in the mid Lottery to mid First Round while Hanlan projects to be an early to mid second round selection depending on which list you read) and the powers that be would like to get a closer look at them both.
Like all the other players participating in this event the Canadians will have something to prove. Aside from the obvious physical measurements like height without shoes, standing reach, vertical leap and hand width there is station/drill work and possibly the group play. All will serve to help assess and maybe even give an answer or two to some concerns that scouts and GMs may have on them.
For Lyles, I think he has the most potential to show more than he did his lone year at Kentucky; Trey Lyles was NPH #1-ranked Canadian prospect in 2014.
There are six other Wildcats invited to the Combine aside from him and Lyles stands to gain a little bit from being here. I'm sure that his size and agility are what most team personnel are looking at first at this event since they should all know he can put the ball in the hoop. I think he could impress with his outside shot in drills but his best place to show people that he's capable of more than he may have been able to display during the season will be in the 5-on-5 games. The trend has been that likely First Round picks tend to stay away from team drills or games at these events and there is a chance he may not be participating; it's not a fact yet but I have a hunch.
For Hanlan, he will likely be looked at pretty hard on the measurements in my opinion. He has been THE offense for Boston College the last two seasons and last year he proved that he can do it all alone. When teammate Ryan Anderson transferred to Arizona that put all the offensive burden, and defensive targets, on Hanlan and he was nothing short of impressive. I think the big questions around Hanlan will be does he have the size to play in the NBA; he can shoot, penetrate, dribble and play D and should shine in these drills but the measurements will give them a true physical assessment of him which can be both good and bad.
With the many players at the Combine, let alone Draft eligible, measurements could be the difference between First Round, Second Round or free agent camp invite.
With Lyles and Hanlan the big name Canadians at the Draft Combine the one glaring name not present is Kevin Pangos.
Though there's a list of talented guards (let alone players) that didn't get an invite, I'm still surprised. Pangos has been a four-time West Coast Conference First Team guy and conference player of the year this season–I thought he would have gotten in for sure.
This still doesn't mean that he's out for sure since players could still drop out of the event but it definitely looks more unlikely the closer to start date. After the career he's had I would imagine that a "Cory Joseph" could happen for him still.
Regardless, the coming week looks to be an exciting time. Hanlan and Lyles still have time to pull out of the Combine and Pangos has time to sneak in. The hope now is that those at the event will solidify a spot in a team's immediate future.