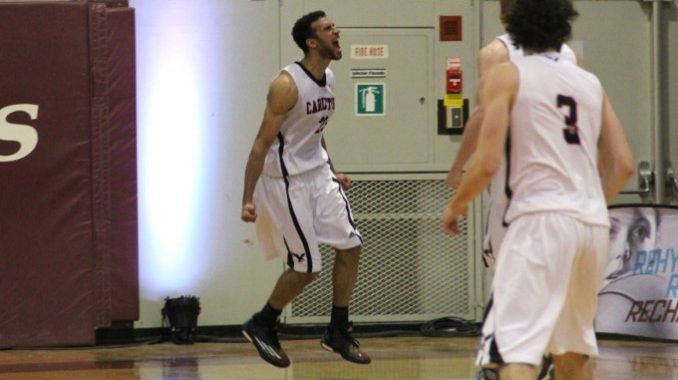 CIS Seeding Released for Nationals, Carleton Ravens Keep Number One Spot!
The CIS has released their seeding for the Final 8 taking place in Toronto March 12-15 at the Mattamy Athletic Centre.
The defending champion Carleton Ravens have earned the #1 seed after comfortably defeating Windsor for the OUA crown 103-59.
Those same Lancers are the #2 seed, following a decisive upset against the Ottawa Gee-Gees 85-80.
With the CIS rule regarding conference champions being seeded no lower than sixth, the host Ryerson Rams received the short end of the stick, dropping to #7, despite a stellar season (entering OUA Final 4 as #3 ranked team) and tied for the second best record in the country at 17-2.
As a result, Windsor and Ryerson are pitted against each other in an exciting first round match up!
SEEDING
1. Carleton Ravens (OUA champions: 17-2 regular season / 3-0 playoffs)
2. Windsor Lancers (OUA finalists: 15-5 regular season / 3-1 playoffs)
3. Ottawa Gee-Gees (OUA bronze medallists: 18-1 regular season / 2-1 playoffs)
4. Victoria Vikes (CWUAA champions: 15-5 regular season / 4-0 playoffs)
5. Dalhousie Tigers (AUS champions: 10-10 regular season / 3-0 playoffs)
6. Bishop's Gaiters (RSEQ champions: 8-8 regular season / 2-0 playoffs)
7. Ryerson Rams (OUA 4th place: 17-2 regular season / 1-2 playoffs)
8. Saskatchewan Huskies (CWUAA finalists: 15-5 regular season / 3-2 playoffs)
CHAMPIONSHIP SCHEDULE
Wednesday, March 11 (practices at Mattamy Centre: OPEN TO MEDIA)
9:00 Saskatchewan
10:00 Carleton
11:00 Dalhousie
12:00 Victoria
13:00 Ryerson
14:00 Windsor
15:00 Bishop's
16:00 Ottawa
18:00 All-Canadian Awards Show & Gala (Uniun Nightclub – 473 Adelaide St. West)
Thursday, March 12
11:00 Quarter-final 1: No. 8 Saskatchewan vs. No. 1 Carleton (Rogers TV / www.CIS-SIC.tv) *
13:00 Quarter-final 2: No. 5 Dalhousie vs. No. 4 Victoria (Rogers TV / www.CIS-SIC.tv) *
18:00 Quarter-final 3: No. 7 Ryerson vs. No. 2 Windsor (Rogers TV / www.CIS-SIC.tv) *
20:00 Quarter-final 4: No. 6 Bishop's vs. No. 3 Ottawa (Rogers TV / www.CIS-SIC.tv) *
Friday, March 13
14:00 Consolation 1: Loser QF 1 vs. Loser QF 2 (Rogers TV / www.CIS-SIC.tv) *
16:00 Consolation 2: Loser QF 3 vs. Loser QF 4 (Rogers TV / www.CIS-SIC.tv) *
Saturday, March 14
14:00 5th-place game (Rogers TV / www.CIS-SIC.tv) *
18:00 Semifinal 1: Winner QF 1 vs. Winner QF 2 (Sportsnet 360 / www.CIS-SIC.tv) **
20:30 Semifinal 2: Winner QF 3 vs. Winner QF 4 (Sportsnet 360 / www.CIS-SIC.tv) **
Sunday, March 15
11:30 Bronze (Rogers TV / www.CIS-SIC.tv) *
15:00 Final (Sportsnet 360 & ONE / www.CIS-SIC.tv) **