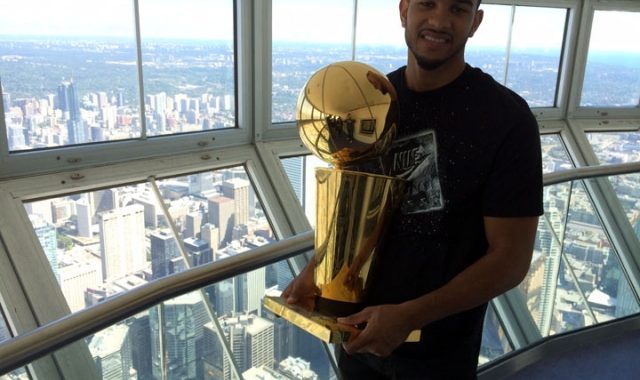 Canada's Point Guard: Cory Joseph
When Team Canada hits the court July 21st for the Pan American Games in Toronto, the ball will be in Cory Joseph's hands.
The steady fourth year PG out of Pickering, ON. has emerged as a leader while stepping into a larger role with his San Antonio Spurs this season.
His emergence is encouraging for Canada Basketball heading into their biggest summer yet.
"Every year that I've been a Spur I've learned a lot of new things and I definitely take that into the Canadian team this summer with me," Joseph said Sunday night in Toronto.
Cory's already logged 1114 minutes in 48 games, more than his total in 68 games last season. His numbers are up too, reaching career-highs in points with 8.7 on 51% shooting, assists with 2.8 and rebounds with 2.9.
"I'm definitely excited, hopefully we can have everybody healthy for the first time ever," said Joseph.
Joseph played alongside Andrew Nicholson, Kelly Olynyk, Dwight Powell, and Robert Sacre in last year's barnstorming tour of Europe.
This summer they should add Andrew Wiggins, Anthony Bennett, Tristan Thompson, Nik Stauskas, and Tyler Ennis, the first time the much anticipated "A" team of young Canadian talent will be assembled.
"I played with [Wiggins] when I was young, we grew up together but now it will definitely be fun. He's a very athletic, very talented young player," said Joseph. "We're a young talented group, but we don't have much experience so we've got to be focused and soak up as much in our time together as we can to build chemistry."
Playing on the international stage will be an opportunity that could define Joseph's career.
The Pan Ams will take place weeks ahead of the FIBA Americas in Monterrey, Mexico where Canada will fight for a berth in the 2016 Rio Olympics. The Women's team should have Natalie Achonwa back from an ACL tear and prepare for their own Olympic Qualifying tournament in Edmonton.
Playing in Canada and in a huge market like Toronto will give the Canadian national programs profile and exposure like never before.
The men, ranked 25th in the world, open the Games on July 21 versus the No. 20 Dominican Republic at the Mattamy Athletic Centre, then play No. 3 Argentina on the 22nd, and 19th-ranked Mexico on the 23rd. The bronze and gold-medal games are July 25th.
The 10th-ranked Canadian women open versus Venezuela (No. 34) on July 16, then face Argentina (14) on the 17th, and Cuba (13) on July 18th. Their medal games are July 20.