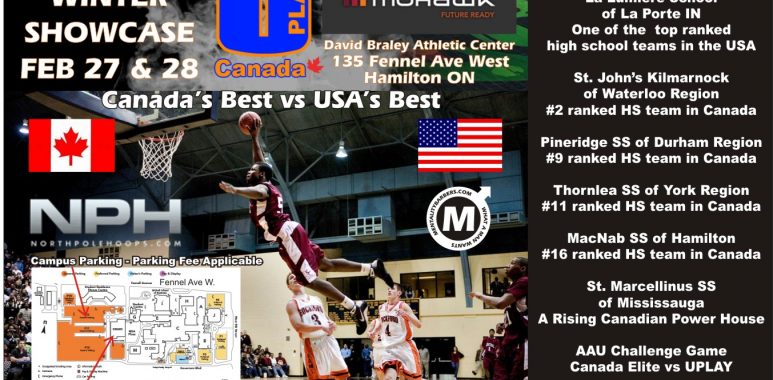 UPlay Winter Showcase Tips Off Feb 27, Featuring Top Canadian Prospects
The UPlay Winter Showcase will take place February 27-28 at Mohawk College, featuring some of the nation's top talent from both sides of the border!
Multiple #NPHTop25 teams will be present including SJK, Pine Ridge, Thornlea & MacNab, along with American prep power La Lumiere of Indiana and a blossoming Canadian program in St Marcellinus, featuring the #1 prospect in the class of 2019, Rowan Barrett Jr.
La Lumiere's roster is loaded with NCAA prospects and suits up four Canadians in Munis Tutu, Nolan Narain, Brandon Cyrus Tyler Plummer. along with the big Australian Isaac Humphries.
The U-Play Winter Classic brings together an exciting combination of high school basketball, that include established names and emerging stars on the Canadian basketball scene!
In addition, this event will have two top club programs going head-to-head at the grade eight level in Canada Elite and U-Play.
You won't want to miss this!
U-Play Winter Showcase Schedule
Check out Highlights from last year's event below
6:30 PM
– Central Toronto Academy VS St. Marcellinus
8:00 PM
– MacNab VS Thornlea
9:30 PM
– Pineridge VS La Lumiere
11:30 AM
– Canada Elite VS Uplay (Grade 8)
1:00 PM
– Canadian Rising All-Stars Game
2:30 PM
– SJK VS La Lumiere