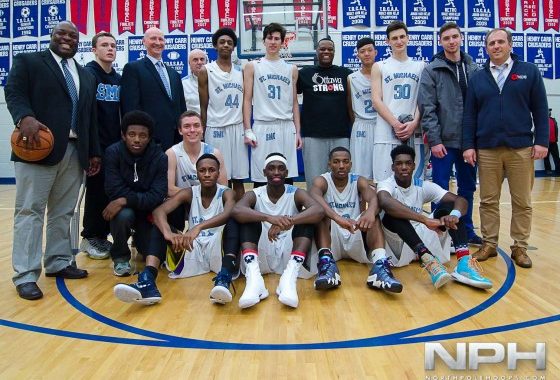 #1 St. Michael's Sneaks One Past #2 SJK, Improve to 11-0
BRESLAU, ONTARIO–With  two tournament Championships under their belt the St. Michael's Blue Raiders were not ready to give up their number one spot in National Rankings. They visited the St. John's Kilmarnock Eagles for a number one vs number two showdown. The Blue Raiders snuck out with a 61-54 win over their leauge rival SJK improving their record to 11-0. This was their last game before heading out to Windsor, Ontario for the Freed's Invitational.
SJK started the game hot. They played hot potato until they found the shot that they wanted in the first quarter. Off ball movement and use of their swing action offense had them in a groove and closed the first quarter with a 17-3 lead.
Mid-way through the second SJK was playing their best basketball and St. Mike's was the exact opposite of what we've seen of them this season. Most of the team came out very lax and did not seem into the game.
On the other hand the Eagle's, composed play, starting with Michael Ganson (15 points), had them clicking by means of his distribution, which his teammates fed off of. Mike Blumel stretched the lead for the Eagle's with a three ball and points in the paint.
Just when the Eagle's thought they were on their way to taking down the number one team in the nation, they started to deter from their offence and played more 1-on-1 basketball, which was not in their favour.
Head Coach of SJK, Borko Popic shared his sentiments on the team's second half play.
"In the first half we moved the ball and guys were playing within our systems; movement, cuts and sharing the ball. We were doing what we've done for the past month and a half. The second half, I just think that we went away from what had got us to the position that we're in."
Last night's performance by the number one team in the country was one of the weakest starts we had ever seen from them.
Head Coach Jeff Zownir commented on the energy of his team after coming out slow.
"The intensity wasn't there, we dug ourselves a big hole. One thing I've seen with this team is we don't give up, we just keep fighting. When shots don't drop we know we'll eventually hit em, our defense picked up in the second half and we did what we had to do to win."
As they prepare yet another weekend against tough competition at Freed's in Windsor, this game was a wake up call. Danilo Djuricic had received that call early.
Djuricic came up big for St. Michael's as he had done in other sightings on big stages. He finished with a game high 17 points while making a majority of his shots from three point land, after several attempts of getting to the free throw line with tough "no call" takes to the basket.
"Danilo is a rock, defensively he does what we need, blocks shots, rebounds, rotates very well and comes up with big plays when we need him. On the offensive end he's an inside-outside type of player," as stated by Coach Zownir.
Djuricic carried and Nelson Kaputo and Marcus Carr came into the fourth with acrobatic finishes which got them over the hump.
With 2 minutes left to go in the game and St. Michael's up four, the Blue Raiders spaced out to the four corners and stalled.
This left a sour taste in some people's mouths and stirred up conversation about the necessity of having a shot clock in Ontario high school basketball.
Coach Popic did not share the same thoughts as some of the SJK fans in the stands although he agreed a shot clock would elevate the game.
"I'm a big fan of having a shot clock. In order for our game to progress we definitely need a shot clock. Having said that, they played within the rules of the game. I have nothing to say about their tactics, they played within the rules, I'm ok with that."
These two teams are sure to meet again in league play. As for now, the Blue Raiders look ahead to Freed's.
Onto the next.
"We've had a tough schedule this early in the season, we haven't had any easy games. This is another tough game to start the season. We expect Windsor is going to be a war, Coach Cusumano has done a great job of attracting better and better teams each year, it's a tough draw. I think it's going to be four difficult games but we're prepared for it, we don't shy away from playing tough competition."
Thornlea and Pine Ridge are two other top ranked teams that will participate this weekend. We will have written content and video from the event all weekend.