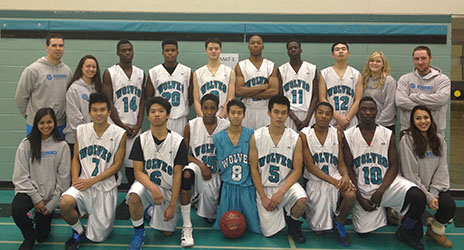 Calgary Basketball Preview – Bishop McNally Poised to Defend Title
By Sean Maheu
–
Last season, Bishop McNally and Father Lacombe dominated the Calgary HS league from beginning to end. In the championship game, McNally came out victorious in a wild overtime affair.
Predicting the top teams for the 2014-15 season however, is no easy task. There isn't much separating the top teams this time around; there are at least seven teams vying for the top spot. After talking to some key members of each of the following teams, I believe these four will be the last standing when the Semi-finals roll around this February.
Bishop McNally
Bishop McNally look to become the first back-to-back Division 1 champs since Sir Winston Churchill accomplished that feat five years ago. The Timberwolves, who were led by exciting stars Mathieu Kamba and Paul Sindac, form a new lethal combo in SG/SF Ivan Ikomey and PG Redmond Quiambao. The pair leads an impressive crop, which includes sharpshooter Terence Crisostomo and slasher Deshon Vaughan. Formidable big men Jairus De Jesus and Clayton Henry will complement the back court.
Impact players – Ivan Ikomey, Redmond Quiambao, Terence Crisostomo, Deshon Vaughan, Jairus De Jesus, Clayton Henry.
PREDICTION: Semi Finalist
Sir Winston Churchill
The 2014-15 Churchill Bulldogs will have the best shooting bunch in this year's senior class. The question is, can they round out the rest of their game? The answer to that question is reliant on how Derian Valdes performs. The talented guard has the ability to take over a game with his slashing and shooting prowess. Sniper Vlad Zasmolin, who recently earned MVP at the Alberta North Pole Hoops Showcase, will give opposing coaches fits with his shooting and rebounding ability. Look for the Bulldogs to make a strong run at the Division 1 City Championship.
Impact players – Derian Valdes, Wesley Cole, Vlad Zasmolin, Kobyn Jopp, Kyle Gill
PREDICTION: Semi-finalist
Ernest Manning
When studying the 2014-15 version of the Ernest Manning Griffins look no further than senior Aidan "Pookie" Saunders. The point guard has the confidence and ability to help carry his team to the promised land. I recently had the opportunity to talk with Saunders and when asked about goals for the upcoming season, he proudly said, "City Champs, count on it."
Saunders' confidence resides in the fact that he has a solid team supporting him. Forward Brodie Davis can stretch the floor with his shooting ability. Guard Matthew Uponi is a solid ball handler who uses his strength to finish at the bucket. This team has winner written all over it.
Impact players – Aidan Saunders, Brodie Davis, Stefan Gigovic, Matthew Uponi, Tarrick Anderson
PREDICTION: Finalist
Bishop O'Byrne
Returning this season for the Bobcats is Emmer Mangawang. The point guard tore his ACL early last year and was forced to cheer on his team from the sidelines. The skillful competitor uses his gifted IQ to pick apart the opponents defense. The confident floor general leads a tight knit squad that has no shortage of talent. Shooting guard Dylan Cline is considered one of the best three point shooters in the city, while Liam Burke is known for attacking the basket and finishing above the rim. David Asebiode is the new man on campus. The Churchill transfer is a crafty guard who likes to get his teammates involved, while using his mid range shooting ability to keep defenders honest. I have a good feeling about this year's version of the Bishop O'Byrne Bobcats Basketball Team. With their unselfishness and talent clearly evident, I believe they will win Calgary's Div. 1 City Championship game in 2015.
Impact players – Dylan Cline, Liam Burke, Emmer Mangawang, David Asebiode, Alex Krasowski, Jimmy Villa
PREDICTION – Champion
Other Contenders
Father Lacombe
Impact players – Ateam Atem, Lual Tong, Omot Ojulu, Jeshrun Antwi, Mel Mel, Denzille Noel (Grade 10)
Notre Dame
Impact players – David Kuac, Issac Agyei, Tyrell Lindgren, Sylvan Lombo
St. Francis
Impact players – Lorenzo Cruz, Brayden Mah, Aaron Christion, William Igbokoyi, Carter DeVries.