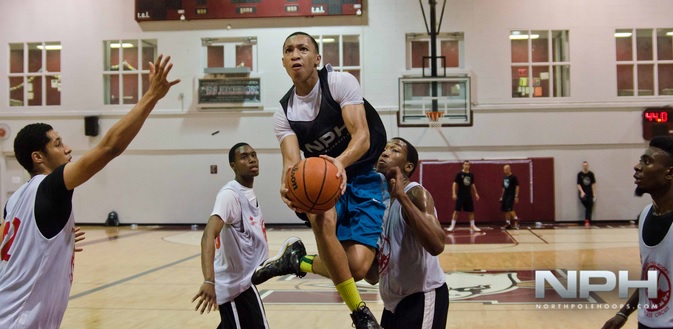 Hamilton #NPHShowcase Top Prospect Game Rosters
130 Canadian prospects battled throughout the weekend in hopes of distinguishing themselves for the Top Prospect Games on Day three.
The following talent below cracked the rosters.
NOTE: Underclassmen Top Performers were awarded participation to move up and battle with their older counterparts. The following names were moved up–Christian David, Abu Kigab, Khaleem Bennett, and Julian Walker.
For FULL Photo Gallery, pleas CLICK HERE.
 Hamilton NPH Showcase Top Prospect Game Rosters
Name
High School
Club
Top Performers
Upperclassmen Black
Ryan Basso
O'Gorman HS
Timmins Select
Jeremiah Brown
Central Commerce
DeenUP
18pts,4rbs,1stl,1blk
Kendrick Jolin
Salisbury
Brookwood Elite
12pts,2rbs,3ast,1stl
Mahad Abdulle
Castlebrooke
Hoops Canada Elite
Isaiah Cummins
Maxwell Heights
Canada Elite
8pts,1rbs,3ast,1stl
Imani Taylor
Cardinal Ambrodic
Hoops Canada Elite
2pts,7rbs,2blks
Mark Douglin
Jean De Brebeuf
U-Play
2pts,2rbs,2stls,1blk
Dylan Gregory
Campion
Hoops Canada Elite
5pts,4rbs,1ast,1stl
Mohamed Kazi
Jean De Brebeuf
Hamilton Wildcats
Tyler Brown
Cardinal Newman
Blessed Sacrament
6pts,3rbs,1ast,1stl
Hassan Mohamoud
Emily Carr
Grassroots Canada
5pts,1rbs,1ast
Khaleem Bennett
MacNab
U-Play
Christian David
Bishop Reding
S-Elte
Upperclassmen White
David Okoroafor
Bishop Allen
Hoops Canada Elite
Danylo Kostecki
Episcopal HS
Blessed Sacrament
15 pts,1rbs,1ast,1stl
Fabian Iwamba
J. Clarke Richardson
Karol Derech
St Patrick's
Canada Elite
5pts,5rbs
Theodore Thomas
Ascension
Mississauga Monarchs
7pts,7rbs,1ast,4stls
Shyheim Rawle-Grannum
Archbishop Romero
Malton Mavericks
Xavier Ellis
St Thomas More
U-Play
2pts,5rbs
Kardon Edwards
St Roch
Hoops Canada Elite
6pts,1stl
Kyle Estalilla
St Joan of Arch
Hoops Canada Elite
8pts,4asts
Abu Kigab
St Francis
Brampton Warriors
Julian Walker
Innisdale
5pts,2rbs,1ast,1stl
Lucas Orlita
Holy Trinity
Underclassmen White
Tyrique Moe
Bishop Reding
Grassroots Elite
5pts,4rbs
Antoine Vernon
MacNab
MacNab
2pts,4ast
Blake Anderson
Bishop Tonnos
U-Play
Isaiah Bujdoso
MacNab
U-Play
Cullen Welsford
Thomas A Blakelock
Grassroots Elite
Elijah Lostracco
Holy Trinity
5pts
***Khaleem Bennett
MacNab
U-Play
9pts, 4rbs,3stls,2blks
Trenel Edwards
U-Play
Sina Gbadebo
Herman
Grassroots Elite
4pts,2rbs,5asts,2stls
Rohan Malhotra
Bayview
Vaughan Panthers
4pts,2rbs
Tafari Lowe
Lester B Pearson
Grassroots Elite
Shakwon Barrett
Oakwood
Grassroots Elite
4pts,2rbs,2ast,1stl
Abu Kigab
St Francis
Brampton Warriors
7pts,4rbs,1ast,1blk
Julian Walker
Innisdale
12pts,3rbs,1ast,1stl
Lucas Olsthoorn
St Francis
Brampton Warriors
8pts,5rbs
Underclassmen Black
Christian David
Bishop Reding
S-Elite
10pts, 11rbs, 1ast, 1stl
Brandon Kenyon
MacNab
U-Play
Tyler Grummett
E. L. Crossley
Niagara Falls Red Raiders
Kahleel Ellis-Garcia
Father Goetz
Hoops Canada Elite
6pts, 3rbs, 1ast
Jamal Mayali
Bill Crothers
Association
Jake Chaput
Bishop MacDonnell
Guelph CYO
Ali Sow
Ottawa Islamic School
Ottawa Guardsmen
9pts, 4rbs
Jeff Baradziej
Wasatch Academy
Canada Elite
Mason Middaugh
John Paul II
London Ramblers
7pts
Kevaughn Ellis
MacNab
U-Play
Xavier Ochu
Bishop Reding
S-Elite
10pts, 6rbs
Joseph Thomas
Father Leo Austin
Northern Kings
6pts,5rbs,1ast,1stl
Tyler Thomson
A.N Myer
Niagara Falls Red Raiders
BB Chucks-Mady
St Thomas More
U-Play
Ezeoha Santiago
Holy Trinity
Oakville Venom
3pts,3rbs,1ast,1stl,1blk
Vernelle Johnson
Halifax Grammar
Basketball Nova Scotia