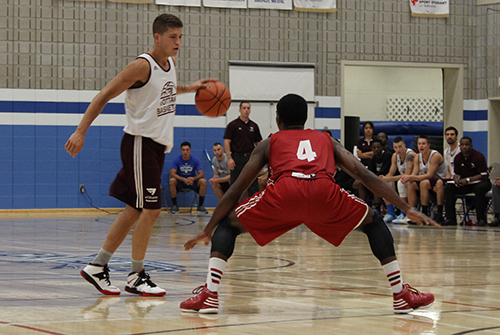 Ottawa Gee-Gees Building Winning Tradition, Grab Major Win over Indiana
The Ottawa Gee-Gees opened their 2014-2015 campaign with a bang, defeating the Indiana Hoosiers of the BIG 10 conference 109-101 in pre-season action.
Ottawa was lead by three twenty-point performances from Johnny Berhane & Mike L'Africain (27points apiece) and 21 from Vikas Gil.
Caleb Agada added a double-double of 15 & 10, while old reliable Gabriel Gonthier Dubue posted 11 points and 8 boards.
This win would mark their fourth EVER victory over an NCAA program, and easily their most impressive one, at least in terms of namesake–getting the better of a storied program that holds 5 NCAA national championships to their name, along with 8 Final Fours and 37 NCAA tournament appearances.
The Ottawa Gee-Gees however, are building their own legacy under the direction of Head Coach James Derouin.
After cementing themselves as a top-two team in the country last season, capturing OUA Wilson cup, plus silver at Nationals, Ottawa U looks to be growing their winning reputation by the year.
Two years ago, Warren Ward lead the Gee-Gees to a bronze medal at nationals, and many thought they would be in a "rebuilding year" the following season.
Instead, Coach Derouin reloaded adding CIS All-Canadian Terry Thomas, now preparing for his first pro year in Germany.
With Thomas' departure, the Gee-Gees are clearly still in great shape, as all players have matured and improved–a team that I expect to have strong depth heading into the CIS season.
Not to mention, Derouin has brought in Alex Ratte this year, a transfer from Laurentian who averaged 24.5 PPG last season, good for third in the nation.
Next up for Ottawa is Vermont of the America East (NCAA), while Carleton will take on a motivated Indiana squad tonight.