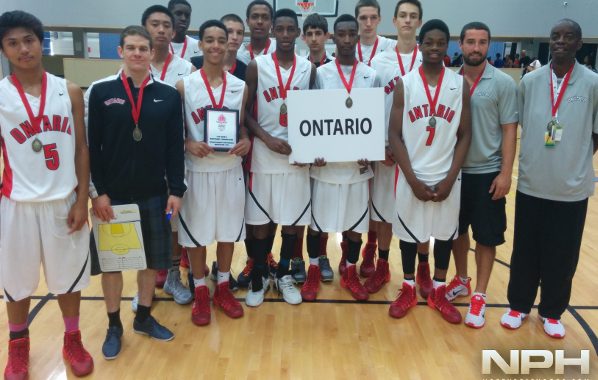 Team Ontario 15s Prove Dominance, Rowan Barrett Jr Explodes for 37
That makes it five in a row for Team O in the U15 age group.
Rowan Barrett Jr exploded for a tournament-high 37 points to go along with 7 rebounds leading Ontario over Quebec in convincing fashion 93-53.
Barrett's feel for getting to the rim and drawing contact was on full display, while doing it with effiecency, on 17-of-25 from the field.
"He has an aggressive mindset, always in attack mode," Head Coach Aaron Blakely told North Pole Hoops.
Lead guard Andrew Nembhard lead the way at the point, bringing steady production and organization to the team—18 points in championship game.
"He has been our captain in terms of leading the ball club. Guys are really calm around him…he's a calming force for us– a coaches son, and plays like it.," Blakely said of Nembhard.
Team Ontario's coaching staff did a heck of a job adjusting at halftime to Quebec, when it was tied up at 30…to blow it up, with little to no resistance from QC.
"We said to the guys, we're playing an elite team and this is what we came here for…teams are going to go on runs but we had to be prepared for second half."
Were they ever…Team Ontario came out with a focus on containing Quebec's top dogs Junior Farquar and Lugentz Dort, the leading scorer in the tournament.
"We see all the hype so we knew we had to lock him down," Barrett said of Kenetebe "Junior" Farquhar, NPH #1-ranked Canadian prospect in the class of 2018.
Farquhar finished with a team-high 21 points, 17 of which came in the first half, where he kept the QC ship afloat. Dort added 17 points and 8 rebounds.
In the second half, Shakur Daniel took on the responsibility defensively, containing Farquhar to only four points. Daniel finished with 9 points, 11 rebounds and a handful of assists.
Lloyd Pandi (Ottawa, ON) added 13 points and 7 rebounds.
Daniel had on-ball duties, however his teammates stepped up on help defense forcing offensive fouls.
"We knew we had to come hard and we had to take charges," said Nemhard.
"We wanted to make them take more contested shots."
Ontario demoralized Quebec in the second half, outscoring them by 18 in the third quarter, and then by 23 in the final frame.
Essentially, Ontario came in with an uppercut in the third, which Quebec could never recover from.
40 points does not separate these two teams as QC had a solid group of talent, illustrated by their 7-point loss to Ontario earlier in the tournament.
Simply put, Ontario brought it…QC did not.
ON proved to hold firm to their basketball dominance at the U15 age level.