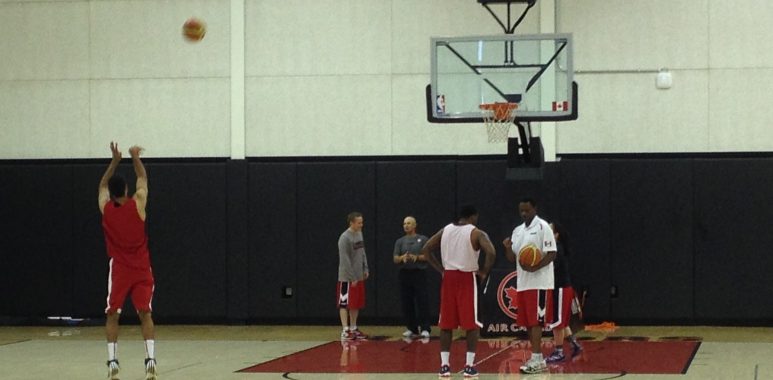 Senior Team Canada
Team Canada
Team Canada Off to Europe
After a short, and variably attended mini-camp in Toronto, Canada Basketball has named its roster for the Senior Men's National Team for 2014.
The roster is dotted with young Canadian talent demonstrating the depth of skill coming up through the developmental pipeline, but also missing several big names.
Andrew Wiggins, Tristan Thompson, and Anthony Bennett of the Cleveland Cavaliers + Nik Stauskas will not join Canada for their summer tour of duty, both focusing on the NBA season, but for the players involved it will be a chance to grow together and gain experience in a radically different environment.
"A lot of national teams have been playing the international game much longer than we have," fellow Cleveland rookie Dwight Powell told NPH and assembled media after Monday's practice. "Getting over there and getting to compete with some of the best teams in the world at the international level is important."
For a roster so young it is another chance to bond under the aura of the red and white, and compete at a high level.
While Canada has enjoyed a boom in recognition and success at some levels in recent years, the results at the highest level on the court haven't reflected the attention gained.
This summer, team Canada will play a schedule cobbled together with 11 games in six countries, while those world powers they hope to emulate compete in the 2014 FIBA World Cup in Spain. Canada finished sixth at the FIBA Americas tournament last summer and did not earn a wildcard spot to the World Cup.
"One of the things that we did two years ago is we got together as a coaching staff, at all levels, whether that was Dave DeAveiro, Roy Rana or myself, and we put together how we want to play as a nation and we started to develop that," said head coach Jay Triano.
"I don't think we're going to see the rewards of that right now but hopefully, in five years, the kids will come through the junior program and they'll have been playing the same way for a number of years."
So while these may be baby steps for a team hyped for greatness down the road, this summer is a necessary one.
The roster is lead by returning players Cory Joseph, fresh off an NBA championship with San Antonio, and the Orlando Magic's Andrew Nicholson–one of Canada's top producers from last summer.
NBA additions this year include Kelly Olynyk (Boston Celtics) and Powell (Cleveland) along with big league hopefuls Jordan Bachynski, Melvin Ejim and Brady Heslip coming off of NBA Summer League.
2014 Canada Basketball Men's National Team Roster
| | | |
| --- | --- | --- |
| Jordan Bachynski | Centre | Calgary, AB. |
| Jordan Baker | Forward | Edmonton, AB. |
| Junior Cadougan | Guard | Toronto, Ont. |
| Melvin Ejim | Forward | Toronto, Ont. |
| Carl English | Guard | St. John's, Nfld. |
| Brady Heslip | Guard | Burlington, Ont. |
| Cory Joseph | Guard | Toronto, Ont. |
| Owen Klassen | Forward | Kingston, Ont. |
| Andrew Nicholson | Forward | Mississauga, Ont. |
| Kelly Olynyk | Forward | Kamloops, B.C. |
| Dwight Powell | Forward | Toronto, Ont. |
| Robert Sacre | Centre | North Vancouver, B.C |
| Philip Scrubb | Guard | Richmond, B.C. |
| Thomas Scrubb | Guard | Richmond, B.C. |
| Jevohn Shepherd | Guard | Toronto, Ont. |
2014 Canada Basketball Men's National Team Coaching Staff
| | |
| --- | --- |
| Name | Position |
| Jay Triano | Head Coach |
| Dave Smart | Assistant Coach |
| Phil Handy | Assistant Coach |
| Greg Francis | Assistant Coach |