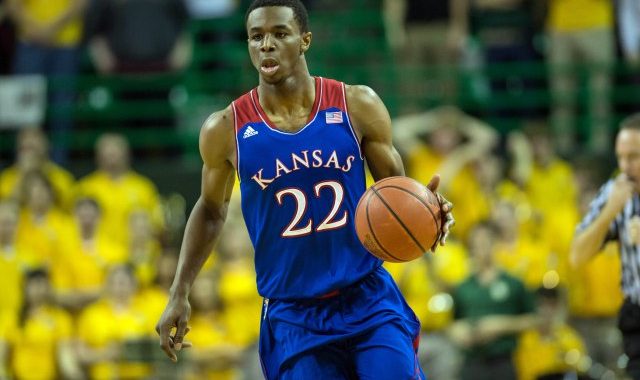 Canadians in NCAA: Andrew Wiggins, Brady Heslip, Murphy Burnatowkski
Twenty-four games across the board Tuesday night. Kansas was back in Big 12 action and were looking to bounce back from their first conference loss against Baylor who welcomed back Kenny Cherry from a foot injury, although he did not start.
This edition of @NorthPoleHoops Canadians in NCAA begins with a look at how Andrew Wiggins and Brady Heslip faired in the aformentioned game…
Andrew Wiggins (Vaughn, ON) – 14 points, 7 rebs, 5 asts, 3 stls, 2 blks
Wiggins' first basket beat the first half buzzer with a half court 3-point bomb. Wiggins only went on to shoot 4-13 from the field, but was able to effect the game in other ways as he stuffed the stat sheet and probably had one of his better overall performance of the year. By the way his Kansas Jayhawks went on to blow out the Baylor Bears 69-52.
[youtube]http://www.youtube.com/watch?v=i95iv9audN0[/youtube]
Brady Heslip (Burlington, ON) – 12 pts, 2 stls, 2 rebs, 1 ast
Kenny Cherry (Montreal, QC) – 3 pts
Sharp shooter Brady Heslip only shot 4 of 14 from the field, as all 4 of his makes came from three-point range (he attempted 10). Cherry was limited 11 minutes in his comeback as the Baylor coaching staff is being cautious with the Montreal suffered a foot injury and did not suit up against Oklahoma State. He took two shots, both threes, and nailed one registered a turnover and one foul.
Murphy Burnatowski (Waterloo, ON) – 16 pts, 5 rebs, 2 steal 1blk , 1 ast
Burnatowski shot an efficient 6 of 11 from the field, including 1 of 3 from the land beyond and 3 of 4 from the charity strip. The Colgate Raiders lost 68-69 to Holy Cross, despite his efforts. It was a tough pill to swallow for the Raiders as they held a five-point lead at halftime eventually expanding it to 10 points before Holy Cross made a furious comeback. Tied at 65 a piece, Justin Burrell intercepted an inbounds pass that lead to a Holy Cross dunk and a 67-65 lead with 25 seconds to play. After a Colgate missed jumper a Holy Cross player was intentionally fouled, made both free throws making it a 2 possession game (69-65) and therefore nullified a 3-pointer make at the buzzer by Burnatowski. Colgate is only 2-9 in conference play, and 8 -14 overall.