#7-Ranked Campion Defeats #4 DYouville…Curwin Elvis Leads the Way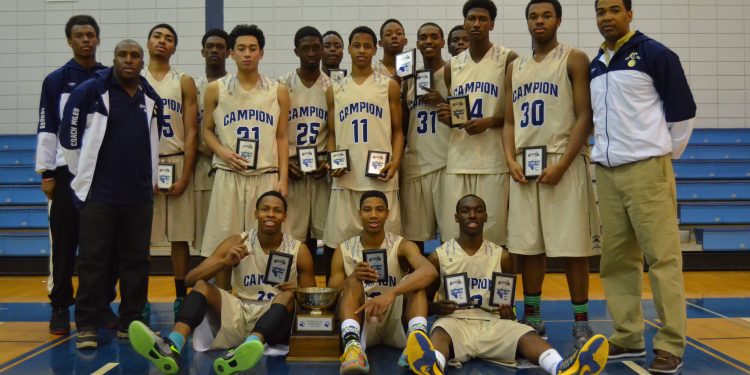 BRAMPTON,ON–Campion head coach Omar Miles said his kids were eager to get out and play after the exam break. They were…and then some.
Tournament MVP Andrew Anderson embodied Campion's tough defensive style of play and Curwin Elvis lead Campion offensively as they captured the 20th edition of the Sheridan cup over D'Youville 55-45 on Saturday night.
The game was typical Brampton basketball; scrappy, hard fought defense with spectacular athletic plays at both ends. After being tied 22 apiece in the first, the second half saw D'Youville's Norville Clayton throw down a monster dunk, posterizing a Campion defender down the lane. However, the dunk seemed to motivate Campion more than anything, as they went on to outscore the Panthers by 10 in the second half, including a vicious block and two handed hammer by Andrew Anderson.
"I had teachers say to me (after the exam break) that they were surprised that all 15 guys showed up to two (morning) practices." Miles said.  "The kids were there and ready to play basketball and I know our guys always want to play D'Youville because there is nothing to lose when you are always the underdog."
If Campion was ready to play, D'Youville was anything but. The Panthers were playing too much one on one ball, were unengaged in team huddles, and had players laid back on the bench with their arms crossed and feet stretched out as if they were ready to watch the Super Bowl.
This loss should be humbling for the Panthers, and they may have needed a reminder of what it feels like to loose, with regional playoffs around the corner.
DamiAnn Prehay lead the Panthers with 12 points.
For Campion, a major factor was senior Curwin Elvis as he racked up a game-high 17 points for Campion. As a fifth-year guard, coach Miles sees Elvis as more than just a guy that contributes in games as his influence off the court really helps his Campion squad.
"He is always trying to study the game at a higher level so how can you not like a kid like that on your team?" explains Miles. "He is always ready to play and talk to his teammates whether its constructive criticism or encouragement he is always there to engage his teammates."
But the number one thing Miles has stressed to Elvis is this, "I've been telling him the same message for the five years that he has played at Campion, If I can chew him out I should be able to chew anyone else out and it's a yes coach and no coach deal."
Sounds like a very Gregg Popovich-Tony Parker relationship to me–an excellent model for a team rising at the right time.
A team that will go as far as their senior takes them.