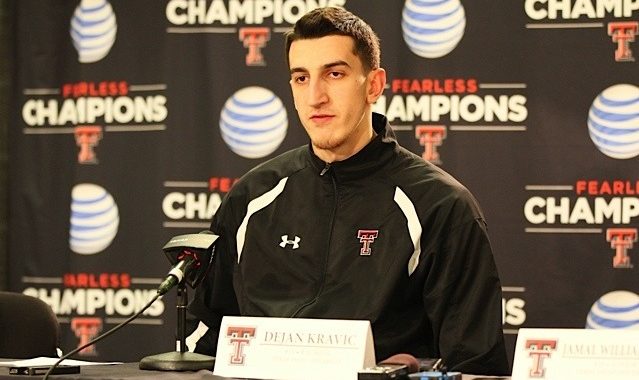 Dejan Kravic Checks In – @NorthPoleHoops Diary #2
Dejan Kravic checks in for @NorthPoleHoops Diary #2 — Read Kravic's introductory diary post, to begin the season.

–
What's up guys?
I hope you all had a Merry Christmas and a Happy New Year.
For the basketball fanatics, it was a great year of college basketball and the year 2014 is only going to get better. Canada has been well represented so far, as many ballers are making their imprint on the NCAA. Our country is noticeably taking college basketball by storm and their success has motivated me to do well and show that I belong with the best of them.
I have been dealing with, and playing through some nagging injuries for the majority of the season, but I am finally shaping into form and feeling almost 100% healthy. With conference games about to begin, I'm ready to take my game to another level.
Editor's Note: Kravic's minutes have increased in his last three games (24, 30, 20) – first time all season with 20+ mins in back to back games. Production has followed, notching double figures in scoring three of the last four games, and double digit rebounding twice — all season-highs. Averaging 11.8 PPG, 7.8 RPG in last four games.
Playing under Coach Tubby Smith has been a great learning experience so far and I have the utmost respect for him both as a coach and as a person. He has already taught me so much and I will continue to try to get better under his leadership.
The highlight of the season so far has been our trip to Brooklyn, New York for the Barclay's Classic. We watched the Brooklyn Nets play the Detroit Pistons and then practiced on that same court right after. We also got to play two games on their court as well. What made the event even more special was having my dad and uncle in attendance; they drove 10 hours through snowstorms all the way from London to Brooklyn just to see me play. I wish they saw me play at full health but I cannot complain; I was just happy to be able to spend some quality time with them.
Our non-conference schedule has not been easy; we have played against #1 ranked Arizona as well as Pittsburgh, LSU, Arizona State, Houston, and Alabama. These games taught us a lot about where we stand and where our strengths and weaknesses lie.
They have certainly prepared us for the Big12 Conference, which is already proving to be one of the best, if not, the best conference in America. We open conference play with a home game against the undefeated and #13-ranked Iowa State Cyclones. Every game from here on out will be a dogfight and the more wins we can get against such quality teams, the better chance we have at attaining our ultimate goal: a place in the NCAA Tournament.
Editor's Note: The BIG 12 conference features Canadians Andrew Wiggins (Kansas), Melvin Ejim, Naz Long (Iowa State), Kenny Chery, Brady Heslip (Baylor) — all of which are valuable producers for their respective team.
Hopefully my next diary entry will talk about how well we are doing in conference play but for now, I will continue to work hard in practice, listen to my coaches, stay on top of my schoolwork, and take care of my body.
Deuces,
Dejan Kravic