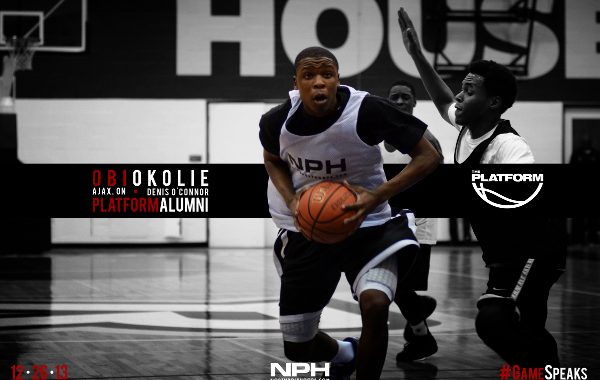 Uncommitted Top Canadian Talent at #NPHPlatform – Match Ups & Breakdown
Purchase Your Tickets Today!
Tickets are on sale online at www.ticketmaster.ca, by phone with Ticketmaster at 1-855-985-5000, at all Ticketmaster Retail Outlets, and at the Mattamy Athletic Centre Box Office.
–
In efforts to honour tradition, and the players that have come through, this year's teams will be named after #NPHPlatform MVP Alumni – Naz Long, Jamal Reynolds, Duane Notice and Chris Egi.
Unlike the underclassmen, who still have years to further build their resume, graduation is right around the corner for this group of uncommitted prospects, looking to find university for next season.
The #NPHPlatform is NOT an all-star game, its a proving ground. Coaches & Scouts will be watching, looking for players to Compete, work and bring the ENERGY.
Listen to Special Edition NPH Platform Podcast
Obi Okolie (2014 6'5 W/ Denis O'Connor) DamiAnn Prehay (2015 6'5 SF/ D'Youville) 
Okolie (Ajax, ON) might have the advantage in this match up due to his speed and perimeter ability advantage over Prehay (Brampton, ON). Okolie has been dominating the East end of the Greater Toronto Area, averaging around 25 points per game for Denis O'Connor. We believe he has the ability to truly break out at the #NPHPlatform.
Prehay, a transfer from Bramalea, has been growing as a player over the last few months at D'Youville, and has emerged as a primary producer for one of the top teams in the country. He is beginning to think the game and getting accustomed to playing within a structured setting. We initially discovered the 6'5 forward at the first ever NPH Ontario Showcase two years ago. He has made steady progress over the years and has shown a relentless hunger to improve. An athletic specimen that could create a few posters if defenders aren't careful.
Kadeem Smithen (2014 6'3 G/ Thornlea) VS Anthony Pate (2014 6'3 G/ New Hampton)
These two combo guards both have the ability to fill it up and create for teammates. Smithen will dazzle with crafty play, while Pate hurts you with efficiency. Smithen has been spectacular at times this season, however his energy levels have fluctuated. In this environment and matched up against Pate, he will have to BRING IT. Smithen currently has an offer from Siena and interest from low-mid major NCAA programs. Pate, playing in his senior year south of the border in Connecticut will be back on Canadian soil, looking to make a statement. The Oakville product has produced in every environment we've tracked him in throughout the years. The only question will be what level he will produce at in the #NPHPlatform.
Rashawn Browne (2014 6'2 PG/ Bill Crothers) VS David McCulloch (2014 6'2 PG/ Cardinal Newman)
A battle of two NPH Top 20 point guards. Browne is a tough-minded, pesky defender that can get under your skin. Browne's stock has been rising throughout the season and we know he will be ready for #NPHPlatform. However, he is matched up against a very tough PG in his own right–David McCullouch out of the hammer. McCullouch lead Newman to an OFSAA bronze last season, and will have a chance to be back in the mix in March. He is a division one calibre talent, and as a result is being recruited by the majority of the OUA, with Carleton University high on his list. He is certainly under the radar stateside, but we suspect McCulloch will catch the attention of American programs in the new year, possibly earlier — on the 26th.
Kareem South (2015 6'2 PG/ Senator O'Connor) VS Trae Bell-Haynes (2014 6'2 PG/ Bill Crothers)
South has been putting up big scoring numbers all season out of necessity, carrying Senator O'Connoron his shoulders. However, South can play both perimeter positions, with strong I.Q and sound skill set, he is a flat out playmaker.
As far as Canadian point guards are concerned, there are none with their stock rising higher than Trae Bell-Haynes. Several NCAA programs have inquired about TBH from the low-mid major levels and for good reason. A crafty point guard with great feel, that will have eyes watching on both sides of the border.
 Juwan Miller (2014 5'11 PG/ Athlete Institute) VS Calvin Epistola (2014 5'10 PG/ Oakwood) 
Two defensive minded point guards; Miller is the best PG defender in the country with the ability to pick up full court and make the opposition uncomfortable. Epistola is the lead guard for Oakwood, arguably the top high school team in the country. He has the ability to run a team, control tempo and makes minimal mistakes on the floor.
Marcos Clennon (2014 6'7 F/ Father Goetz) VS Connor Gilmore (2014 6'7 F / Cushing Academy via Martingrove)
This is one of the most interesting match ups, as Marcos Clennon shot up the charts this season, racking up double-doubles and carrying his Father Goetz Gators in the process. Clennon is a true HIDDEN GEM, that we won't talk too much about in this preview, considering #GameSpeaks. Gilmore is a hybrid forward with versatility and skill, and it will be Clennon's biggest challenge this year, going up against well conditioned opposition with size and strength.
Jake Babic (2014 6'5 G/ Kiskia via Loyola) VS Corey Johnson (2015 6'4 SG/ West Carleton)
This one will be a shootout. Babic and Johnson are two of the best shooters in the country, snipers from behind the arch, but word is Babic has improved his explosiveness and overall playmaking, and could have the edge on the Ottawa product. Time will tell.
Gene Spagnuolo (2015 6'3 G/ Villanova) VS Russell Baker (2015 6'3 G/ Oakwood)
We  had a front row seat to Spagnuolo torching J.C Richardson for 40 points at the Pinky Lewis. There was no answer for him as he displayed a well rounded package, creating for himself and others. Basketball is in his blood, as father Enzo was an All-Canadian star at York in the eighties. Spagnuolo is matched up against a bouncy slasher in Russell Baker (NPH Top 10 2015 Prospect) and it will be a battle between skill and athleticism.
Chase Vassell (2015 6'3 SG/ Pineridge) VS Devonte Campbell (2015 6'5 G/ Culver via Villanova)
Vassell has been torching the East end of the Greater Toronto Area, hovering around 25 points per game. The last name to do this from Pineridge was Canisius Commit Jamal Reynolds, who was 2011 #NPHPlatform MVP, and will be in attendance. Vassell played behind Reynolds as a sophomore, but is now front and centre for the Pumas. Simply put, Vassell gets buckets.
Devonte Campbell has the size advantage on Vassell, as he is a big guard that has the ability to both facilitate and get his. It will be interesting to see which "mode" Campbell will operate with at #NPHPlatform
Cassidy Ryan (2014 6'6 F/ Mount Carmel) VS Shaq Harris (2015 6'6 F/ West Hill)
Speaking of Canisius commitments (NCAA D1), Cassidy Ryan is the only committed player at The Platform. A graduate from Mount Carmel last year, Ryan elected to sit out this season and train, working on his overall game. Some may be sleeping on Ryan, but he has a chance to use the NPH Platform to re-introduce himself to the Canadian basketball scene.
Shaq Harris will take on the challenge, and use this experience as a measuring stick. Harris is a versatile forward that impressed last spring in the OBA finals with Motion, where they fell short of the provincial championship to the Ottawa Guardsmen.
Coaches Bio
Team Long – Named After 2011 Platform MVP Naz Long, currently @ Iowa State.
Andrew Sergi and Jeff Joseph have a combined 20+ years of coaching experience at the CIS level, at McMaster, assistants to Joe Raso. At the high school level, Sergi has been coaching Newman for the past 14 years, Joseph's fourth year with the program. Newman are back-to-back city champions, that captured OFSAA bronze last season. On the club level, Sergi and Newman coached Blessed Sacrament, and have won OBA D1 gold, Sergi twice, Joseph four times.
Team Reynolds – Named After 2011 Platform MVP Jamal Reynolds, committed to Canisius.
Omar Miles – Head Coach at Peel Region powerhouse, St Edmund Campion. As a player, Miles was a five year starter at Wilfred Laurier under Peter Campbell (2002-2007) and a starting PG for all four of his Ontario provincial teams (1998-2001).
"The NPH Platform is a great opportunity for our student-athletes to expose their talents to the basketball community at large" — Omar Miles.
Shane James- Second year high school coach at Thornlea Secondary School. As a player, James owns an extensive resume that includes playing NCAA D1 basketball at Loyola-Maryland, where he was a key piece, while also was a part of the national team (JMNT & University team).
Team Long
| | | | | | |
| --- | --- | --- | --- | --- | --- |
| Name | Class | Height | Position | School | City |
| DamiAnn Prehay | 2015 | 6'5 | F | D'Youville | Brampton, ON |
| Kadeem Smithen | 2014 | 6'3 | G | Thornlea | Thornhill, ON |
| Rashawn Browne | 2014 | 6'2 | PG | Bill Crothers | Toronto, ON |
| Kareem South | 2015 | 6'2 | PG | Senator O'Connor | Ajax, ON |
| Juwan Miller | 2014 | 5'11 | PG | Athlete Institute | Kitchener, ON |
| Marcos Clennon | 2014 | 6'7 | F | Father Goetz | Mississauga, ON |
| Jake Babic | 2014 | 6'5 | G | Kiski (via Loyola) | Oakville, ON |
| Gene Spagonolu | 2015 | 6'3 | G | Villanova | King City, ON |
| Chase Vassell | 2015 | 6'3 | SG | Pineridge | Pickering, ON |
| Cassidy Ryan (Canisius Commit) | 2015 | 6'6 | F | Mount Carmel | Mississauga, ON |
| | | | | | |
| Coaches | | | | | |
| Andrew Sergi (Cardinal Newman) | | | | |  Hamilton, ON |
| Jeff Joseph (Cardinal Newman) | | | | |  Hamilton, ON |
Team Reynolds
| | | | | | |
| --- | --- | --- | --- | --- | --- |
| Name | Class | Height | Position | School | City |
| Obi Okolie | 2014 | 6'5 | W | Denis O'Connor | Ajax, ON |
| Anthony Pate | 2014 | 6'3 | G | New Hampton (via Holy Trinity) | Oakville, ON |
| David McCullouch | 2014 | 6'2 | PG | Cardinal Newman | Hamilton, ON |
| Trae Bell Haynes | 2014 | 6'2 | PG | Bill Crothers | Markham, ON |
| Calvin Epistola | 2015 | 5'10 | PG | Oakwood | Toronto, ON |
| Connor Gilmore | 2014 | 6'7 | F | Cushing Academy (via Martingrove) | Toronto, ON |
| Corey Johnson | 2015 | 6'4 | SG | West Carleton | Ottawa, ON |
| Russell Baker | 2015 | 6'3 | SG | Oakwood | Toronto, ON |
| Devonte Campbell | 2015 | 6'5 | G | Culver (via Villanova) | King City, ON |
| Shaq Harris | 2015 | 6'6 | F | West Hill | Toronto, ON |
| | | | | | |
| Coaches | | | | | |
| Omar Miles (Campion) | | | | |  Brampton, ON |
| Shane James (Thornlea) | | | | |  Thornhill, ON |