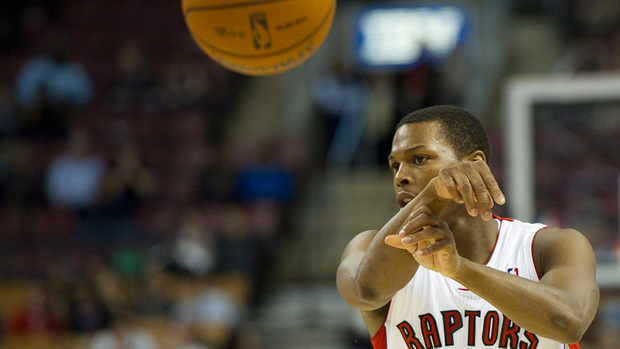 Raptors Wrap: The Extra Pass
Someone asked me jokingly if I'd be there at the Raptors' Atlantic Division banner-raising ceremony if they went 30-52, and still won the division.
Of course, this final record is entirely possible. After three straight losses, their record 6-11, they're on pace (.353 winning %) to win 29 games this year.
They're better than that. They're underachieving so far, and now no longer lead the struggling Atlantic Division.
Before the Raptors return to the Air Canada Centre they play perhaps the overachieving team of the year so far in the Phoenix Suns. Then they play the Lakers at Staples Center and Kobe Bryant is rumoured to be returning Friday against Sacramento.
Then back in Toronto they host the San Antonio Spurs who are up to their old tricks, leading the West at 15-3. Lose all three and the Raptors will be 6-14, a record that should create some concern.
"One concerning thing to me is we might be 30th in the league in assists," said general manager Masai Ujiri on Prime Time Sports radio with Bob McCown. "That concerns me a little bit. I think we need to be able to move the ball – share the ball. I think to be a winning team (we have to) figure out how to play with each other. I think chemistry is a key in team sports. We have good individual players and we just have to figure out a way to bring it all together. Chemistry does not come overnight."
Head coach Dwane Casey certainly knows his team's trouble with the passing game and has suggested that maybe they just need to make the extra pass. The ball is sticking and while isolation plays for DeMar DeRozan and Rudy Gay have created opportunities it's because they're putting the ball into the hands of good individual shot-creators rather than them making shots for others.
With only 296 total assists this season, the fewest in the NBA, the Raptors need some more offensive chemistry.
However, in this style of slowed-down offence DeRozan has thrived. He's averaging a team-high 21.8 points per game and before the mid-week loss to the Nuggets he put together a two-week stretch starting November 15th where he led the NBA in scoring at 28 points per game.
His game has truly developed this year and he's playing better on both ends while scoring in a variety of ways on offence – posting up with efficiency, and shooting from distance at nearly 40%. Recently both his frustration and leadership are starting to show.
"I'm frustrated, period," DeRozan told assembled media after the loss to Denver. "Just losing at home, man, I mean, I hate it. I hate it with a passion and we just have to figure it out and turn it around on the road."
"It doesn't matter what stage we're playing on. We've just got to go out there and win," DeRozan continued. "We can't wait until the next game, or the next practice. We got to get this right, we're professionals. We've got to get it on the go."
Leading by 15 at home to Denver, the Raptors squandered the early lead and lost 112-98. Then in Golden State the Raptors had a near-perfect first quarter and looked in control most of the game before Denver put together a 64-28 run to erase a 27-point deficit and come back in the fourth quarter by raining three-pointers, an area Toronto has had trouble defending this season. The loss to Miami was another case of the Raptors unable to finish a close game, though they were in tough with the defending champs.
Rudy Gay remains inconsistent and is now averaging less than 20 points on 39% shooting from the floor. Jonas Valanciunas has shown flashes of brilliance but still seems to force offence whenever he gets the ball. He's averaging just 8.1 field goal attempts per game and seemingly feels he has to shoot it every time he gets the ball, not knowing when he'll get it back again. Usually this ends with him benched in the fourth quarter. And the Raptors bench is still routinely out-played when forced into action.
Other than shifting Tyler Hansbrough into the starting lineup in place of Amir Johnson, the Raptors haven't really shaken things up this year.
If the Raptors won't look at the stats, maybe it's time to look in the mirror and think about what they want to be, find an identity and some semblance of chemistry, because by the end of next week we'll be a quarter of the way through the season.
So is 30 wins and the Atlantic division's dull crown enough for a franchise with playoff aspirations? There's probably a little bit more to this team.
Raptors Results
Lost to Miami Friday 90-83.
Key Stat – Heat outscore Raptors 44-22 in the paint
Top performer – DeMar DeRozan 25 pts, 7 reb
Lost to Denver Sunday 112-98.
Key Stat – Nuggets bench outscores Raptors reserves 72-16
Top performer – Rudy Gay 23 pts, 9 reb
Lost to Golden State Tuesday 112-103.
Key Stat – Warriors outscore Raptors 42-15 in 4th quarter
Top Performer – DeMar DeRozan 26 pts