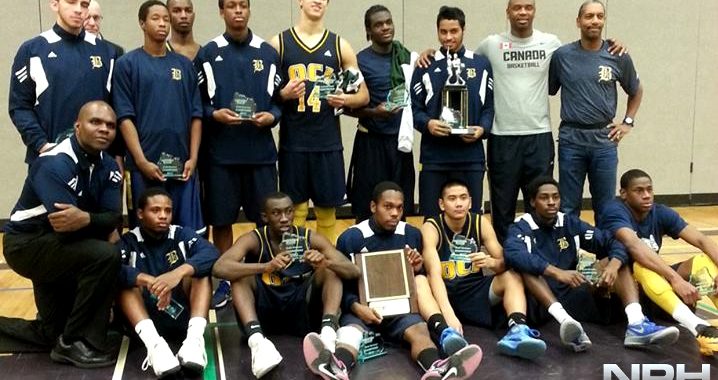 Oakwood Enters Heinbuch Record Books, Join Runnymede as Only Programs to Three-Peat
The Oakwood Barons are now officially in the record books.
The Toronto high school now joins Runnymede as the only school to ever three-peat at the Heinbuch classic beating the St. Mary's Eagles 69-57.
Brody Clarke led all scorers with 17 points, but it was the impressive play of senior guard Dwan Williams that won him the MVP of the tournament. This is the third different player that has won the award for the Barons during their three peat.
"All weekend Dwan has been making a huge impact and he has been our best player," said head coach Anthony Miller. When Dwan Williams was asked about his goals after his MVP award he said, "I just want to get a little bit better everyday, practice sox times a week, and hopefully play post secondary ball somewhere."
There were three main keys that helped Oakwood beat the St Mary's Eagles. The first key was their ability to play defense without fouling. The Barons were never in the penalty against St. Mary's.
"That's a team goal, we want to be competitive defensively but we want to do it without fouling, that's a big thing for us," explained coach Miller.
"We try and get more shots than the other team but if we are fouling we are not going to get more shots because they are going to the free throw line."
The second key was the strong inside presence of Brody Clarke. The young talented big man made it a focal point to be a better rebounder, making up for what he cannot produce offensively.
"Well I'm not 100% healthy yet (knees). I'm trying to make sure that as much as I give up on the offensive end in (my) lack of mobility I make up for with grabbing as many rebounds as I can … I want to get extra possessions for us," claimed Clarke.
The final key that helped solidify Oakwood's control of the game was another strong third quarter. Although at one point in the third, St. Mary's cut the deficit to six points, Oakwood stayed true to their offensive sets especially Russell Baker who scored 7 of his 14 points in the quarter.
St Mary's was no roll over in the final game. The eagles played extremely hard and even surprised Oakwood's coaching staff with their athletic prowess.
"I thought they were really athletic, a little bit more than I (originally) thought," said Miller. "I also thought they were good defensively."
Thijien Simon, Jermaine Lyles, and Tyrick Thompson had 17, 16 and 13 points for the Eagles respectively.
The Oakwood Barons have now racked up a second major championship after claiming the Humber Classic two weeks ago.
St Mary's En Route to Championship Game
St Mary's brand of tough and gritty basketball is proving to be a real staple for the Waterloo high school. The Eagles were able to sustain a second half lead as they defeated Windsor's Herman Green Griffins 61-55. Jamari Stevenson led the way for St Mary's, scoring 19 points.
"My teammates were sharing the ball well and making opportunities for me down the stretch" explained Stevenson.  "I just performed." Stevenson had been facing some academic issues and only practiced with the team two days before the tournament. As head coach Jason Hergot pointed out after the game, a lot of the season will rest on Stevenson's hands.
"Oh he's our X factor for sure," assured coach Jason Hergot. "He's going to be the deciding factor for us, no doubt about it … (Stevenson) is our size and length plus our emotional guy on the top of it and (the rest of the team) seems to jell better with him (on the court) – he's our new star."
After a close first half, St Mary's pulled away in the third quarter doubling up Herman 14 to 7 to take a 46-40 lead going into the fourth. St Mary's second half ball pressure and full court press forced Herman into some costly turnovers. St Mary's also started the quarter with a zone, then changed to a man to man half way through confusing and frustrating the Windsor representative.
The fourth quarter was met with some controversy as the referees mistook a shooting foul with a one and one bonus. After the first shot was missed, Herman rebounded the ball and was able to score.
"I was talking to a sub coming in so I just expected (the two shot foul) and afterwards the ref admitted that yes it was a mistake but that there was nothing he could do at that point so I had to let it go," explained St Mary's coach. "I just told my players that we had to move on and so we did, although it did cause a little bit of a rattle, we worked through it."
Marko Kovac scored 14 points for Herman who was unable to overcome their seven point third quarter. Herman showed resiliency and heart at the Heinbuch tournament. After a scrappy 57-45 win against Hamilton's St Thomas Moore, Herman exploded for a 30 point beat down of Mother Teresa.
Oakwood En Route to Championship Game
Oakwood had advanced to the finals for the fourth straight year at the Heinbuch Classic. Dwan Williams led his team in scoring with 18 points as the Oakwood Barons beat J Clarke Richardson Storm 65-52.
Oakwood and J Clarke Richardson both started off the game pretty equal with Oakwood having the slight 14-13 lead at the end of the first. If there was one player at the Heinbuch Classic that could bring down the mighty Toronto Oakwood Barons it had to be Marcus Ottey. The JCR star banged in two three pointers in the quarter, looking poised and confident.
The second was much of the same as Oakwood extended their lead but by only five points leading at halftime 30-25. Ottey had three points in the quarter, including a break away dunk and two great no look passes. However, Oakwood's Dwan Williams continued his superb play in the tournament netting 15 first half points including three 3 pointers.
"We are running our offense more clearly and everybody knows what they are doing now … everybody knows their role in the offense and I'm taking the open shots and making them," explained Williams.
As the second half started, Oakwood began playing with a purpose and were a completely different team. Coach Anthony Miller attributes this to his team finally clamping down and playing defense. "We wanted to focus on stopping their shooters and stop their guys who do a good job penetrating (in the second half)." The Barons received the message as they only allowed J Clarke Richardson to score six points in the quarter.
Oakwood did more of the same in the fourth quarter cruising to a convincing victory.
However, Barons Head Coach Anthony Miller saw holes in his team that needed to be filled.
"We need to work on our team energy for sure," explained coach. "We have to play harder, we are trying to play on skill, but we have to show a little bit more intensity…we have to play harder."
Tournament All-Stars
     FIRST  ALL  STAR  TEAM
SECOND  ALL  STAR  TEAM
Dwan Williams
Oakwood       MVP
Trevelle Blythe
W.F. Herman
Brody Clarke
Oakwood
Cordell Cockett
St Thomas More
Jermaine Lyle
St. Mary's
Filip Vujadinovic
Nelson
Tyrick Thompson
St. Mary's
Marcus Ottey
J. Clarke Richardson
Clifton Palmer
Mother Teresa
Chuder Teny
Grand River