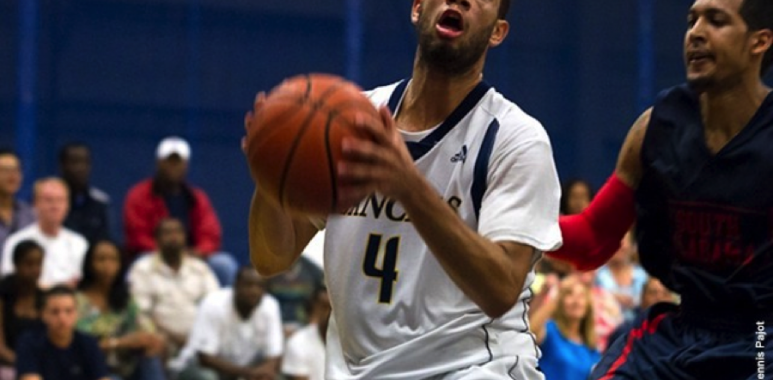 Joshua Collins Leads #8-Ranked Lancers to Victory Over Thunderbirds
WINDSOR, ON – Strong play on the both ends of the floor from Josh Collins led the Windsor Lancers to a controlling victory over the Algoma Thunderbirds, 83-59.
Coach Oliver and his squad were looking to bounce back from splitting games in Toronto this past weekend; the team narrowly lost to the Ryerson Rams and defeated the Toronto Varsity Blues. Windsor dropped one spot in the CIS Rankings to #8-ranked in the country.
From the jumpball, the Lancers dominated the first quarter. The Algoma Thunderbirds seemed lost facing a tough defence, not being able to sink a shot for over five minutes. Their poor ball handling led to seven Lancer steals and a 32-8 deficit quickly.
College transfer, Khalid Abdel-Gabar, who received the start on this evening, performed great in his opportunity. He hit 3 three-point shots, collected 6 rebounds, and had 6 steals. His play made up for the rare off-night from 10th overall CIS scorer, Enrico Diloreto (20.3 points per game), who got into foul trouble early and had only 8 points in the night.
Algoma's third year guard, Reynaldo Carnakie, had flashes of brilliance with great ball handling to get inside. He hit a three-pointer for the Thunderbirds and for the team to go on an 8-point run. A game high 10 turnovers, kept his team from gaining a lead at any point. The Lancers had a 48-27 stranglehold on the game at half.
Algoma, who arrived late out of the locker room at halftime, made the most of second chance opportunities; first year guard, Sean Clendinning, had 4 offensive rebounds (8 total) and chipped in 9 points in 25 minutes off of the bench.
Lien Phillip struggled to find his groove tonight. He was 3 for 12 in shooting but collected 11 rebounds (4 offensive) to add to his CIS 5th overall ranked rebounding average (10.2 rebounds per game). At points in the third quarter, Phillip looked visibly frustrated with his play. Windsor maintained a 67-41 lead after three quarters.
Throughout the night, Josh Collins looked unstoppable. His superb vision, precise passes, and relentless defense led to the Lancers scoring 35 points off of turnovers and him dishing 5 assists and collecting 4 steals. After tonight, it seems like Windsor will go as far as Collins takes them. The final score was 83-59 in the Lancers favor.
Algoma will need to improve their shooting (33.8% shooting tonight) and control their ball handling (28 turnovers) to continue to improve this season.
The Windsor Lancers (4-3) host the CIS #9-ranked, Laurentian Voyageurs tomorrow night at the St. Denis Centre, as the Algoma Thunderbirds (3-4) travel to London to face the Western Mustangs.
NPH Top Performers
Windsor
Josh Collins – 24 points (2-3 three-point shooting), 5 assists, 4 rebounds, 4 steals
Khalid Abdel-Gabar – 14 points (3-5 three-point shooting), 6 rebounds, 5 steals
Algoma
Reynaldo Carnakie – 18 points, 4 rebounds, 3 steals
Sean Clendinning – 9 points, 8 rebounds, 1 assist
Follow Dillon Richardson on Twitter @hi_dillon & NPH @Northpolehoops