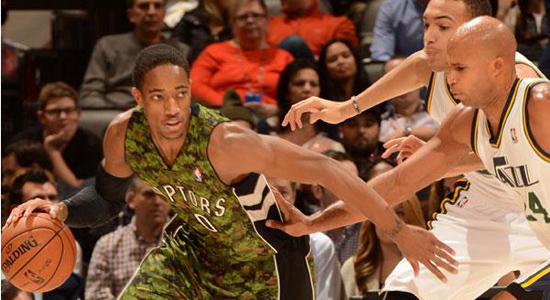 Raptors Earn Dominating Win Over Utah Before Western Road Swing
TORONTO – Concerns about match-ups, pace, and playing on the second night of a back-to-back went out the window early as the Raptors cruised to an early lead and finished with a 115-91 win over Utah Saturday night in Toronto, breaking a three-game losing skid.
Tyler Hansbrough led the Raptors (3-4) with 23 points, added seven rebounds, and hit 11/13 from the free-throw line. DeMar DeRozan finished with 18 and Jonas Valanciunas added 14. Gordon Hayward scored a team-high 24 for Utah (0-7) in the loss.
Looking comfortable on offence, the Raptors shot 48.2% from the field, scored 24 second-chance points and led by as many as 38, settling into a comfortable rhythm that Casey said he's trying to establish. Though it's still very early in the season, coming into this game against the Jazz, the Raptors have played at a pace that had been the league's slowest and allowed for the fewest average possessions.
"You've got to have natural runners. We have a gait that's not conducive to an up-and-down type game," head coach Dwane Casey said before the game. "Our wing guys are great athletes but we have to find a pace and a running game that fits them."
It's a small sample size and the team will still look to run whenever they can to take advantage of easy opportunities in transition, but not at the cost of defence. All five Raptors can be found around their own basket after a shot, and won't leak out in transition until the possession is secured.
Some of the best teams in the league play at a slow pace. Two elite teams Toronto has met already this season are Miami (21st in pace) and Indiana (23rd). It's never to be taken as an indication of a struggling team, but it is interesting given the Raptors' superior athleticism in the back-court.
While the focus on defence is clear, Casey admits the offence is still a work in progress.
"We're not a well-oiled machine right now offensively, one night this guys going and one guys not," said Casey. "Somehow, some way, we have to get it to the point where everybody's on the same page on the offensive end."
Point guard Kyle Lowry would normally be the guy to get everybody on the same page on the offensive end, but he was forced to leave the game after halftime with a sprained ankle and did not return.
"He just tweaked it, but he mentioned in to me that it was okay," Casey said of Lowry's ankle. "I think if he had to have, he could have gone and been okay."
It was another disheartening loss for a Utah team that remains the only winless squad in the NBA. With a young, developing roster, head coach Ty Corbin knows there will be some tough times.
"We have to work our way through this. Nobody's going to feel sorry for us," said Corbin. "This will show a lot about who we are and how you fight through adversity, how you come back and compete after getting your butt kicked."
Utah guard John Lucas III scored three points on a last-minute shot in his return to Toronto where he averaged 5.3 points and 1.7 assists in a reserve role last season. Casey had plenty of praise for his former point guard saying Lucas makes smart decisions, is a great shooter, and leader.
Toronto will play Houston next on Monday night where they'll encounter a talented Rockets team featuring James Harden, Jeremy Lin, and Dwight Howard.
"They're one of the top teams in the league," said Valanciunas. "It's going to be hard especially with Houston's two big guys (Howard and Omer Asik) under the basket so it's going to be a big match-up for me."
A week ahead will test the Raptors as they travel to Houston and Memphis before returning to host the Bulls. The play of Valanciunas, Hansbrough and Johnson will be key against teams with all-star post presences, and the Raptors hope to build on the momentum gained from this decisive win.