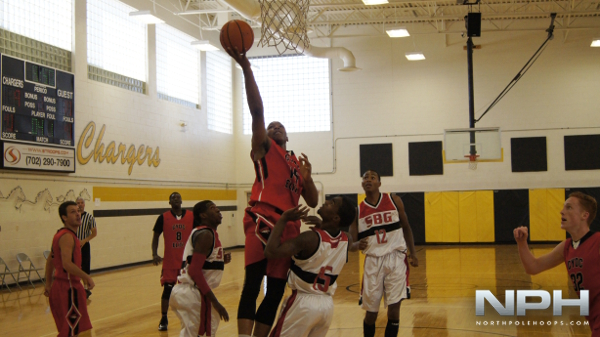 West Coast Prospect Watch In Las Vegas
LAS VEGAS, NV–There's no better way to end of the summer than to attend four major tournaments in Las Vegas: the Las Vegas Classic, Adidas Super 64, Fab 48 and The Eight . Throughout the AAU season the NPH team has been to Pennsylvania, Indiana, Florida, D.C. and now for the final stop in Sin City where the purpose of this trip is to track our talent from the West Coast of Canada. On day one, we were able to catch the 2014 and 2017 prospects of CYDC (Alberta),  the 2015 class for Basketball BC Select (British Columbia), 2016 AthElite and the 2015 prospects of Team Alberta; all of which took a loss to start the tournament. Following the Team Alberta game we also caught Grassroots Canada play against a very disciplined and well coached Houston Hoops team. Today the focus will be on British Columbia's elite program, Drive Basketball.
From the teams listed above, all were in the game at halftime, either having a lead or being down by two points. Their downfalls all came at the cost of not having guards that were able to handle pressure. This has proven to be a major issue for the West Coast Canadian teams thus far. When a press has been put on by the opposition or full court man-to-man defense, they flat out  buckle under pressure. Part of this is due to a lack of confidence and another in part because of a weak handle and vision.
Regardless of team results there have been some notable players that have been on our radar for the past few years.
CYDC's Mathieu Kamba is an extremely athletic wing with good size and shot blocking. He plays above the rim and and gets in the lane at will. With Kamba, he has the motor to play at a high level, we're just waiting to see him mentally engaged for the full duration of the game. Consistency is the name of the game.
Jamar Ergas – 2015 – SG
Obi Okolie – 2015 – SG
Haddi Abu Zguya – 2015 – SF
Kamar McKnight – 2015 – SG
Mathieu Kamba – 2014 – SF
Cole Knudsen – 2015 – SF
Later this week we will be following a YAAACE team that has been to the semi-finals and finals of two other big tournaments and are looking to cap off their AAU season with a championship at the Adidas Super 64. Also we will be tracking another Munis Tutu, who is here with Detroit The Family playing in a tournament called The Eight at Impact Academy.