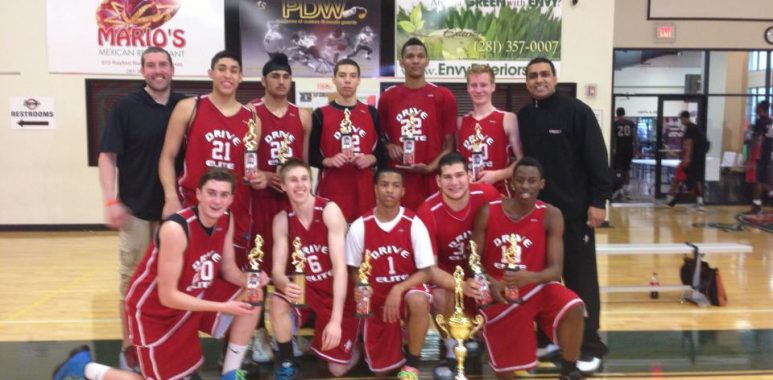 "This is Only the Beginning For Us" – DRIVE Opens AAU Circuit with Two Milestone Tournament Victories
RICHMOND, BC — For the three pillars of British Columbia's Drive Basketball U17 Elite team, their early success (10-0) on this year's AAU circuit is the culmination of years of crushing defeats and endless hours spent together improving both their games, and their mindset.
2014 standouts Mindy Minhas, Jadon Cohee and Tristan Etienne –who have been travelling as teammates across the United States every summer since they were in the seventh grade– started this summer's season by capturing the Platinum Division title at the Northwest Premier Spring Showcase, which is held just outside of Seattle, WA.
For the three, and for Drive co-founder and head coach Pasha Bains, starting the season with a win at Seattle held a great deal of significance. "We've been going to that tournament a lot, we've taken our bumps over the years and we've worked our way up," Bains told NPH.
Recalling both the successes and failures of previous Drive teams, Bains allowed himself to reminisce for a moment: "Manroop (Clair) made the final four one year, Emerson (Murray) put on a show when he played there… but this was kind of like the crowning achievement; to get to the end of it all, with the kids who have been with us for 5-6 years to win that tournament meant a lot."
For Bains, and the kids at Drive, they knew they had the skill to play with top American competition, but the key to winning came down to matching the level of play that US teams are known for. "It's been a long grind in terms of getting them used to the intensity and the urgency" Said Bains "But, I truly believe that every year mattered in their development."
Elite shot blocker Tristan Etienne, who is known as one of the most athletic players in BC, summed it up perfectly: "You see it from the younger ages…when they first start coming out to the states it's a completely different game and some of the kids are just shocked, but by the time we're U16 or U17 we're used to the style of play that they have and we love the challenge of going out there and playing against Americans and competing with them."
The win at Seattle marked the first major US tournament victory for Drive at the U17 level, and they quickly followed it up with another top division victory at last weekend's H-Town Classic (held in Houston, Texas).
While the Drive program is typically known for producing top level offensive talent, this year's team is building their identity on the defensive end.  "This is the best team we've seen at Drive in terms of ball movement and playing good man to man defense" Said Bains. "They all can get after it, they're all smart and they help each other out."
Mindy Minhas reiterated his coach's position: "This is the best defensive team I've been on so far, throughout my entire basketball career, and I think that's why we're winning."
Outside of the big three of Cohee, Etienne and Minhas, the Drive roster boasts an impressive array of talent. The starting five is rounded out by two newcomers to the program – Josh Mayorga and Mason Loewen – who Bains referred to as "perfect compliments" to the big three. While the bench is stocked with versatile players like Alex Akpo, Brendan Bailey, Alex Coote, and recent University of Toronto commit Chase Ruttenberg.
If that isn't enough, Luka Zaharijevic is also on the roster, but has missed the first two tournaments with injury. Bains noted that the team will have no problem integrating Zaharijevic, once healthy, as he has been with Drive for a number a years.
While the early season success is a great milestone for the program, everyone involved recognizes that this could be the start of something special.
"It feels unreal to win in Seattle and Houston. All the hard work is starting to pay off." Said Jadon Cohee  "We're truly blessed, but this is only the beginning for us."