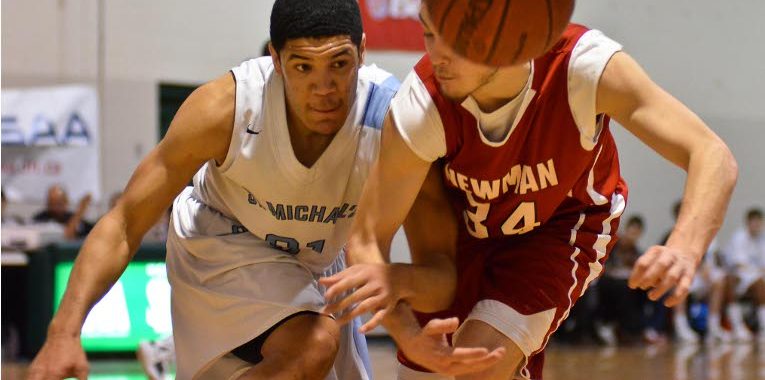 Malcolm Duvivier Takes Over in the Clutch, #1 St Mikes Championship Bound
WINDSOR, ON-#1-Ranked St Mikes is living up to their rank, now 4-0 entering the OFSAA championship after defeating a gritty #5 Cardinal Newman team 51-42, thanks to a Malcolm Duvivier 8-0 run in the fourth quarter to put it out of reach.
"It was my time to take over and hit shots, that's what I had to do," said Duvivier, who scored 8 of his 13 points in that one-minute stretch.
He also spoke about the fact that the scoring came naturally, he didn't put too much thought into taking shots in the fourth quarter.
Iowa, Binghamton and San Diego State have watched the 2014 guard over the week.
"I just let the game come to me, I'm not going out of my way to impress. I've just played my game and everything fell into place."
The Hamilton, Ontario contingent and the #5 seed Cardinal Newman entered the semi-final match up against #1 St Mikes, following an overtime thrilling win over #4 D'Youville that not many saw coming.
The Cardinals are a very well coached and disciplined team with a young nucleus that will be strong for years to come.
"As a coaching staff we felt that Newman had a good chance to beat D'Youville…so we didn't take them lightly in this game," said St Mike's Head Coach Jeff Zownir.
From start to finish, Cardinal Newman hung in with the #1 team and challenged them. For every SMC run, Newman answered, lead by David McCullough one of the top Canadian point guards in the class of 2014.
McCullough orchestrated the Newman offense as he has done all year with grace and efficiency. He ended up with five points and loaded up on assists, while creating for teammates.
Jake Marquette and AJ Manguerra put in 10 and 9 points respectively for Newman.
As each quarter progressed, the magnitude of each minute and possession mattered more.
"I think kids feel pressure but as many big games as we've been in, they know what's at stake here. I thought they handled it pretty well," Zownir told NPH.
As for Duvivier,"he did a great job of taking that leadership role in terms of offensive production…he won it for us and it was a big game from a big time player."
Next up for St Mikes  is the much anticipated rematch with #2 seed Father Henry Carr in the OFSAA quad A championships. Following the win, over Newman, Duvivier explained that either team would be fine for all the marbles.
"I think we match up with both teams pretty well, we just have to take care of our game plan."