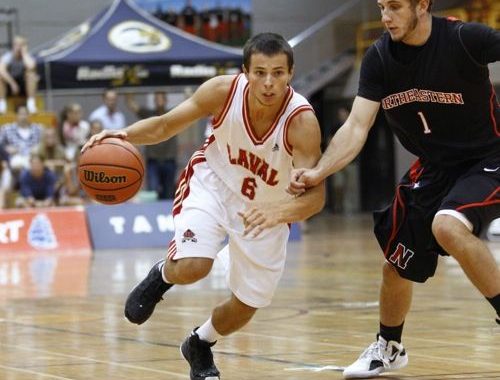 RSEQ Awards: Bishops Mike Andrews Cleans up, Karl Demers-Belanger Bright Spot for Laval
The Bishops Gaiter's cleaned up at the awards banquet on Thursday night winning four of five individual player awards.
Mike Andrews was the marquee player for Bishops all season long and he was rewarded with both MVP and Defensive Player of the year awards.
The 6'10 Andrews led the Gaiters to a 10-6 record good for second spot in the RSEQ. His 15.3 points and 6.4 rebounds per game have led the Purple and white to the conference finals.
Joining Andrews as Gaiters award recipients are Rod Gilpin and Tim Hunter who took home coach of the year, and community involvement award distinctions.
Karl Demers-Belanger was the only none Bishops player to take home an individual award Thursday evening. The first year Laval guard averaged 11.7 points per game, becoming one of the few bright spots in what was a forgettable season for the Rouge ET Or.
First team All-stars
Mike Andrews, Bishop's
Alexandre Bernard, UQAM
Evens Laroche, Concordia
Simon Bibeau, McGill
Jeremy Leonard-Smith, Bishop's
Second team All-stars
Aleks Mitrovic, McGill
Thibaud Dezutter, Laval
Kyle Desmarais, Concordia
Richard Addai, UQAM
Vincent Dufort, McGill
All rookie team
Karl Demers-Bélanger, Laval
Jona Bermillo, Bishop's
Christian McCue, McGill
Nicolas Audet, UQAM
Antoine Beaumier, Laval
Most Valuable Player
Mike Andrews, Bishop's
Rookie of the year
Karl Demers-Bélanger, Laval
Defensive player of the year
Mike Andrews, Bishop's
Leadership and Community involvement award (RSEQ Ken Shields award)
Tim Hunter, Bishop's
Coach of the year
Rod Gilpin, Bishop's
Official of the year
Mike Homsy