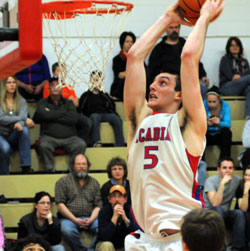 CIS in Review: Acadia Rolls to Six Straight, Set up Showdown with CBU…Dalhousie Picking up Steam
At this point, every possession, every game means more than it did in November. Two teams who seem to be peeking at the right time are Acadia, who now have a full roster; something they have lacked virtually all season. The Axeman set up for a crash course with the undefeated Cape Breton Capers after rolling out six straight victories.
With a third straight victory for Dalhousie and a strong second semester, the Tigers are confident and understand that they can bang with anyone in the conference; they are on a 3-game winning streak after defeating st Francis Xavier at the Dalplex.
Acadia 92 Saint Mary's 68
The AUS's best defensive team did it once again with another stellar performance. The Axeman held SMU to just 33.3% shooting from the field on route to their sixth win in a row and their 13th victory of the season.
Owen Klassen (4th ranked player NPH top 50) was his usual self, stuffing the stat sheet with 15 points, 7 rebounds and 5 assists. Anthony Ashe had a game-high 20 points and 5 rebounds.
The bench provided a solid effort as well scoring 35 points in the blow out led by Anthony Sears's 13 points.
Acadia can now turn their attention to the only undefeated team in the country the Cape Breton Capers who now stand at 16-0. The Capers won the two previous meetings with relative ease, but this is a different Axemen team and all the pressure will be on Cape Breton to remain untouched. Should be an interesting two days in the AUS on February 16th and 17th.
Dalhousie 88 ST FX 83
Jumol Mullings led four Tiger's in double digits scoring with his team-high 19 points and 7 assists, but it was a late Keith Robinson three pointer that finally put the nail in the coffin for the X-Men.
The Tigers have now won three straight games and 7 of their last 10 to improve to 9-8 after starting with a dismal 3-6 record. Dal now sits in fourth spot in the AUS and are quietly playing great basketball behind Acadia and Cape Breton who are grabbing all the headlines.
The Tigers have three games remaining on their schedule to continue to improve as a team and give reasons for the other AUS teams to fear Dalhousie's chances in the playoffs.
The X-Men got a strong game from Jeremy Dunn (16th ranked player NPH top 50) who had 21 points and 5 rebounds. Will Donkoh added a game-high 23 points and 8 rebounds in the loss.
Tonight's games
Laval @ Bishop's 8 P.M. EST
Waterloo @ Brock 8 P.M. EST
Laurentian @ York 8 P.M. EST
Western @ Windsor 8 P.M. EST
Winnipeg @ Manitoba 8 P.M. CST