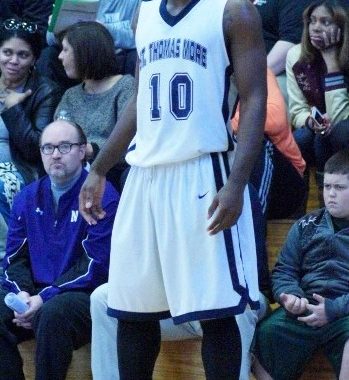 Duane Notice Impressing At New England Showcase
NEW HAVEN, CT–All throughout the 2011-2012 high  school season the NPH team had an opportunity to watch and track the AAAA OFSAA run of St. Michael's which was led by the duo of the #4 ranked player in the 2013 class, Duane Notice and Malcolm Duvivier. In his final game on the Ontario high school basketball scene (bronze medal game), Notice registered a game high 25 points in a 19 point win over H.B Beal. He is the recipient of multiple tournament MVP awards and a true competitor.
This year Notice moved on to play prep at St. Thomas More in Oakdale, Connecticut where he continues display his leadership qualities as a scoring guard. In terms of leadership, Notice has always been one to let his game do the talking and lead by example. On the defensive end, he can lock down on just about any guard and offensively has the skills to score in a variety of ways and post 20+ on any given night.
He is very much capable at both guard spots thanks to Notice's versatility as a scorer, passing abilities and unselfishness.
This is what had NCAA coaches' eyes glued to the court when St. Thomas More went up against Fork Union Military Academy and Fishburne Military Academy this weekend. STM came up with the wins in both contests and the featured guard had great games; posting 24 points, 3 rebounds, 3 assists and 1 steal against Fork Union and 21 points, 5 rebounds, 3 assists and 2 steals against Fishburne.
He put up these numbers while playing 30 minutes in each game, going 62% from the field on 16-26 in both games combined. D-Notice was extremely efficient to say the least.
"I can always find a way to score and I'm a good facilitator, said Notice.
"Don't ever let me hear those words come out of your mouth,"  responded Coach Jere Quinn.
It's not that coach Quinn doesn't see him as a player who can create offense for others, but he believes that Notice is at his best when he is looking to score. He can break down defenders and attract help defense, where in these cases he has an open man to dish to.
All coaches from the high school level to the club, AAU and National team will vouch for Notice and describe him as a very determined individual with an incredible work ethic. This becomes more evident through a much improved jump shot with a smoother stroke and follow through. This was a part of his game that he was criticized for but his thousands of repetitions are paying off.
It's not in his nature but we're sure he'll rise to the occasion and start being the vocal leader that his team needs him to be. Notice is composed, calm and collective but the vocal leadership quality will boost his stock another level and encourage other mid to high major programs to offer him a spot on their rosters for the 2013-2014 NCAA season.
New England Prep Showcase Play of the Day
Also, Here is a reminder of what he's capable of…from last year at St Mikes:
[youtube 9WdyX8j4vQk]