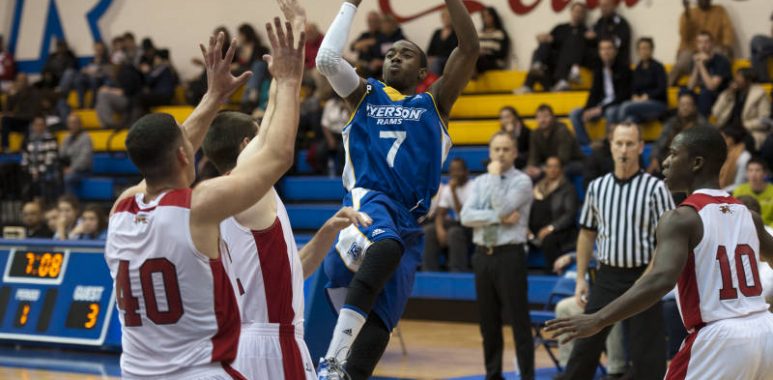 Ryerson Opens Season 2-0…Jordon Gauthier Racks Up Double-Double in Victory Over Guelph
TORONTO, ON–Two wins in two games don't make a season, but it is the recipe for an exciting beginning to the regular season. And that's what the Rams are enjoying right now.
One night after defeating the No. 5-ranked Lakehead Thunderwolves in their home opener, the Rams beat the Guelph Gryphons by the score of 91-43.
After two solid seasons, hype surrounds the Ryerson program and for now, it appears like it might all be warranted. The Rams aced their first test against a strong Lakehead team, and now had a very young Guelph team on deck. These types of games are the ones that Ryerson needs to win, and convincingly, if it intends to be taken seriously as a title contender.
Down 5-4 early in the game, Ryerson closed the first quarter on a 15-4 run to lead 19-9. The Rams seemed to be a little big bigger and quicker than the Gryphons–and the biggest difference was the experience between the two teams as the Ryerson nucleus is coming of age impressively.
Something's brewing at Ryerson, and team chemist Afeworki Gebrekerestos just might know what it is. "I think it's because I've been around so damn long," he said. "Everyone gets to know me, and I'm a fixture that way. It's good, I enjoy it."
The Rams players look like they enjoy being on the same team, no matter who gets playing time or not. "Throughout the preseason we've been preaching that the team chemistry has been fantastic, and it's good to see it coming along," Gebrekerestos said.
Guelph played its most convincing quarter of the game in the second 10 minutes, but still was outscored 24-17–it was that kind of night for head coach Chris O'Rourke's team. Guelph dressed up nine rookies and three sophomores for the game. "Sometimes, young guys have to learn the hard way," he said. "And that was the hard way. That was the hardest way. You take the good, the bad and the ugly when you have a lot of youth."
A positive was the play of rookie point guard Charles Amponsah. Though he's small, the young man from Brampton is also quick and, so far, has been the team's leading scorer. "He still made some rookie mistakes, but he's also stepped up," O'Rourke said. "He's been a lot more aggressive, which is what we're asking him to do. It's a great experience for him to get quality minutes. It will bode well for his future."
The game followed the same script during the third quarter as it Rams extended their lead to 69-33 after 30 minutes of play. In the fourth quarter, Ryerson head coach Roy Rana rested all of his starters. Throughout the preseason, Rana has stressed the need to build depth. The game against Guelph helped do just that. "I think the team is feeling really confident," Gebrekerestos said, "because we could get everybody in and contribute."
Unlikely players–Matthew Beckford, for example, who managed eight points on 4-for-4 shooting in only 10 minutes of action, and fan favourites like Gebrekerestos and second-year Gavin Berry–received more playing time than usual, and this should only help in the long run.
Jeremiah Wheatle, a rookie from Brampton, Ont., is among this group of players. One night after playing limited minutes against Lakehead, he scored 10 points in 22 minutes of play. "It's an incredible feeling. I'm a walk-on, and I'm happy for Ryerson for taking that chance on me," Wheatle said. "I'm happy for the opportunity, I'm going to make the best of it. I can continue to pursue my education, and I'm going to make the best of that too."
So far in this young season, everything has been a struggle for the Gryphons, due to injuries to key players. Because Kareem Malcolm and Daniel McCarthy will not be back in action before Christmas, O'Rourke has had to juggle lineups. "The positive with this game is we're closer to having (them) back," he said. "It was just another learning experience for us, and an opportunity for us to see how resilient we are."
Offensively for the Rams, third-year Jordon Gauthier had game-highs for points, with 19, and rebounds, with 13, for the Rams. Point guard Jahmal Jones (i.e. 15), third-year Bjorn Michaelsen (i.e. 11) and Wheatle (i.e. 10) also scored in double figures for Ryerson.
Everything was a struggle for the Gryphons, though Amponsah did manage 11 points. Second-year Daniel Thompson managed 8 points of his own. Next, Guelph heads back home where they will host the Queen's Gaels on November 17.
The Rams, meanwhile, pack their bags for their first trip away from home. In the next two weeks, Ryerson will be pitted against Waterloo-Laurier, and Windsor-Western. Gebrekerestos thinks this will be a positive. He said that, "It will be a good Litmus test to see how we do on the road."
The chemist Gebrekerestos has a special perspective. "I've seen us come from a mediocre OUA East team barely making the playoffs. Then we got our first home court, then we finally made it to the Wilson Cup, and then finally the Nationals," he said. "I think that's the most special thing about me having been here for so long."
Follow Charles Blouin-Gascon on Twitter @CeeeBG & NPH @Northpolehoops
NPH TOP PERFORMERS
Guelph
Charles Amponsah: 11 points, 2 rebounds
Daniel Thompson: 8 points, 1 assist
Ryerson
Jordon Gauthier: 19 points, 13 rebounds, 2 steals, 1 block
Jahmal Jones: 15 points, 4 assists
Jeremiah Wheatle: 10 points, 2 rebounds, 3 assists