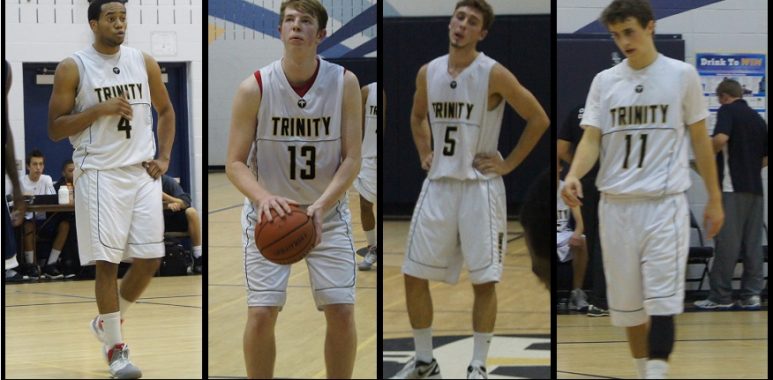 #10-Ranked Holy Trinity With OFSAA On Their Mind…Trevon McNeil & Co. Down Edmund Campion
NPH Top Performers
Holy Trinity
Trevon McNeil- 18pts, 5rbs, 5ast
Regis Ivaniunas- 17pts, 2rbs, 2ast
Nolan Mackenzie- 16pts, 5ast
Nick Ernest- 13pts, 10rbs
Edmund Campion
OAKVILLE,ON–The city of Oakville has quietly established itself as a basketball hot bed of sorts, with a great deal of talent coming through, and Holy Trinity being one of the programs enjoying  it.
After a disappointing loss to Bill Crothers in opening game at last year's OFSAA, the NPH #10-ranked team in the nation returns their core with the same goal in mind…a provincial championship.
"We want to make it as far into OFSAA as we can. Last year, we won Halton, we want to repeat that. We won GHAC, we want to repeat that," explained HT lead guard Trevon McNeil.
"The last two years in OFSAA, we have been beaten out in the first round, that's something that I've taken personally," he continued.
While the 2012-2013 season is still young, the Titans have made a great early impression with their key pieces producing at a high level against a strong program in their own right, the Edmund Campion Bears out of Brampton, Ontario.
Holy Trinity defeated Campion 72-52.
NPH Top 20 prospect Trevon McNeil lead the way for Trinity registering a game-high 18 points to go along with five rebounds and five assists.
Partner in crime Nolan Mackenzie added 16 points and five assists. Regis Ivaniukas, a name you will likely become more familiar with over the course of the season had himself a strong game pitching in with 17 points.
In addition, HT's inside presence Nick Ernest was just that, registering a double-double with 13 points and 10 boards. Ernest was pretty impressive considering his versatility. He displayed an inside game (hook shot) to go along with nailing a three-pointer as well as showing improved mobility.
Ernest is another prospect to look out for as he continues to improve his physique.
For Edmund Campion, a bright spot was David Aromolaran who was able to attack the rim and draw contact to get to the line. He led the Bears with 14 points.
On a side note–Anthony Pate, Brandon Cyrus, and Kimbal Mackenzie are former Holy Trinity Titans currently playing secondary ball in America. Could you imagine the team that could have been if they were still at HT!?
In the meantime, the current roster has enough fire power to make a serious run at OFSAA gold. However, it will be interesting to see how they will stack up against top-5 teams in the country as the season progresses.
The match ups will happen…it's just a matter of time.