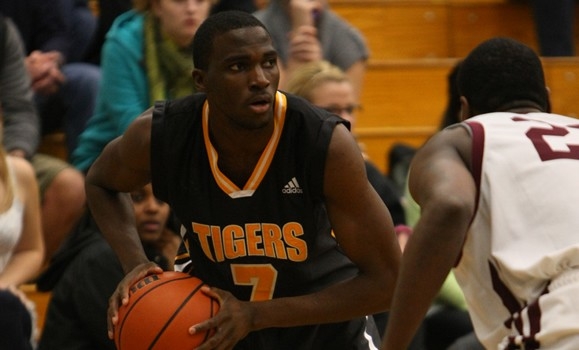 NPH CIS Preview: Dalhousie Tigers
Last Season:
| | | | | | | | |
| --- | --- | --- | --- | --- | --- | --- | --- |
| Overall | Pct. | Conf. | Pct. | Streak | Home | Away | Neutral |
| 9-11 | .450 | 9-11 | .450 | Won 1 | 4-5 | 5-6 | 0-0 |
Team: Dalhousie
Head Coach: John Campbell
Assistant Coaches: James Vear, Colter Simmonds, Devon Norris, Terence Hyacinth
2011-12 Record: (9-11) AUS
Key Players: William Yengue, Casey Fox
Incoming Recruits:
Devon Stedman
Sven Stammberger
Simon Marr (SMU Transfer)
Kashrell Lawrence
Chidi Majok
Keith Robinson
Hassan Abdullahi
Nick Boole
Jarred Reid
Matt Morrison
Departures: Robert Nortmann, Stephen Lopez, Alex Arthur, Sam Williams, Ritchie Kanza
The 2012/13 Dalhousie Tigers will look significantly different this season. The Tigers have added a large amount of new players to the roster to replace the changes they have seen over this past season. With players leaving, head coach John Campbell has replaced them with talent at every position.
However, if you speak to coach Campbell he is quick to point out that they will need some work to have success and earn a trip to Ottawa. "We need to build our reputation and play strong on the defensive side, if we defend well we will have a chance to compete."
With so many new faces at the Dalplex, there will be plenty of opportunities for players to make their mark. Last season, there was a need at the power forward and centre positions; 6'7 Robert Nortmann, a graduate currently pursuing his pro career and William Yengue 6'4 [who will be back again this season] filled those positions.
This season they will have Simon Marr who transfers from down the street at Saint Mary's and Devon Stedman who starts his CIS career after an injury forced him to sit out.
Look for incoming recruits Keith Robinson and Kashrell Lawrence to make an impact right away. Robinson, [coming from the U.S] will be able to shoot the ball and give the Tigers another three point threat to go along with fourth year senior returner Casey Fox.
When thinking of the Tigers, it's hard to forget William Yengue.  The 6'4 forward was asked last season to play as an undersized four and struggled in the beginning but was able to use his quickness and shooting ability to his advantage. With a few more bigs this season, expect Yengue to fit into a more comfortable role and be a leader for the young Tigers.
When asked of what to expect from this year's Tigers coach Campbell replied "We are young and athletic, and that makes it very difficult to predict.  So far the guys have invested a solid effort and we will hope to continue to improve over the season."
A strengthened AUS conference means that the Tigers' chemistry will need to be sharp come opening game, with the newcomers acclimated to their environment, and the young legs ready to step up.