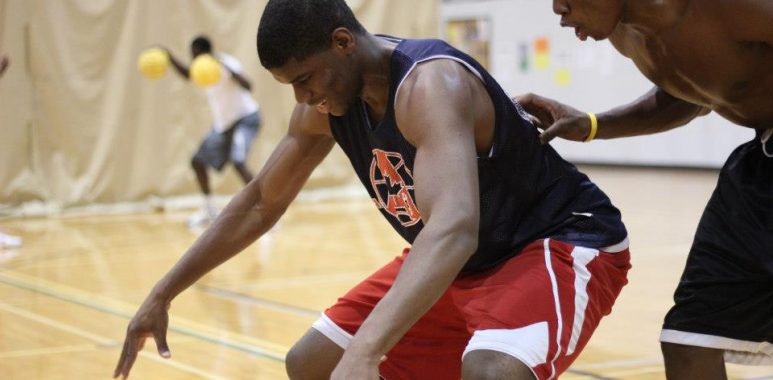 Capers Display Poise, Endurance, Athleticism In Public Inter-squad Game
Sydney, NS –In the first public look at the Cape Breton men's basketball team since their loss to St. Francis Xavier in March earlier this year, there was a collective drive that was evident.
There are some new faces, returning veterans and an entire squad seeking redemption and vengeance for the disappointing finish in the AUS championship.
Among the recruits for this year's team include Chris Stanhope, Shacier Locke, Cedric Kasongo, Kayon Mayers , Sean McCormick, Brennen Fules and the highly sought after Shaquille Keith.
Keith had received many offers from D-1 schools down south but wanted to be the forefront of Canadian athletic talent to stay in Canada and achieve success domestically.
Early on Sunday, September 30, the Capers roster split into two teams. The green team was led by Kasongo, big man Arild Geugjes and Kayon Mayers . The white team led by Shaq Keith and Meshack Lufile was gifted with perimeter shooting, superb passing and great vision on the court, while Kelson Deveraux's strength, cardio and vision provided a great post game for the white squad as he tirelessly attacked inside the paint.
The game opened with a fast break for the white team, Keith hitting an easy layup to put them ahead. Shortly after, the green squad's power forward Arild Geugjes posts up on Meshack Lufile and powers his way to the rim and drawing the foul; leading to a three point play.
The fast break was a very common theme throughout this game as both teams shared athletic stand outs like Kayon Mayers, Shacier Locke and Stephane Goosens; who between the three had over 10 breakaways.
In addition, the perimeter shooting from both Chris Stanhope and Shaq Keith was on point; both shooting above 70% from the field.
While the Capers squad undoubtedly possesses individual talent, what was most becoming of the team was their cohesion and the way they played despite the different combination of faces.
The team gives you the pleasure of Shaq Keith, who is a human-highlight reel but you get the depth of the entire roster who are excellent from the starting five through the end of the bench.
They will be an undeniable threat in the AUS this upcoming season, but in the meantime, the preparation continues.