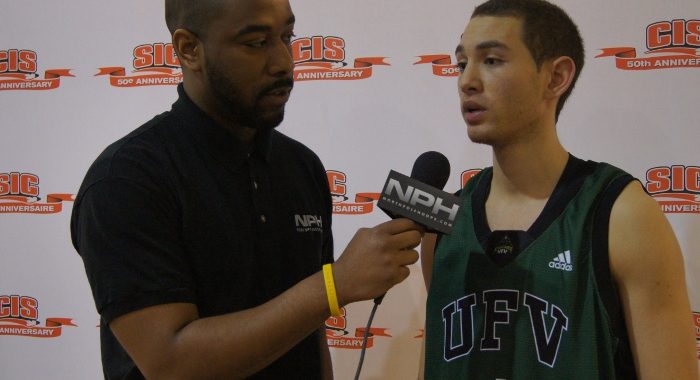 Fraser Valley Gets on National Radar With Victory over Lakehead
NPH Top Performers:
Fraser Valley:
Kyle Grewal – 17 points, 5 rebounds, 20 minutes
Sheldon Bjorgaard – 19 points (5/6 3pt), 7 rebounds, 27 minutes
Joel Friesen – 13 points, 7 rebounds, 30 minutes
Lakehead:
Venzal Russell – 20 points, 4 rebounds, 23 minutes
Joseph Jones – 20 points, 10 rebounds, 27 minutes
Halifax,NS–With the tip-off between Fraser Valley and Lakehead, the CIS Final 8 was underway.  The Fraser Valley Cascades defeated the Lakehead Thunderwolves by a score of 83-71.  Despite the time change difference and not being well known, the Cascades emerged victorious.
"We got out here Tuesday, that was one of the main things coach was preaching, we were going to bed early and waking up early and that really helped and I think on Thursday I was all good to go," explained Fraser Valley's Kyle Grewal.
A slow first quarter had both teams trying to find their stride.  As the teams shook the sloppiness near the end of the first quarter, Fraser Valley started to make some shots.  Sheldon Bjorgaard went 2/2 from three point range in the quarter giving Fraser Valley a 17-13 point lead.
Following the first quarter, both teams continued to battle as neither team was pulling away.  Bjorgaard continued his hot shooting finishing 3/3 from behind the arc heading into the halftime break.  Fraser Valley led 34-29.
Poor three point shooting by Lakehead had them going 6/21 and were unable to try anything else against the stingy inside defense of Fraser Valley.
Both teams picked up the intensity as the game resumed.  Kyle Grewal of Fraser Valley started to heat up for the Cascades scoring their first six points, including a dunk as he blew past his defender on the dribble in the third quarter. Grewal displayed a variety of skills from both the interior and perimter, now certainly on the NPH radar.
Bjorgaard continued his hot shooting, 5/5 through the third quarter.  It seemed as if Fraser Valley was starting to pull away; leading by as many as 10 points.
"I was just looking for our opportunities, and I knew I would get my opportunities with open catch and shoot threes from our drive and kick penetration and I was able to just knock them down," explained Bjorgaard.
Venzal Russell, a second team all Canadian had other ideas, forcing two steals and turning those into points as the Thunderwolves trailed 58-51 going into the final quarter.
Fraser Valley continued their strong play entering the final quarter.  Led by Grewal, Mike James and Joel Friesen the Cascades opened the gap.  However, Lakehead would not let their opponent have this game easy.  Joesph Jones connected on two threes in the quarter, including a rare four point play.
The inconsistency of the Thunderwolves three point shooting, 11/35, in the game cost them down the stretch as their low percentage and inability to penetrate inside against Fraser Valley allowed the Cascades to pull away in the final frame by a score of 83-71.
With this victory, the UFV Cascades made a statement and earned respect.
"I don't think anyone knows who we are, if you were to ask anyone in the stands what UFV stands for or where we are from they probably wouldn't know, and this win puts us on the block, we knew what we were capable of and we came and did it, we just need to keep proving ourselves," Grewal told NPH.
With the victory, Fraser Valley will definitely be on the CIS radar as they advance to the Championship Semi-final and Lakehead will move to the consolation Semi-final.