Jankovic, Pierre sign on with NBA Summer League Teams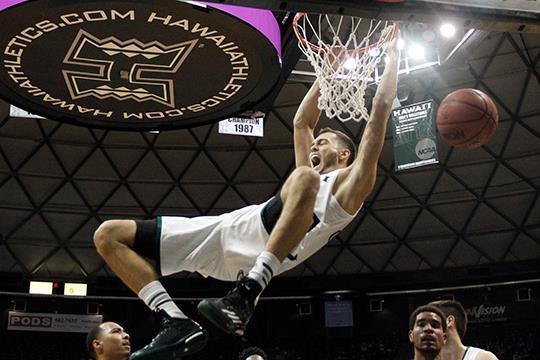 University of Hawaii graduate Stefan Jankovic and University of Dayton alum Dyshawn Pierre have both announced signing with NBA Summer League teams that will compete in three sessions in Orlando, Utah, and Las Vegas this summer.
BREAKING: Former @HawaiiMBB F Stefan Jankovic will participate in #NBASummerLeague w/ #MiamiHeat #GoBows pic.twitter.com/3H0AxGKdT3

— Rob DeMello (@RobDeMelloKHON) June 24, 2016
Jankovic, after being passed up on in the NBA Draft, announced he has agreed to play with the Miami Heat's Summer league team, which will play in the Las Vegas and Orlando sessions, according to KHON2 News out of Hawaii. 
"Honestly I kind of like how my story is going right now," Jankovic told KHON2. "In the end, it motivates me a lot more. I watched guys that I worked out with get drafted and played against and got drafted. It's added motivation. It fuels the fire, that's for sure."
The Mississauga native and the Heat kick off their schedule in Orlando July 2, and head to Vegas for July 8-18.
Pierre announced that he would be joining the Indiana Pacers during their Summer League sessions on Twitter Sunday.
Excited to join the @Pacers Summer League Team tomorrow ✈️🏀

— Dyshawn Pierre (@DyshawnPierre) June 27, 2016
The Whitby, Ont. native had a stellar career with the Dayton Flyers, finishing his last two years in Dayton as a member of the Second Team Atlantic 10. Pierre averaged 12.6 points, 8.5 rebounds, and 2.27 assists per game over his career with the Flyers, and finished his career with 1,423 points. 
Pierre and the Pacers will take part in the Orlando Summer League.
Jankovic and Pierre join Gonzaga's Kyle Wiltjer as the undrafted Canadians this year who have gone on to sign with NBA teams. Wiltjer signed a three-year deal with the Houston Rockets right after the draft ended.