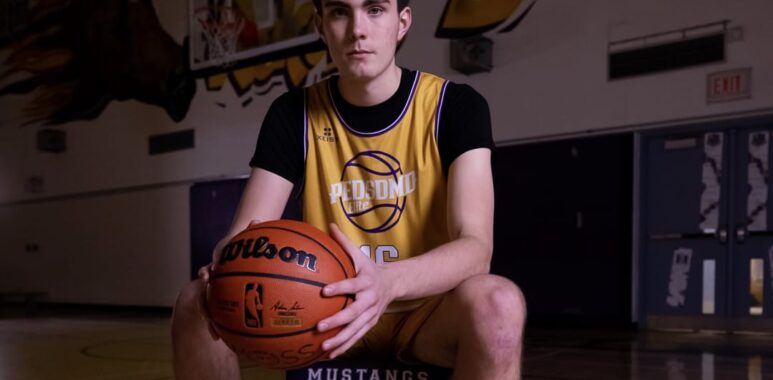 Spencer Ahrens fresh off of a 53 point performance, the 'Sauga' continues…
When a Canadian prospect in the 11th grade is able to go on an unofficial visit to the University of Michigan and do an entire photoshoot and social media video, you know the kid is going to be pretty good. However, when that same prospect can travel 104 km up the road and do the same thing with Tom Izzo at Michigan State, it's safe to assume that recruit is going to be very special. Now let's just toss a cherry on top of this sundae by following these two unofficial visits up with an offer from the University of Illinois. If that's not enough for you he also scooped up the Michigan offer this past weekend. We're talking about class of 2025, Spencer Ahrens.
Spencer Ahrens is a 6'9″ basketball phenom hailing from Mississauga, Ontario. He currently plays for PEDSDMD Elite in the OSBA and the Mississauga Monarchs in the spring AAU season. Ahrens is a versatile player who can do everything on the court, making him a coach's dream. He is known for his humility and work ethic, which has helped him become one of the top talents in Canada.
As a class of 2025 prospect, Ahrens has already attracted the attention of top NCAA Division I programs. He currently holds offers from Illinois, Ohio, UMBC & now Michigan, and has taken an unofficial visit to Michigan State. These offers are a testament to his skill and potential, and surely more programs will come calling in the very near future.
Ahrens' size and versatility make him a unique prospect. At 6'9″, he has the height to operate out of the paint, but also the skills and length to play & defend on the perimeter. He can shoot from outside, handle the ball, and pass with precision, making him a versatile threat on the court. His ability to play multiple positions gives coaches a lot of options and make him a matchup nightmare for the opposing team.
Ahrens' work ethic is another standout trait. He is always looking to improve his game and is not satisfied with just being a good player. He works tirelessly to perfect his craft, and it shows on the court. His commitment to getting better is evident in his statistics, as he consistently puts up impressive numbers in his games.
Spencer is an extremely unique talent who may just have the best touch around the net out of not only kids in Ontario but the entire country for his age. The way he can put just the right amount of English on the ball seemingly every time that he's in the paint is what caught my attention initially, aside from the 6'9 frame at 15 years old. A fairly unknown recruit a couple years ago, Spencer has skyrocketed up the Canadian and American rankings. I first heard about Spencer from my former teammate at Regional Elite Development Academy and former Siena Saint – Rich Audu, who has been training Spencer for a few years prior. Rich told me I had to check this guy out and when Rich says a kid can go, you know the kid can GO. Here is what Rich had to say about Spencer Ahrens.
Spencer's hidden ability is how competitive he truly is. Calm-faced killer. He's a machine. He's got that "GAMER" gear that's hard to teach. He doesn't listen to music, extra motivation, he's not concerned with social media foolishness; he just wants to get on the court & destroy all competition.

Rich Audu on Spencer Ahrens
As a leader on and off the court, Ahrens sets a great example for his teammates. He is humble and always puts the team first, valuing team success over individual accolades. His leadership skills and positive attitude make him a valuable asset to any team. He is the kind of player that coaches can build a team around and rely on to make plays in the clutch.
Over the past few weeks I have been chatting with Spencer's coach, Errol Patterson of PEDSDMD Elite where Spencer plays his prep ball & also of Mississauga Monarchs where Spencer plays his AAU. Errol told me about what it's been like coaching Spencer thus far.
Spencer is all that I envisioned him to be, as I first saw him in the 6th grade. He has grown into an amazing person over these past 5 years and a phenomenal individual to coach. Spencer is a generational talent. He is forever wanting to work on his craft. He relishes those opportunities to get better everyday on his game. Spencer is a fierce competitor who doesn't say much, be definitely leads by example. Spencer's game is cerebral and he's very efficient with his movements. He is super patient. Spencer will forever play at his own pace. He will know when its time to speed things up but will also know when its best slow things down.

Errol Patterson on Spencer Ahrens
I can attest to Errol's statement about Spencer and his ability to play at his own pace. Watching him multiple times throughout the season you'll see him get double teamed or trash talked & it's as if he has headphones on just playing in the driveway, he cannot be phased. Errol went on to say this about Spencer.
Spencer is the modern day player. He dribbles, shoots, passes & can score at all 3 levels. Spencer is a composed and confident player. Spencer totally fits and embodies our culture. A Honour Roll Student who brings his calculated ways, into his positionless style of play. Spencer is a great kid and even more so, a great human being. So we will surely do our small part, to help foster his dreams.

Errol Patterson on Spencer Ahrens
Ahrens' potential is off the charts, and he's already established himself as one of the top 3 prospects in Canada in his class (2025). He has all the tools to become a dominant player at the next level and could become one of the best players to come out of Canada in recent years. With his size, skill, and work ethic, Ahrens has the potential to make an immediate impact at the college level and beyond.
Now every so often you have to reach out to the OG in the Canadian recruiting game for some insight on a player, I don't bring every kid to Tariq Sbiet's attention but I had to relay this article to the boss because, A) Spencer is an incredible talent & B) Tariq is a St. Martin's SS alumni himself. When I forwarded the film to Tariq, he was already familiar with the 2025 forward. It wasn't more than 60 seconds he replied with some insight on the Mississauga native. Here is what the CEO of North Pole Hoops had to say about the PEDSDMD Elite recruit.
You can make a strong argument that Mississauga & Peel Region have produced the most NBA talent in the country. RJ Barrett, Oshae Brissett, Dillon Brooks, AJ Lawson, Caleb Houstan…all these guys are from the region. For St Martin's I remember the first big wave after I graduated high school that came in…Naz Long spearheaded it…he moved on to Iowa State and currently playing professionally overseas. Can Spencer go all the way? And be the next guy from Mississauga? Time will tell, but he's certainly on the right track & trajectory. As a St Martin alumni I would say—LETS GO MUSTANGS!

Tariq Sbiet on Spencer Ahrens & the history of St. Martin's prospects.
In the coming years, Ahrens will have a lot of decisions to make about his future. He will have to choose between the universities that have offered him scholarships, and others that are sure to come calling. However, whatever decision he makes, one thing is certain: Ahrens is a special talent and has a bright future ahead of him.