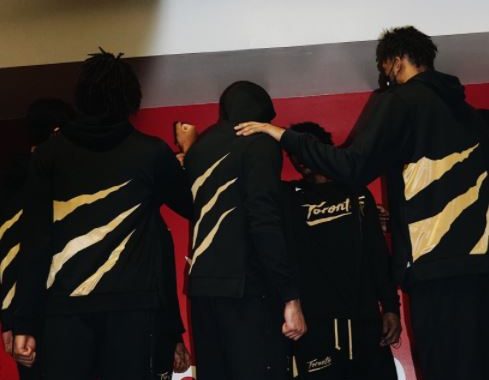 End Game: The Raptors lay the foundation for the future as the season comes to an end
The High 5 – Week in Review – Week 21
The High 5 is where I review the last week of Toronto Raptors basketball including how the team did, who were the impact players as well as some news and notes from around the league.
The Thumb – How was the week?
The Raptors season has mercifully come to an end.
We all knew that they were in for a difficult year while situated in Tampa, but no one could have expected the tumultuous roller coaster ride the players, coaches, their families, and the fans had to endure. There were not many highlights but those that stood out, shined brightly.
VanVleet's 50 plus night, Trent Jr.'s game winner, the posterization of Yuta Watanabe, multiple players setting career highs, the growth of the core, the emergence of newcomers and, of course, Lowry owning the Lakers in what could have been his last game ever in a Raptors uniform.
It was a difficult season to watch, heck, it was a difficult season to write about, but it's the journey and the lessons that we take along the way that defines who we are. The Raptors have learned a lot this year; that nothing is promised, that it could always get worse, that no one will take them lightly and that there is no place like home.
Next season, the Raptors will be back, battle hardened and with a chip on their shoulder. If Lowry is not with the team, his influence will live on through the tenacity and ferocity that the players will embody.
His legacy cemented as the greatest Raptor of all time.
Week Record (0- 4) Season Record (27 – 45)
LA Clippers v Toronto Raptors                                  L 115 – 96
Chris Boucher made his way back into the starters mix when the Raptors hosted the LA Clippers. Aside from Boucher and Trent Jr., Toronto rested their core players while LA played all their big names in preparation for a deep playoff run. The difference between these teams was obvious but Toronto's hustle and youthful exuberance kept them within arms reach. The Clips executed at a high level and attracted fouls like magnets, a deadly combination for the baby Raps. It was all too much; LA walked away with the win.
Toronto Raptors v Chicago Bulls                               L 114 – 102
If there was a team with a more disappointing year than Toronto it may be the Bulls. Chicago had playoff aspirations, and made big moves at the trade deadline but as the post season approaches, they are on the outside looking in. The baby Raps were down to 7 bodies after Yuta twisted his ankle and Chicago took advantage. They carried a big double-digit lead into the half as they fought to keep their fleeting playoff hopes alive. Chicago kept pressing and ballooned their lead to over 20. Stanley Johnson answered with a career night but the Bulls cruise.
Toronto Raptors v Dallas Mavericks                        L 114 – 110
The rookies helmed the backcourt for the Raps as they tried to spoil an important game for the Mavericks. Toronto could barely muster up enough players to meet the league minimum. They rolled out a rag tag group of bodies who played the game with the elegance of a car crash. Somehow, perhaps blind inexperience, the Raptors hung around with the Mavs throughout the majority of the game. They showed admirable fight considering they were on a back-to-back, especially the rooks. Dallas got a scare but still pick up the dub.
Indiana Pacers v Toronto Raptors                             L 125 – 113
In the last game of the season, the Raptors hosted the Pacers early Sunday afternoon. As bodies were still out, Toronto employed a skeleton squad with Flynn being the only player with a guaranteed spot on next years roster. With everyone else playing for a contract, the Raptors were surprisingly resilient. Bembry and Flynn both set new career highs but with only 6 healthy bodies, Toronto eventually ran out of steam against an Indiana team running 9 deep. The Pacers rode Brissett, Sabonis and McConnell to the victory.
The Index – The Leader – Player of the Week

Malachi Flynn
After being handed the keys to the car, Malachi played exceptional and ended his season on a high. He showed great adaptability, leadership, and poise in the face of defeat. His basketball IQ is off the charts. He has shown great ability to adjust and remain effective under any circumstance. He elevated his game in the crunch and has proven to be able to play along side anyone, on or off the ball.  Flynn is the future.
| | | | | | | | | |
| --- | --- | --- | --- | --- | --- | --- | --- | --- |
|   | Points | Rebounds | Assists | Steals | Blocks | FG | 3PT | FT |
| v LAC | 11 | 3 | 4 | 2 | 1 | 4/10 | 3/9 | 0/0 |
| v CHI | 16 | 4 | 7 | 1 | 0 | 5/19 | 2/10 | 4/6 |
| v DAL | 26 | 6 | 5 | 2 | 0 | 11/21 | 3/8 | 1/2 |
| v IND | 27 | 4 | 5 | 2 | 1 | 8/22 | 5/13 | 6/6 |
| | | | | | | | | |
| Weekly Avg | 20 | 4.25 | 5.25 | 1.75 | 0.5 | 28/72 | 13/40 | 11/14 |
| 4 Games |   |   |   |   |   | 39% | 33% | 78% |
| Season Avg | 7.1 | 2.4 | 2.9 | 0.8 | 0.1 | 37% | 32% | 78% |
| | | | | | | | | |
Honourable Mention: S. Johnson
The Middle – The Enemy – Best Opposing Player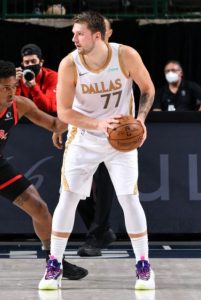 Luka Doncic – Dallas Mavericks
Mavericks guard Luka Doncic earns the best opposing player honours after a quietly smooth triple double in Dallas. The Wonder Boy showed poise and balance well beyond his years. He controlled the pace and manufactured opportunities for players up and down the roster. Luka has a deep bag of tricks and taught Toronto's rookies a few lessons in ball handling.
| | | | | | | | | |
| --- | --- | --- | --- | --- | --- | --- | --- | --- |
|   | Points | Rebounds | Assists | Steals | Blocks | FG | 3PT | FT |
| v TOR | 20 | 10 | 11 | 0 | 1 | 7/19 | 1/8 | 5/5 |
Honourable Mention: I. Zubac (LAC), Z. LaVine (CHI), N. Vucevic (CHI), O. Brissett (IND), D. Sabonis (IND), TJ McConnell (IND)
The Ring – The X Factor – Standout Performance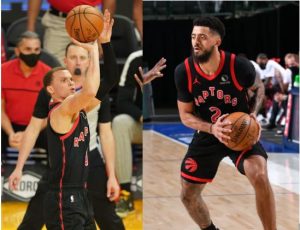 The Rookies v Dallas Mavericks
It was a coming out party for Toronto's rookies against the Mavericks as they gave the Raptors faithful a taste of their potential. Malachi Flynn and Jalen Harris carried Toronto and were the only reason why the game was competitive. They did their best Lowry and VanVleet impressions and were fearless and assertive in their game management. Both players were quick, crafty, and polished. Despite the loss, they set career highs in points while giving the Raptors brass plenty of reasons to smile.
| | | | | | | | | |
| --- | --- | --- | --- | --- | --- | --- | --- | --- |
|   | Points | Rebounds | Assists | Steals | Blocks | FG | 3PT | FT |
| Flynn v Dal | 26 | 6 | 5 | 2 | 0 | 11/21 | 3/8 | 1/2 |
| Harris v Dal | 31 | 2 | 4 | 1 | 0 | 12/21 | 5/12 | 2/3 |
Honourable Mention: S. Johnson v CHI, Bembry v IND
The Pinky – The Unsung Hero – Key Contributor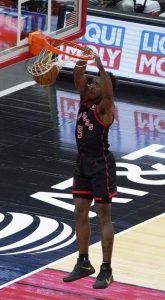 Stanley Johnson
The Stanimal was in rare form this week as he played the best stretch of basketball of his season. Granted, he was given a boat load of minutes and he was playing for his NBA life, but credit to Johnson for remaining humble, ready, and able. Johnson peaked against the Bulls with a massive 35-point, 10 rebound performance in what could be the game of his life. He provided decent production and left it all on the floor.
Honourable Mention: J. Harris, K. Birch, A. Baynes               
News and Notes
Aussie Sighting – Toronto was so desperate for bodies after Yuta went down in Chicago that Aaron Baynes was dusted off and given minutes. These are dire times.
30 Piece – The Raptors set an NBA record when Jalen Harris scored over 30 points. He was their 10th different player to accomplish that feat.
Around the League
Cole world – Rapper J. Cole has agreed to play for the Rwanda Patriots in the Basketball Africa League. This sounds like a publicity stunt, but J. Cole can ball.
Real shooters – Golden State's Steph Curry is less than 100 3 pointers away from catching Ray Allen for the all-time top spot. Incredibly, he is doing this in over 600 fewer games played.
SJ Warriors – Going forward, the NBA will recognize the player that excels in the pursuit of social justice and respect through the newly formed, 'Kareem Abdul-Jabbar Social Justice Champion Award'. The recipient of this honour will receive $100000 to be donated to a charity of choice on the players behalf.
Legendary – This weekend saw arguably the best power forward class ever be inducted into the Hall of Fame with the likes of Tim Duncan, Kevin Garnett and later Chris Webber and Chris Bosh. They join the underrated Ben Wallace, 'the Truth' Paul Pierce and, the one and only, Kobe Bryant as new inductees.
Positive Note – Dallas giant, Boban Marjanovic, smacked Golden State's Jordan Poole right in the face. Considering his size, this would be akin to being hit by a falling tree. Boban gifted an apology to Poole in endearing fashion.

Photo Courtesy: @WarriorsBrDub/Twitter
Up Next
An offseason of questions await the Raptors as they look to reload for next year. First priority would be for Toronto to lock up team President, Masai Ujiri, to a new deal. After which, a decision will have to be reached regarding Kyle. He may have played his last game for the Raptors, and if so, what a career he's had. Toronto will welcome a lottery pick to their ranks and will prioritize their frontcourt on the free agent market. What's left includes internal development, improved health, and a return to form.
They have all the ingredients to be competitive next year. The season may be done but the work is not.
Those that sleep on this squad do so at their peril.
We the North.