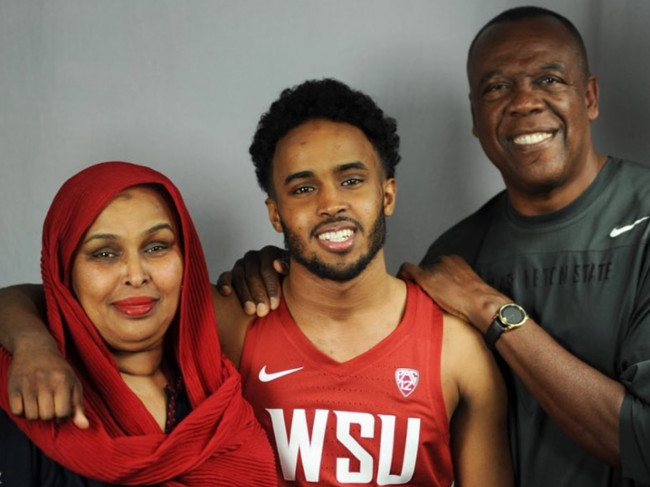 Ahmed Ali Commits to Dream School Washington State, Somali Ties To WSU
Ahmed Ali has been making waves across North America since his biggest high school game in 2015 where he dropped 103 points for Toronto Basketball Academy (at the time BTB Prep), and was dubbed Mr. 103. Shortly after, Toronto rapper Drake performed in a 103 Eastern Florida jersey to show love as Ali attended Eastern Florida for his junior college career. Today he has announced his commitment to his dream school Washington State.
Ali had an outstanding junior college career at Eastern Florida, where he was named a JUCO All-American. Ali carried Eastern Florida to the tournament in both years and once as a finalist.
Through his accolades at Eastern Florida he hoped to grab WSU's attention but they were not interested at the time nor in need of a point guard.
His original commitment was to Kent State, yet after a coaching change he was granted a full release and immediately began to have his phone blow up. He and his high school coach, Adeel Sahibzada, took calls from over 20 schools.
"We're the underdog and I love being the underdog. I've always been counted out and I keep proving people wrong. It was great to hear from all of those schools. I know I can play at the highest levels."
Coach Sahibzada has been a big piece in Ali's development. It hit a soft spot when he learned the dream was coming true.
"I feel fulfilled watching Ahmed accomplish his lifelong dream. It was a refreshing feeling. Words cant capture the emotions that I am feeling. For him to lose so much but still remain steadfast is a testament to his faith and hard work."
Washington State, Oregon State, UNLV, Virginia Tech, Louisville and Loyola-Chicago were the high major programs to jump in the mix and inquire.
So what makes Washington State Ali's dream school you say?
Ali's journey as a Basketball player begins with watching another fellow Somali Basketball player growing up – Faisal Aden – the only other Somali to perform successfully at a high-major level when he teamed up with Klay Thompson at Washington State.
Fate would just so have it that Head Coach of the WSU Cougars, Ernie Kent, needed a point guard in mid-late April and began to recruit Ali aggressively without knowing that the Beasley Colliseum was Ali's dream home.
Coach Sahibzada weighed in on the need.
"Coach Ernie lost his strarting pG Malachi Flynn to transfer. Malachi was also their leading scorer and three point shooter. They attempt the most amount of threes in the Pac 12 so Coach Ernie expects Ahmed to step in and take over that role."
Based off of how Ali ended his JUCO career, the momentum is still moving on a high note. WSU picked up a JUCO All-American, a true scorer and someone who is going to be invested for himself, the Cougars, his family and the Somali community.
Ahmed Ali had this to say about his commitment.
"People might not know this but I'm not supposed to be here. I've been granted so many opportunities and I never took them for granted. From BTB, to Eastern Florida to all the help you guys at North Pole Hoops gave me in the recruiting process, I won't forget that and I'm forever greatful."