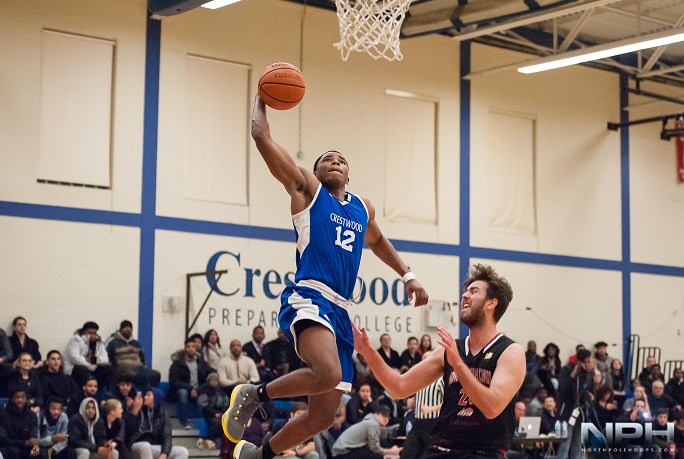 Signature All Canadian Looks to Leave it's Mark
On the day of the Signature All Canadian Showcase, it's not surprising that many involved are looking to leave their mark, here are some of their stories.
The Hershey Center is a multi faceted sports arena. It is home to a successful OHL franchise, has hosted many ruckus concerts, and has been host to many memorable prize fights.
It is in fact, one of the most well used arenas in the country. It is an arena that sits on a hill overlooking the east end of Mississauga, the sixth largest city in Canada, and is a stone's throw away from the border of Brampton, a well known basketball community.
Many memorable things have happened in the 20+ years this arena has been in existence. Yet even so, the last two years specifically have seemed to truly put this buildings name on the map.
When the Raptors 905 first called this place home, many expected an expansion franchise that would garner some interest, but nothing special.
But then something happened, the team won.
The team showed a level of excellence, and fans in a city, that was deemed to close to Toronto to succeed as its own identity, showed up and cheered on their very own Raptors for the past two seasons as they made history for their town.
Identity is a powerful thing when that identity breeds success, and that brings us to this moment.
Canada, Mississauga, the Raptors franchise as a whole.
After years of being looked over in the game of basketball, every single one of these places are trying to leave their mark on this game.
Their Signature.
If you're reading this, that means you most likely know that RJ Barrett is home, back in Mississauga after conquering the American prep circuit as not only the best player of his class, but as the greatest player at his age level that Canada has ever produced.
He's back for one final game as a high schooler, before moving on to Duke University, and God willing, a fruitful NBA career that will take this entire country's game to the next level.
That is the kind of expectations on this kid.
It's hard to imagine, but man is it fun to watch.
https://youtu.be/nDWobLS87Tk
Many have seen this rise, but few have seen it like one of RJ's former coaches, and current Ridley College Head Coach Tarry Upshaw.
"I was his first coach in Canada, and when he left to go to Montverde I was his last coach in Canada, so being a part of this game is certainly something that is special to me, it's almost a 'finish what you start' scenario and that's one of the big reasons why I'm here,"
Upshaw also minced no words on how the city of Mississauga has developed great talents other than just Barrett, pointing no further than to Barrett's former high school, St. Marcellinus.
"Jaden Bediako and AJ Lawson are two guys that I coached while I was there, and those are two guys that I expect will have their impact on this game without a doubt."
Bediako, who still currently plays for Upshaw at Ridley College, was a force in the OSBA championships just last March, dominating the paint on both ends of the floor en route to knocking off defending champs and national powerhouse Orangeville Prep, before falling to an experienced and battle hardened TRC Academy.
AJ Lawson, is coming off of an MVP season for GTA Prep in their run to the NPA finals this year, before falling to back to back champs Canada TopFlight Academy out of Ottawa, another basketball hotbed battling for recognition on the North American stage.
Despite the disappointment for GTA Prep, their head coach David Cooper, a former pro basketball player and professional coach himself, expects Lawson to have his moments, especially considering that he will be matching up against Barrett on the wing.
"I believe we (Canada) boast some of the best guards and bigs in the world at this age group, and AJ is no exception, and I know I'm biased because I coach him (laughs), but that's what I truly believe."
It's a claim that is easy to back up, as many scouts both from south of the border and here at home have Lawson pegged as a potential NBA prospect. His is a slasher that can jump out of the gym, and his reach makes him a nightmare defensively for other wings.
But let's talk about that as well, reach, because what makes the Signature Classic truly special, will be it's reach.
A reach that will spread to an international audience south of the border, courtesy of ballislife.com, who will also be picking up the broadcast on their site.
And what is there to say to potential American viewers?
"We are going to put on a show," declared Luguentz Dort, a 2-time Biosteel All Canadian MVP and current Arizona State commit.
Yes, that Arizona State, that was the old stomping grounds of the likely to be 2017-18 NBA MVP James Harden.
As a matter of fact, the Montreal native is the highest ranked prospect ASU has landed SINCE Harden.
https://twitter.com/SInow/status/920797603104567296
But Dort truly is his own player and needs to follow no one.
A fiery competitor, he was seen sobbing in a corner as his AI Prep team was eliminated from the Ontario prep provincial championships just a month ago, after he had recorded a triple double.
He recorded a triple double that included 40+ points, he will be going to a proven program, and could very well be worth seven figures in two years, and he still sobbed because his team lost a semi final provincial matchup.
If that isn't character, and a passion to win and be successful at what you love, then I don't know what is.
With that said, Dort has shifted his focus to tonight, and he made it clear about what he and his teammates will be bringing together for this Signature event.
"Showing off my athleticism, showing how much I've developed my shot, and I know a lot of other guys here are going to be looking to show what makes them special period."
The confidence in his voice was undeniable and given what both he and the rest of these two rosters have put together in their high school careers, "the show" he's speaking of will be one you shouldn't miss.
It's one that fans who bought their tickets for tonight won't miss, what the NBA scouts that are in attendance won't miss, as this will be an NBA certified event, and one the entire United States won't even miss for anyone that wants to tune in at 7pm EST here on North Pole Hoops.
This is Canada's moment for basketball, this is where the city of Mississauga, Montreal, Ottawa, and all of the other basketball outposts will leave their impression.
This is where the players of tomorrow will leave their Signature.