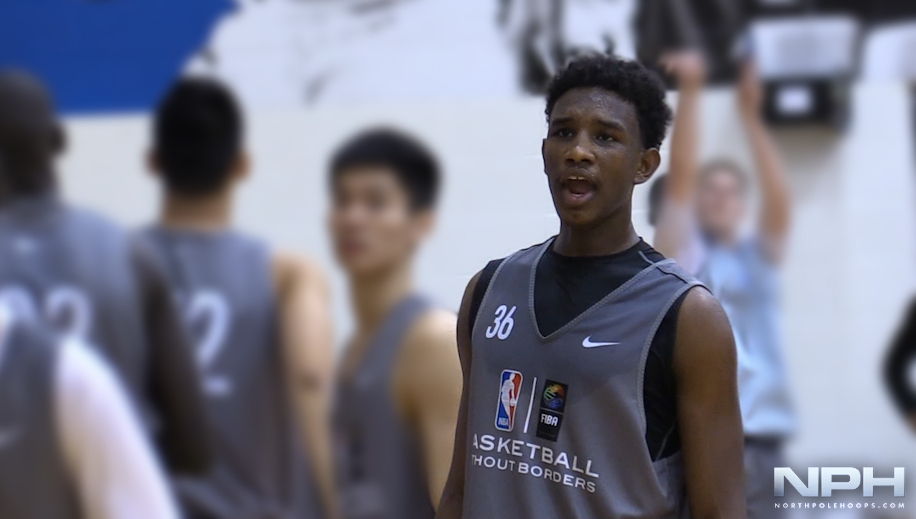 Top Prospects at 17U CNIT – Headliners
NCAA Live Period in July for Canadians tips off with the Canadian National Invitational (CNIT) in Niagara Falls, Ontario. About 80% of the top tier Canadian teams are confirmed and ready to go after National Supremacy.
There are several names that will not be mentioned here, as these are the headliners for their respective programs. Many not on this list, are included in our scouting reports which only post-secondary coaches have access to for optimal recruiting.
There is an abundance of talent in the tournament that will go on to receive attention from post-secondary programs and some that will be offered a scholarship directly after the tournament. After all, the teams are there to crown a National Champion, but asides from going after National supremacy, scholarships are on the membrane.
Stay tuned…
Featured Prospects
Abu Kigab, Shai Gilgeous-Alexander and Quincy Guerrier are all National Team members with the Junior Men's and Cadet Men's respectively. All are very high level players that we will see in the NCAA in the future.
Kigab – A Niagara native, wide open in his recruitment and has a list of over 30 schools that are seeking his services. Abu Kigab has slimmed down and increased his mobility and overall lateral speed. He is a weapon from anywhere on the floor as a result of his improved perimeter shooting and better ability to put it on hte deck. Currently with the Junior Men's National Team.
Shai Gilgeous-Alexander – 
Verbally Committed to Florida. He has made tremendous strides over the course of one year. Most noticeable is the lower body strength and explosiveness, Shai is finishing above the rim more often.

Quincy Guerrier – The youngest star in this tournament. A gem that coaches are just starting to learn about. Some NCAA coaches are in Spain right now watching him with the Cadet National Team. He has incredible range and is getting more equipped moves off the dribble. 
Biggest Sleeper
In my opinion Shakwon Barrett is the most under the radar PG of all Canadians. His time at Findlay helped him develop his game but he did not get much burn as there was older McDonald's All-American prospects ahead. Nonetheless, Barrett is using this summer to get his exposure and already has to some degree after coming off an MVP performance at CYBL Championships. Speedy, crafty, strong passing and play making abilities and can pull the trigger. Just waiting on an NCAA coach to pull the trigger and offer.
Nike UPlay Canada
Abu Kigab | 2017 | 6'7 | Wing | Nike UPlay Canada
Shai Gilgeous-Alexander | 2017 | 6'5 | PG | Nike UPlay Canada
Therren Shelton-Szmidt | 2017 | 6'5 | SG | Nike UPlay Canada
Grassroots Canada
Shakwon Barrett | 2017 | 6'2 | PG | Grassroots Canada
Gabriel Osabuohien | 2017 | 6'6 | SF | Grassroots Canada
Jevon Brown | 2017 | 6'4 | SG | Grassroots Canada
Jordan Fullerton | 2017 | 6'2 | Grassroots Canada
Thetford
Quincy Guerrier | 2019 | 6'6 | SG | Thetford
Alain Louis | 2017 | 6'0 | PG | Thetford
Tidjane Keita | 2018 | 6'10 | PF | Thetford
Lock Lam | 2017 | 6'8 | F | Thetford
Bigger Than Basketball
Cordell Veira | 2017 | 6'3 | PG | BTB
Jace Colley | 2017 | 6'6 | SF | BTB
Lascel Tyndale | 2017 | 6'4 | SF | BTB
Jamal Mayali | 2017 | 6'2 | PG | BTB
Zubair Sayed | 2017 | 6'0 | PG | BTB
Waterloo Wolverines
All three guys in this trio are committed to the University of Waterloo.
Nedim Hodzic | 2016 | 6'5 | SF/PF | Waterloo Wolverines
Simon Petrov | 2016 | 6'3 | PG | Waterloo Wolverines
Justin Hardy | 2016 | 6'3  | SG | Waterloo Wolverines
Advantage Titans
Eugene Omoruyi | 2016 | 6'5 | SF/PF | Advantage Titans
3 Kings
Isaiah Byrd | 2017 | 6'1 | PG | 3 Kings
Patrick Bowes | 2017 | 6'6 | PF | 3 Kings
-high academics
Dallas Akins | 2017 | 6'4 | Wing | 3 Kings
Hoops Canada
Omar Shiddo | 2016 | 6'1 | PG | Hoops Canada
Sean Fasoyiro | 2016 | 6'3 | PG/SG | Hoops Canada
-43 inch vertical
Dyrel Johnson | 2016 | 6'0 | PG | Hoops Canada
Red Rush
James Jean-Marie | 2018 | 6'7 | SF | Red Rush
Elijah Ifejeh | 2018 | 6'6 | SF | Red Rush
Motion West
Elijah Lufile | 2016 | 6'8 | PF/C | Motion West
Veron Kelonji | 2016 | 6'9 | PF/C | Motion West 
Kris Rotterman | 2016 | 6'0 | PG | Motion West
Mississauga Monarchs
Adnan Begovic | 2017 | 6'6 | SG/SF | Misissauga Monarchs
Rasheed Weekes | 2017 | 6'5 | SF | Mississauga Monarchs
Gators Elite
Michael Nuga | 2016 | 6'2 | PG/SG | Gators Elite
John Nwosu | 2016 | 6'2 | SG | Gators Elite
Ottawa Next Level
Bigus Bangoura
Zerious Loney
Ameer El-Badry
Southwest Summer 16
Owen Henderson | 2018 | 6'4 | SG | Southwest Summer 16
Josh Massela | 2017 | 6'3 | Guard  |Southwest Summer 16
The Program Elite
Rob Birstonas | 2017 | 6'5 | PG | The Program Elite
Gareth Baugh | 2017 | 6'4 | Wing | The Program Elite
Helgi Jacobsen | 2017 | 6'0 | PG/SG | The Program Elite
Next Level United
Brendan Lyver | 2016 | 6'4 | SF | Next Level United